A lot of times we ask ourselves what is the exact information needed by the 3d architectural rendering visualization company to create realistic renders of our projects. Often, when clients contact us for the first time, they ask about the required input to get a quotation and develop the 3-d renderings. For this reason, and with the purpose to collaborate with all the construction community is that we have published this article.
The first part will be dedicated to describe 3 frequent ways in which a computer architecture 3d illustration project can begin, and after this we will explain the phases of the rendering creation, and when it is necessary to count on each type of information in order to complete the project as soon as possible. When their is great collaboration between the client and the visualization rendering company, projects can be ready amazingly fast. For instance, even if a project can be started with the CAD plans so as to complete the first phase (previews without materials to choose the best camera angle), the information about materials is very important to finish the second phase. We will discuss this further later on the post.
 3 Different Ways to Start a Realistic Architectural Visualization Rendering Project
1- The Creation of a Realistic Rendering from AutoCAD, CAD or PDF plans
This is the more common way to work with. Customers send the computer plans that could be created with AutoCAD or any other architectural software, and with that information, we can see the size of the project and its complexity. This permits to calculate the amount of time needed to complete the architecture 3d rendering and very important its price. Generally, once this input is received, it is very simple to create a proposal.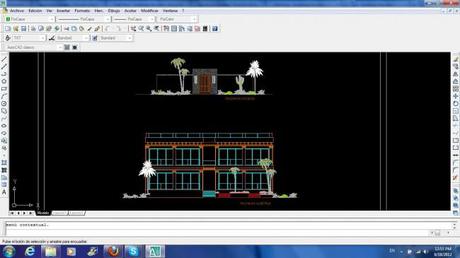 2- Starting a Visualization Rendering from a Handmade Drawing
Many clients have decided to choose our architectural rendering services thanks to the capability to generate them without having the computer CAD files. The only thing we need to get started is a handmade drawing that could have been done in a business meeting. Something important is to count on the important dimensions, and we need to know about every detail that you are looking to see in the three-d digital rendering images. Together with this drawings, the client also sends photographs from other constructions, that serve to showcase important finished details and real materials they are looking to incorporate.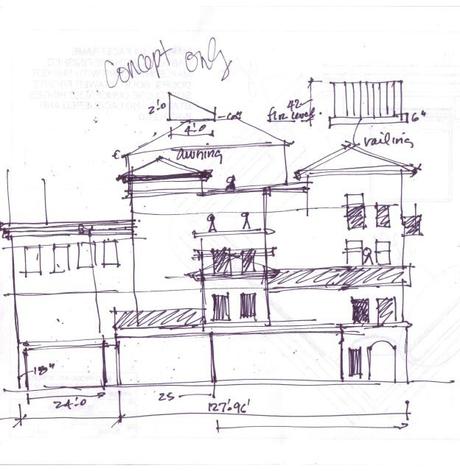 3- The Development of an Architecture 3D Rendering from a Three-d Model previously done by a client
Sometimes, Real Estate companies, developers, and architecture studios ask us to develop renderings from previous 3d models they have already produced. This is also something we work with frequently. When the 3d modeling buildings are with the precise dimensions, they often help to reduce the completion time of a project.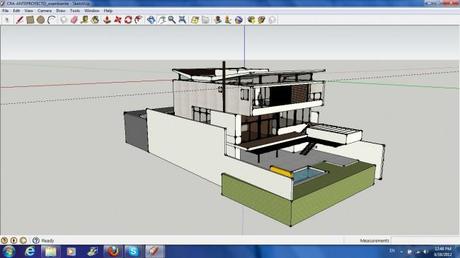 Everything depends in a good way on the software application used to create the 3d model and how the models are generated. Personally, we have prepared several rendering projects starting with an architectural model made with SketchUp. We have also converted 3d-models to be opened in 3D Studio Max from other diverse architecture visualization software.
The 3 Principal Phases on the Creation of an Architecture 3D Rendering
1- The Preparation of 3D Models for the Camera Angles Selection
In order to generate the 3d models it is only necessary to count on plans, or handmade drawings as we mentioned previously. The time to complete the 3d geometry depends on how big and complex the project is. Generally its takes 2 to 4 days. To know this precisely, you will only need to send your plans through email, or by filling the quotation form, and you will receive a no obligation response within the next few hours.
While this 3 dimensional scenes are created (if companies or individuals do not have information and photographs about the different materials and colors to use), it's a great time for clients to search for them, so that we can have them ready to commence phase 2, that will be explained next.

In addition to traditional plans, we also use pre-made 3-dimensional models, in cases were customers require this. In this case scenario, as the computer three-d modeling is ready, what architecture realistic rendering specialists do, is verify and fix all the details that are modified and lost while exporting files from one 3d software to another. Our company, GoldmanRenderings.com works mainly with 2 computer applications: AutoCAD and 3D Studio-Max.
2- Addition of Materials, Textures, Colors and Lightning
Once clients choose the camera angle that better displays their project and sends their revision about the three dimensional geometry, the rendering team starts to add textures, materials, colors, and the scene lightning is developed. In this visualization phase, the input regarding material and color of the different objects is needed.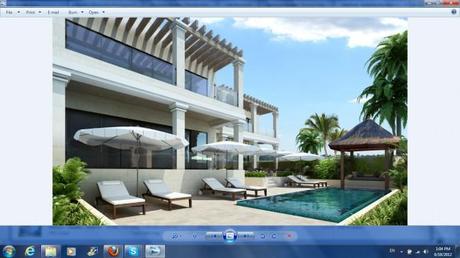 This can be obtained with pictures taken by the clients, images found on the web that will be used as reference, and as color codes given by companies that make printings, or sell painting.
3- Post-Production of the Renderings
In this stage were post-production takes place, what is required from the customer is the communication about vegetation and the nearby environment (in case of being an exterior view the 3d render in process). Often, a photo-montage takes place with a real photo of the place, or with a similar landscaping image. This is even simpler when we are creating a pedestrian view, due to the reason that the majority of the photographs are taken from the height and point of view of a person. When working on aerial views, it is also possible to recreate a scene like this when their is access to take pictures from upper level zones.
In both cases, exterior rendering and 3d interiors, it is also necessary to know if you would like to add people. They are generally utilized in outdoor visualizations.
If you are a developer, architect or 3-d artist, we would like to hear your opinions, questions and needs. We look forward to your comments in the commenting section below, or by filling our contact form.