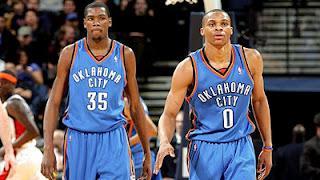 Photo: AP Images
- Troy Ballard & Adam Parker 
The NBA season is in full-gear, and with teams often playing back-to-backs to fit as many games in as possible, it's easy to forget to analyze the association as a whole.
That's why Troy and Adam are starting a monthly roundtable, (which will occasionally feature a guest columnist), that covers the NBA! Beard and Stache is going to kick it off with a quick 10-question run-down of the NBA season thus far!
10. Who is the Best Player in the NBA? 
Troy:
Kevin Durant
- The case could have been made last season that Durant was the best player in the NBA, but this season there is not even a hint of doubt. OKC is rolling through their schedule, and the reason is Durant posting insane numbers every single night he takes the court.
Adam:
Kevin Durant
- 
I think arguments could be made for both Durant and Derrick Rose, but with Rose in and out of the lineup with that lingering toe injury, I have to give the edge to Durant here. Add in the fact that it's virtually impossible to cover the 'Durantula' one on one, and this is an easy choice.
9. Who is the Most 
Disappointing
 Player in the NBA? 
Troy: Jason Kidd

- The defending champion Dallas Mavericks seem to be stuck in a never-ending hangover this season, and it's possible that Kidd has been hit the hardest. Maybe it's just his age, but Kidd looks 

lethargic

 on the court, fails to give any effort at all on defense, and his shooting numbers have been way below what they should be. 
Adam: John Wall - 
I only went this way because I had to narrow it to one player. In reality, any (and probably every) player on the Wizards right now is worthy of this title. They're off to a horrendous 3-15 start and head coach Flip Saunders has already been given his walking papers as a result. Wall shouldn't have to shoulder all the blame, but in the NFL, the quarterback takes the bulk of the credit for the wins and the bulk of the blame for the losses. The same can be said for the NBA, which has become a point guard-driven league. John Wall is the leader of this under-performing group and his 4+ turnovers a game isn't pretty either.  
8. Which is the Best Team in the NBA? 
Troy: Oklahoma City Thunder - The condensed season is going to make it very tough on older teams, but the Thunder who have the youngest team in the NBA, are only thriving. The team's offense is relentless, and the defense is consistent. Watch out for OKC. 
Adam: Oklahoma City Thunder -
Kevin Durant and Russell Westbrook had that early-season disagreement on the bench, but that all seems to be behind them now. Westbrook signed a 5-year, $80 million extension, so now the team's two young studs are locked up long-term. Westbrook is a scoring guard that still needs to learn how to reach that happy medium of scoring points and getting his teammates involved. James Harden has been a nice surprise in his second season. With the trio of Westbrook, Durant, and Harden plus the monstrous paint defenders, Serge Ibaka and Kendrick Perkins, the Thunder have to believe the sky is the limit at this point, especially since their youth should keep them fresher than some of the older teams in the west like the Lakers and Mavericks.
7. Who is the Mid-Season MVP? 
Troy: Kevin Durant - No question in my mind. The best player in the NBA is also the MVP. Durant can't be guarded and he can't be stopped. On defense, he locks down whoever he is matched up against. He's the heart of the Thunder and he's a total monster on the court. 
Adam: Kobe Bryant -
Plain and simple, the Lakers had a terribly slow start to the year, and despite the injury to his shooting hand, the Black Mamba continues to press on and 'will' his team to wins when necessary. Without Bryant, the Lakers would be looking at a lottery pick next season.
6. Who is the Mid-Season Coach of the Year?
Troy: Doug Collins - This is a given. Collins has totally turned a failing Philadelphia franchise into a winning team. Collins has handed the reigns almost entirely to his players and has fostered a 'total-team' atmosphere. Considering what Collins had to work with in Philly, it's amazing what he has accomplished. 
Adam: Kevin McHale - 
For me, this was a no-brainer. I didn't expect the Rockets to make any noise whatsoever this season, but considering they won their last seven straight before last night's loss and the importance that Mchale has stressed on the defensive side of the ball, I could definitely see them fighting for the seventh or eighth seed in the West.
5. Best Rookie This Season? 
Troy:
Ricky Rubio
- There were a massive amount of questions surrounding Rubio's transition to the NBA. Some believed he would never even make it, others said he would just be a huge bust, and then another crowd thought he would be a younger Steve Nash. Rubio has emerged as the latter, and has 
dominated
 the NBA in his rookie season. 
Adam: Ricky Rubio - 
The fifth overall pick in 2009, Rubio didn't make his NBA debut until this season because of contract complications with his Spanish team. However, now that he's here, he's all but entrenched himself as the starting poing guard in Minnesota and he seems to be a flashy jack of all trades. Outside of maybe his passing, he doesn't do any one thing spectacularly, but he does everything fairly well and is able to help his team towards a 'W.'
4. Where Will Dwight Howard be Traded, if at all? 
Troy:
Won't Be Traded - Anytime a player is shattering records, like Howard is, it seems unlikely they will ever be dealt. The Magic are in this exact same situation with Howard right now, and he seems to get better every game he plays in. There just isn't fair-value for a player like Howard, and the Magic are going to have to hope he suddenly changes his mind about Orlando by the end of this season. 
Adam: Won't Be Traded - 
I guess you could say there's a long shot deal of Andrew Bynum and another piece from the Lakers for Howard, but I don't see the Lakers parting with Bynum and potentially another asset, especially with how well Bynum has been playing at this point in the season. The rest of Howard's preferred suitors (Mavs', Nets, Clippers) either don't have the necessary pieces available or just don't have the cap space. Howard stays in Orlando, at least for the remainder of this season. More than likely though, you know he's going to test his value on the open market.
3. Which is the Most Surprising Team This Season? 
Troy:
Philadelphia 76ers
- Who's the Sixers best player? Maybe Andre Iguodala, Lou Williams, Jrue Holliday? 
You can't peg one single player.
 Philly is playing awesome team basketball, and they are one of the most 
fundamentally
 sound teams in the NBA. They lead the 
Atlantic
 Division and they could surprise some teams this year. 
Adam: Philadelphia 76ers - 
They are the only team over .500 in the Atlantic Division, so take that how you want. However, the fact of the matter is that Doug Collins finally seems to have his players buying into his 'defense and intensity wins games' blueprint, and it's paying big dividends so far. They don't really have any true superstars, just a lot of unselfish guys playing roles in Philly's grand scheme. Will the success continue? I have to believe it will, at least to the point of them earning a playoff spot in the East.
2. Which Team is the Most Disappointing?
Troy: Charlotte Bobcats - It would be very easy to take the Boston Celtics here, but I really think the Bobcats are a big let-down this year. They acquired Kemba Walker in the draft, and his killer instinct alone was supposed to carry Charlotte to a few wins. That hasn't been the case, and it looks like the team has actually taken a step back this season. 
Adam:
Boston Celtics 
-
You may be surprised with this choice, but considering the team has three future Hall of Famers under contract, it's really quite baffling to see them struggle like they have. The loss of Jeff Green to unexpected heart surgery hurt, but with veterans like Paul Pierce, Ray Allen, and Kevin Garnett, it's inexplicable how they're still below .500.
1. Which Two Teams Will go to The NBA Finals? 
Troy:
Bulls vs. Thunder
- I was tempted to choose the Heat for my Eastern Conference pick, but the Bulls look great, and the team's best player, Derrick Rose, isn't even playing. The Thunder are a lock, as they are the youngest and best team in the Western Conference by a long-shot. These are two amazing teams, and it could be a great finals series. I'll take Oklahoma City to win it all.
Adam: Heat vs. Thunder - 
A shortened season favors the younger teams, and even though many people look at the NBA playoffs as a 'second season' altogether, these two squads have the talent to go along with their youth. Shane Battier, a more confident Chris Bosh, and the return of a healthy Mike Miller have the Heat churning on all cylinders. Kevin Durant and Russell Westbrook are two of the most electrifying young players in the league, but what some people might not realize is that the highlights they produce usually come off of turnovers the Thunder defense creates. I could easily see the series going seven games. As for a winner? I'll take the Thunder in seven.
Be sure to follow Beard and Stache on Twitter 
@BeardAndStache
, and also Troy 
@TroyBallards
 and Adam 
@Adam_Parker43
, Like our Facebook page HERE!