Finally.
The regular NBA season has now ended. Fans have been jubilantly sharing in their teams' success and also crushed at witnessing their demise. Seeds have been locked up (some several weeks prior, some within the last few games) and teams are waiting for the madness of playoffs to come into full effect this weekend. Many will be challenged with difficult matchups, others with injured players. One thing is certain, though: there is sure to be some quality basketball on display throughout the next few weeks.
Questions remain, though. Can the Pacers demonstrate the strength and aptitude that resulted in their 11-1 start to the season, and justify their 1. seed? Will Mark Jackson be able to guide the Warriors through the playoffs and relieve some of the heat that he finds himself under? Can the Heat claim another championship before their 'Big 3′ face the prospect of free agency?
Eastern Conference
1. Indiana Pacers vs 8. Atlanta Hawks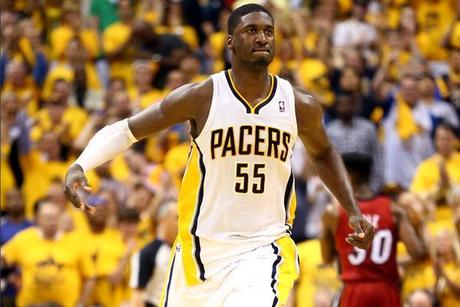 Roy Hibbert will need to perform for the Pacers to make a deep run this postseason.
The Pacers are somewhat of an enigma. They began the season leaving no doubt in anyone's mind that they were there to establish themselves as title contenders, and then displayed bouts of sub par performance that resulted in almost losing the top seed. This is certainly a team whose playoff run will be difficult to predict: they could find themselves struggling in the early rounds and packing their bags early, or the could once again reach the eastern conference finals and display their dominance there. Much of this will depend on the play of those such as Lance Stephenson and Roy Hibbert, who will need to look sharp on both ends of the court to help their team make a deep playoff run.
The Hawks have certainly been met with a challenge in the first round, and just barely kept the final East playoff seed from the desperate New York Knicks, going 7-3 in their final ten-game stretch following a brutal series of consecutive losses. They have certainly provided trouble for the Pacers this season (series tied at 2-2), having won both home and away. The biggest X-factor here will likely be rookie center Pero Antic, who has been phenomenal this season and if on his game, will only add to the sheer number of three-point shooter available. Jeff Teague will also be a crucial component here, averaging 18 points and nearly 7 assists this season while shooting nearly 60% since All-Star break. If the team can work well together and strain the Pacers' perimeter defense, expect a tight series between the two teams. Provided the Pacers find their niche, however, the Hawks will certainly struggle against the credible defensive and even offensive threat that they pose.
Prediction: Pacers in six
2. Miami Heat vs 7. Charlotte Bobcats
It's no question that Miami fans are hungry for another title. Lebron James, Dwayne Wade and Chris Bosh will all soon be entering free agency, and the Heat are undoubtedly seeking to provide reasons to stay. The team as a whole has certainly relished in the success they have enjoyed over the last few seasons, yet with the playoffs looming everyone will need to step up. Udonis Haslem is one such player, who will definitely need to be on his A-game when guarding those such as the highly underrated Al Jefferson. (Jefferson went off for 38 points and 19 rebounds against the Heat, but went largely unnoticed due to Lebron's 61 point performance) Of course it goes without question that Lebron and co. will need to show up as well, but it will be interesting to see how Erik Spoelstra chooses to balance the minute-cap of his star players with regards to the need for a short series.
Perhaps better than I could sum up in words, Michael Jordan himself showed his appreciation for the Bobcats' noteworthy season several days ago during their 91-86 overtime win over the Chicago Bulls in their regular-season finale. The Bobcats have certainly provided entertainment for the rest of us this season, with strong performances from those such as Al Jefferson and Kemba Walker. However, they are facing a monumental challenge in having to take on the reigning champs in the first round, and questions remain as to the level of basketball we're going to see from them. Michael Kidd-Gilchrist is one of the players that will truly need to demonstrate an impactful performance in order for the Bobcats to have any chance this series. If Jefferson plays like he was in February and March, then the Heat will struggle to contain his red-hot offense. Despite their upside however, the Bobcats will be hard pressed to challenge a Miami team looking to win another title and do what only five teams in the history have done (Bill Russell's Celtics achieved a remarkable 8-peat from 1959-66).
Prediction: Heat in 5
3. Toronto Raptors vs 6. Brooklyn Nets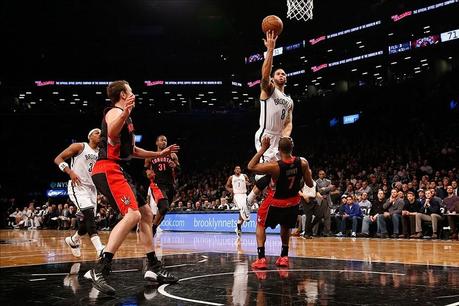 Nets point guard Deron Williams will need a strong showing to challenge a young and talented Raptors team.
The Raptors demonstrated talent and hustle all season, garnering a respectable 48-34 record and making it to the playoffs for the first time in six years. Oddly enough the same scenario occurred seven years ago: the third-seeded Raptors faced the sixth-seeded Nets, and would eventually lose in 6. Red-hot point guard Kyle Lowry and the quietly efficient Amir Johnson (12th in the league in real plus/minus, the stat that denotes net change in score while each player is on the court) are here this season to make sure that we don't see a repeat of that series. If Demar DeRozan and Lowry can continue their impressive averages of 22.7 and 17.9 ppg respectively, Brooklyn will be hard-pressed to knock this team out once again.
Brooklyn has been somewhat of a disappointment this season. While not quite on the scale of the Los Angeles Lakers two seasons ago, the new signings and direction of the team has led to expectations exceeding performance. They have still managed to snag the 6th seed, though they will need strong performances from playoff-familiars Paul Pierce and Kevin Garnett to will their team to victory. Much of the focus will need to center around Deron Williams, who will be instrumental in leading the team throughout the playoffs. Though the Raptors have the advantage in youth and raw athleticism, the Nets should be able to use their leadership and veteran experience to find success in this series.
Prediction: Brooklyn in 7 (though truthfully this could go either way)
4. Chicago Bulls vs 5. Washington Wizards
Chicago has done fairly well despite the perennial absence of MVP Derrick Rose, posting a 48-34 record thanks to the help Coach Tom Thibodeau's suffocating defense. Thibodeau has commanded the team in a maniacal fury, ensuring that his players give 110% every time they step on the court. He has been instrumental in developing Chicago's 1. ranked defense in the country. The stellar play of Joakim Noah and (off the bench) D.J. Augustin has certainly been a critical factor as well, and these two along with Jimmy Butler will have to shoulder much of the weight if Chicago is to pose a viable threat to Washington.
The Wizards provide an excellent blend of youthful athleticism and talent, though it must be noted that one thing they lack is collective playoff experience. Despite that, John Wall looks to shine in his first playoff performance ever. He will definitely need to display his aptitude for superb playmaking and explosive offensive capabilities to help the Wizards get past the first round. The duo of Trevor Ariza and Bradley Beal cannot be quiet either this series. Ariza, who can drain shots as easily as brick them, will need to be consistent in his shooting while Big Panda must remain patient in waiting for the appropriate shots (midrange jumpers are his forte). Unless they find their rhythm early and often, they will struggle against the bulwark that is the Bulls team.
Prediction: Bulls in 6
Western Conference
1. San Antonio Spurs vs 8. Dallas Mavericks
The Spurs will be looking to put last year's heartbreaking finals past them and grab another title with much of their same crew remaining. Plagued by injuries through much of the season, they are now at full strength and raring to go. San Antonio has a wealth of experience and veteran talent to help steer them through the series, while at the same time possessing young talent to rival any other team. Kawhi Leonard had a stellar showing throughout all of last year's playoffs, and has gained much from the mentoring of Tim Duncan. Coach Gregg Popovich commands the full respect of his team, and leaves no doubt in anyones mind that he knows exactly where to hammer opposing teams. The synergy of the entire team is phenomenal as well, and the average basketball IQ is impressive on its own. The spurs will need strong play from those such as Tiago Splitter, Manu Ginobli and Tony Parker for Pop and crew to earn a title this year.
Dallas was one of the last teams to secure their playoff spot, finishing with one more win than the surprising Phoenix Suns. In order to even have a shot at reaching the finals, Dirk Nowitzki will need to give an impactful performance throughout the series. Das Wunderkind has shown before that he can succeed in the postseason, and coach Rick Carlisle is not one to be underestimated. Both still recall their 2011 title as clear as day, and it is with fervent passion and heart that they will work together to help lead their team to victory. One question that remains is the play of Monta Ellis, who will need to transcend his already-efficient level of play to truly have an impact on the series. However, I fully expect San Antonio to play with the same vigour and talent that they demonstrated last season and show why they went toe-toe with the Heat in last year's finals.
Prediction: Spurs in 5
2. Oklahoma City Thunder vs. 7. Memphis Grizzlies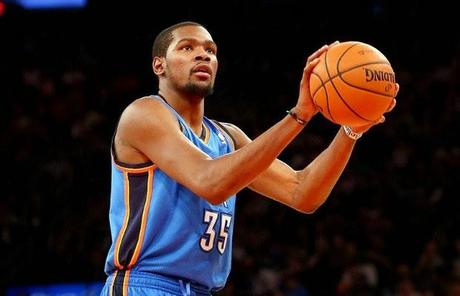 Can Kevin Durant guide his team to their first ever championship?
The Thunder are certainly a team with a lot of upsides. Virtually a lock for MVP this season, superstar Kevin Durant will be looking to earn his first ring this year, and teams are definitely going to be hard-pressed to contain this scoring beast. Coach Scott Brooks will have to be on his A-game as well against a stingy Memphis team that knows how to win. Point guard Russell Westbrook will also be an X-factor in this series, as the Grizzlies will likely be attempting to restrict Durant as much as possible on the offensive side of the ball. Given Durant's remarkable talent as a playmaker and passer, if Westbrook can play the way we all know he can, expect great things from the former UCLA standout.
Memphis's motto says it all: Grit 'n' Grind. This is a tough team that does not give an inch, especially when playing on their home court. Expect Zach Randolph to make an impact whenever he steps on the floor, as he is a savvy player who averages 17.4 ppg for a reason. Newly acquired Mike Miller has been shooting a career high 45.9 from downtown, but he will need to be a veritable human torch from the three point line to truly cause trouble for OKC. Interestingly enough, the Memphis is 40-19 with Marc Gasol in the lineup; the Spaniard center defintely knows how to execute the high-low pass game and relieve pressure from fellow big man Randolph. Though they face an uphill battle against a strong, respectable team, expect them to cause trouble for the Thunder and test them throughout the series.
Prediction: Thunder in 6
3. Los Angeles Clippers vs 6. Golden State Warriors
The Clippers are a team filled with talented players at every aspect of the game. Wily point guard Chris Paul knows how to command his offense like a pro; arguably the best point guard in the nation today, he looks to break out of the first round of the playoffs for the first time ever after being upset last year by the Memphis Grizzlies. Of course, 'Lob City' would not be what it is without the powerhouse that is Blake Griffin. Griffin has elevated himself beyond just the ESPN dunk highlight reel and has truly made himself a nightmare for opposing teams to deal with whenever he has the ball. Perhaps the scariest thing about this team is the fact that they can make teams pay from outside as well as in, and grab rebounds like nobody's business.
Golden State is certainly a team to look out for this postseason. Stephen Curry and Klay Thompson are two of the best outside shooters in the league today, and they will make any team who fails to guard them properly pay. Curry is perhaps the Warriors' most potent offensive threat, able to effectively shoot contested jumpers from around the horn. Coach Mark Jackson finds himself without a contract after this season, and will have to prove his worth to the franchise in order to extend his stay with the team. One of the question marks for this team lies with center David Lee. Efficient all season long offensively, Lee will have to turn it up on the other end of the court to really contribute to the flow of the game. This will certainly be one of the most entertaining series of the game, and expect there to be a fierce and high-tempo performance from both teams.
Prediction: Clippers win in 7 (once again, this could very easily go either way)
4. Houston Rockets vs. 5. Portland Trailblazers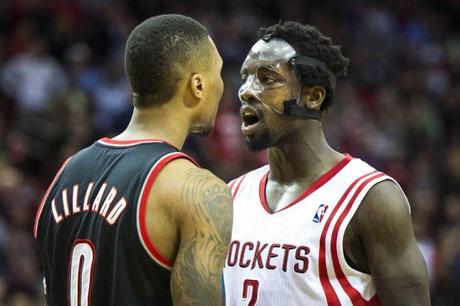 Duelling PGs Lillard and Beverly exchange words during their most recent matchup.
The Rockets will be raring to go this round as they look for success now that their full lineup is assembled. Star Dwight Howard has come back from injury, and looks to be as ready as ever to play his best. Possibly the best shooting guard in the nation, James Harden (and his beard) will be wreaking havoc on the Trailblazers' deplorably soft defense (22nd in the league). Those who will need to step up include point guard Patrick Beverly, the physically tough bane of Damian Lillard's existence and center Omar Asik,who must play a key role in stopping All-Star LeMarcus Aldridge if Houston is to progress to the next round.
Portland has no shortage of talent on their own roster. Damian Lillard has been looking scary good while averaging 20.7 points and 5.6 assists in the regular season. Last year's rookie of the year will inevitably clash with Beverly, as has happened in recent meetings between the two teams. Not to be discounted is All-Star LeMarcus Aldridge (averaging 23.2 points, 11.1 rebounds), who can make Houston pay down low if he operates in his usual effective manner. Wes Matthews will need to play stingy defense against the explosive James Harden, and Nicolas Batum must exploit the too-often leaky defense of the Rockets along the perimeter. Unless the whole team steps up to maintain their high-octane offense and shore up their defense, the Trailblazers will find trouble against a tough and relentless Houston side that will punish any who underestimate them.
Prediction: Houston in 6
There you have it. In what has been one of the more interesting seasons in recent times, each team faces questions and uncertainty regarding players, coaches, injuries, opponents, trades, free agencies, rumors and general playoff pressure. This is no longer the regular season, however. This is the playoffs.
The playoffs, where reputations are made, where legends are created, where players have their chance to go down in the history books. The playoffs, where fans support, where players and coaches give it their all, where hopes are crushed and dreams are realized. The playoffs, the final stage for teams to give it their all and stake their claim for being best in the league.
So sit back, grab some popcorn, and savor what it sure to be quite an enjoyable few weeks of basketball.