It's already been a week since the NBA's free agency has started. So far, there have been a lot of shocking moves going on.
Well, here are the notable contracts being inked:
Paul re-signs with Clippers: "I'M IN!!!!!!!!!!!!!!!" is what Clippers PG Chris Paul tweets after he signs his contract for 5 years/$107 million to stay with the LA Clippers.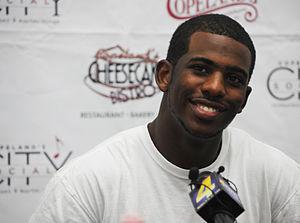 English: NBA player Chris Paul answering questions at a youth basketball camp. (Photo credit: Wikipedia)
Martin goes to T-Wolves: Oklahoma City Thunder's 6th man Kevin Martin takes his talents to Minnesota after one year with OKC. His contract is 4 years/$28 million. Let's see if KD and Westbrook can function without their key player.
Clips/Suns/Bucks in Three Way Trade: Former Duke sharpshooter J.J. Redick was apart of a three-way trade that sent him from Milwaukee to LA. Clippers G Eric Bledsoe and F Caron Butler were sent to Phoenix in the trade as well.
Iggy Goes To Golden State: The Warriors clears out cap room by trading players to land free agent Andre Iguodala. The contract is set for 4 years/$48 million. Power team in Oakland???
Howard Goes To Houston: Dwight Howard has agreed to go to Houston, neglecting to re-sign with the Lakers. Did he make the right choice? We'll see.
Smith to the D: Josh Smith decides to take his talents to the Detroit, and he leaves behind his hometown Atlanta Hawks in the process. I hope Hawks hope that Smith didn't leave his 3-point shooting and free throw percentage here in Atlanta.
J.R. Stays in NY: Sixth Man of the Year J.R. Smith decides to stay with his current team, signing a 4 year/24.7 million contract with the NY Knicks.
Evans Goes To Pelicans: Kings G/F Tyreke Evans is sent to the New Orleans Pelicans in a three way trade between the Kings, Pelicans, and the Trailblazers.
Jefferson Goes To Bobcats: F/C Al Jefferson goes to the Charlotte Bobcats, signing a 3 year/$41 million contract. Is he the end to the 'Cats' troubles? Has Mr. Jordan finally done something right?
Those are the most notable moves being made as of now. I'll be honest: I'm already anticipating the next season!