Hello everyone! I haven't been posting on this blog as I've been pretty occupied with cake decorating. Next week is my last class for the current module and we are expected to bake and decorate a 2-tier cake. After researching for ideas, I spent days preparing the modeling paste, colouring, and crafting them into cake toppers. I'll share more about the course and my final cake after my class next week.
I was replenishing our coffee capsules recently when the sales lady at the shop commented that I look like one of the Charlie's Angels. I'm assuming she was referring to Lucy Liu as she's the only Asian among the trio. I wish I have her looks and figure but I know I don't. Still, it's nice to be paid a compliment, even if it's far from the truth. I happily related this incident to my hubby and he said: "Did you ask her which coffee she drank?" That's my husband. Brutally honest. If only he can be this honest on other matters!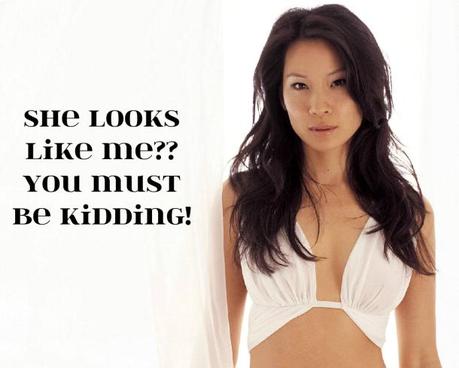 To make up for my absence the last 10 days on this blog space, I'm going to share a pretty lengthy recipe today. One of my favorite but very sinful dish – Nasi Lemak. Nasi Lemak is considered the national dish of Malaysia and the name nasi lemak actually means fatty rice. I shouldn't be eating too much of this. If not my hubby will be brutally honest on my (lack of) figure later.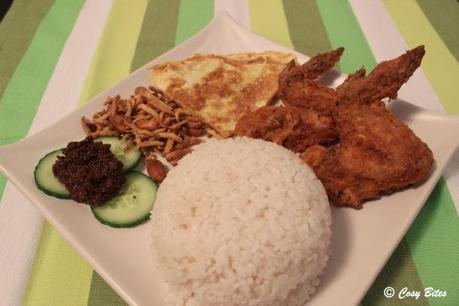 My early memory of nasi lemak was pre-packed coconut rice with fried anchovies and peanuts, a thin slice of fried egg, fried fish, cucumber slices and sambal chilli on the side, wrapped in banana leaf and sold for around SGD 1.50 to 2. This was traditionally a breakfast food. Now they come in different varieties with so many side dishes for you to choose that you can eat it anytime of the day.
Though the sambal chilli is usually parked in a corner, I see it as a star in this dish because it can make or break it. No nasi lemak is good or complete without a dollop of sambal chilli. I've got the recipe (which is a Lee Wee & Brothers' recipe) off The Little Teochew but tweaked it slightly. It ended up tasting very much like the sambal chilli from Punggol Nasi Lemak. I like! All Singaporeans would know them. The stall with the long queue along Upper Serangoon Road.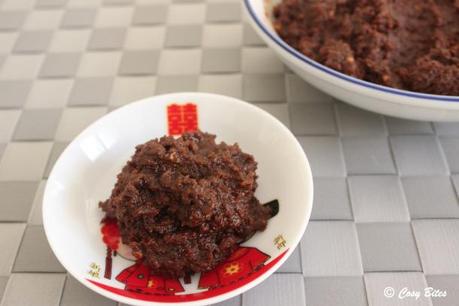 SAMBAL CHILLI
Ingredients:
40 gram dried red chilli

100 gram onion

25 gram garlic

5 tablespoon cooking oil

80 gram ikan bilis (anchovy)

25 gram sugar (to taste)

250 ml water 
Method:
Rinse ikan bilis with water and allow to dry completely. Place dried ikan bilis in a food processor and grind into fine powder.




With a pair of scissors, cut the dried chilli halfway to remove most of the seeds. Soak dried chilli in water to soften, then drain the water.

Blend dried chilli, onion and garlic to form a smooth paste.





To a heated wok, add cooking oil and stir-fry the ground ikan bilis for about 2 minutes till fragrant.

Add the ground chilli paste and sugar and stir-fry over low heat for 10 minutes, adding water as you fry to avoid burning the paste. The resulting sambal chilli should be moist and pasty.
Moving on to the nasi lemak. Of the many side dishes, my personal favorite is fried chicken wings (who doesn't like chicken wings deep-fried to perfection??) so I'm sharing that along with the more standard sides of ikan bilis & peanuts and omelet. Recipe adapted from here and here.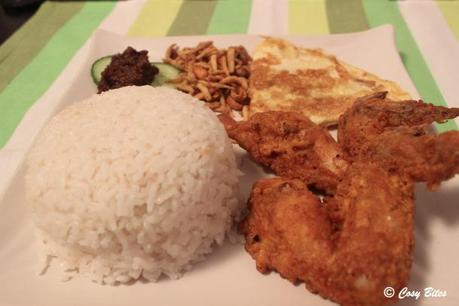 NASI LEMAK
Serves 3-4
Ingredients:
Oil, for deep frying

Cucumber slices, for garnish

Sambal chilli (recipe above)
Ingredients for the rice:
250 gram rice

275 ml water

225 ml coconut milk (I used lite coconut milk)

1 onion (about 125 gram), cut into chunks

1 star anise

1 large cinnamon stick

Pandan leaves, tied in a knot (optional)

½ teaspoon salt

2 teaspoon sugar
Ingredients for the chicken wings:
500 gram chicken wings (about 8 pieces)

3 eggs

½ tablespoon turmeric powder

½ tablespoon salt

½ tablespoon white pepper powder

2 inch ginger, pounded

3 tablespoon corn flour

6 tablespoon rice flour
Ingredients for the Omelette:
2 eggs, beaten

2 tablespoon water

Salt and pepper, to taste
Ingredients for the ikan bilis and peanuts:
50 gram peanuts

20 gram ikan bilis (anchovy) 
Method:
For the rice: Put all the ingredients for the rice in a rice cooker. Leave to cook and remove onion, star anise and cinnamon stick when done.
For the chicken wings: Mix all ingredients to form marinade and batter, and allow to settle for about 10 minutes. Dip the chicken wings in mixture, and fry until golden brown and crispy over medium heat for about 2 minutes each side.
For the omelette: Mix all the ingredients together and pan-fry in a round non-stick pan with some oil till golden brown.
For the ikan bilis and peanuts: Deep-fry the peanuts and ikan bilis separately before mixing together.
To assemble: Serve a bowl of coconut rice with the chicken wings, omelette, ikan bilis and peanut mix, and garnish with 2-3 slices of cucumber topped with sambal chilli.