By MICHAEL CASEY, AP Environmental Writer
One of the biggest challenges to improving water conservation is often competing demands which has worsened the problem in the Tigris and Euphrates river basins.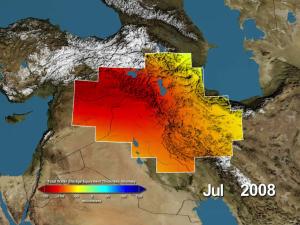 Turkey controls the Tigris and Euphrates headwaters, as well as the reservoirs and infrastructure of Turkey's Greater Anatolia Project, which dictates how much water flows downstream into Syria and Iraq, the researchers said. With no coordinated water management between the three countries, tensions have intensified since the 2007 drought because Turkey continues to divert water to irrigate farmland.
"That decline in stream flow put a lot of pressure on northern Iraq," Kate Voss, lead author of the study and a water policy fellow with the University of California's Center for Hydrological Modeling in Irvine, said. "Both the UN and anecdotal reports from area residents note that once stream flow declined, this northern region of Iraq had to switch to groundwater. In an already fragile social, economic and political environment, this did not help the situation."
Jay Famiglietti, principle investigator of the new study and a hydrologist and UC Irvine professor of Earth System Science, plans to visit the region later this month, along with Voss and two other UC Irvine colleagues, to discuss their findings and raise awareness of the problem and the need for a regional approach to solve the problem.
"They just do not have that much water to begin with, and they're in a part of the world that will be experiencing less rainfall with climate change," Famiglietti said. "Those dry areas are getting dryer. They and everyone else in the world's arid regions need to manage their available water resources as best they can."
Read more:

http://www.sfgate.com/news/science/article/NASA-Alarming-water-loss-in-Middle-East-4272320.php#ixzz2KogSlnzK