If there's one thing I don't need, it's probably another pencil eyeliner. And to be fair, I'm pretty happy with the ones I know and love – mainly the NYX Slide-On Eye Pencils, the Urban Decay 24/7 Eye Pencils, and the Flower Beauty Liners (read my review here). So what on earth possessed me to try the NARS Larger Than Life Long-Wear Eyeliner? So many rave reviews and an annoying curiosity, that's what! I was initially thinking I would try out the navy shade, Rue Saint-Honore, but upon further inspection I realized it's almost a perfect dupe for the Flower Beauty Liner in Navy! The color is exact. I swatched it on my hand in store, left it there and checked when I got home – exact same shade! The formula is pretty similar too. So, instead of buying something I already I have, I did something really original and went with Via Veneto – the oft hyped black liner.

J

I didn't really expect anything terribly different, but….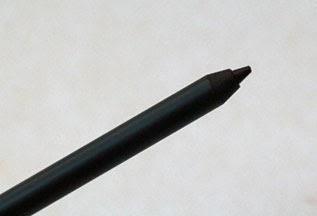 This eyeliner is seriously impressive! It's not so much that it glides on beautifully – plenty of liners do that. It's not so much that it's a deep, dark, true black. There are a lot of those out there. It's not exactly that it's long wearing. Again, not unique. What truly sets this liner apart from the others is when it's used for tightlining the eyes. The other liners I've mentioned do a fine job when it comes to lining the inner waterlines, but I find that they transfer a little bit. So if you're tightlining the upper waterline, but want a clean lower waterline, it can get a bit muddy. Not so with the NARS Larger Than Life Eyeliner! It does not transfer at all! It will wear all day without transferring as well. Strangely, I'm not sure that it's waterproof because it comes off relatively easily when I wash my face at night. But until I remove my makeup, it's perfectly in place without a smudge or a smear – or a greyish transfer. It's an absolutely superb eyeliner and I can't recommend it highly enough!

J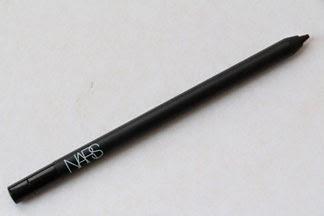 Since I've gotten a bit carried away with my love for the staying power of this liner, I should tell you a bit more about the rest of it! It looks like a standard pencil that needs sharpening, but it's actually retractable. I'm often not a huge fan of retractable liners because it's hard to get a good point, but NARS thought of that one too – there's a sharpener in the end of the pencil! The liner is the perfect consistency – not too soft, nor too firm. It glides like a dream, even on the waterline. It does not irritate my eyes as some other liners can. It is smudgable, yet budgeproof. It removes easily…but only when you want it too. It's a beautiful deep black (the other shades I've swatched are all stunning as well) and it remains true to color all day. I really cannot say enough good things about the NARS Larger Than Life Long-Wear Eyeliner in Via Veneto! (My only negative would be the price tag, but it's worth it for this little gem!)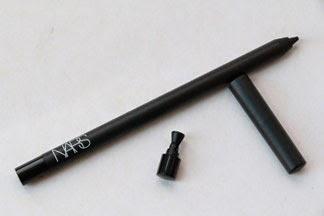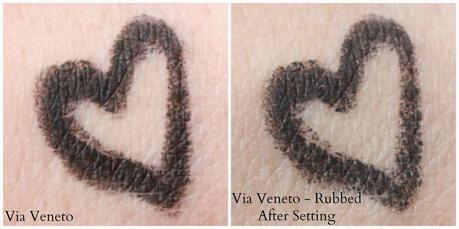 The NARS Larger Than Life Long-Wear Eyeliners retail for $24 and are available wherever NARS products are sold (Sephora, NARS' website, Nordstrom, etc.). There are 18 shades available from NARS, while Sephora offers 14 of those shades.