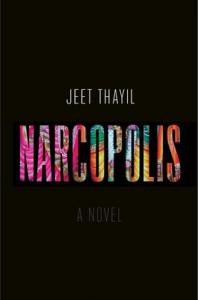 When I first started this novel I thought I would not be able to get into the characters nor the book.  The beginning several pages are an opium-induced stream-of-consciousness sentence from the protagonist, Dom Ullis, that takes one into a dream-like, surreal state.  
Once I got to the next chapter and realized it was not one very, very long sentence throughout the entire novel, I was able to relax a bit and enjoy the ride.  And oh, what a ride it is!  The manner in which Jeeta Thayil forms his sentences, makes every word sound like liquid gold is almost transcendent.  And understand that I'm not a big fan of poetry - I have to hear it in order to understand it....and then oftentimes, I still don't get all the nuances, symbolism and meanings.  Narcopolis is not a novel written in verse; however, it IS a novel written by a talented poet.  I felt I was reading a work of genius, especially when you take into account the subject matter of the novel.  Jeet Thayil made even the slums sound beautiful with his lyrical prose!
Narcopolis follows the life of a street in Bombay - not just any street, Shuklaji Street - home to the destitute, whores, opium dens, the poorest of the poor.  The cast of characters are as colorful as the colors one associates with the rich palette of Indian dress.  We have Dom Ullis who "could read and write and had a family that cared enough about me to finance my education, who could do anything I wanted, go anywhere and be anyone, why was I an addict?"  Dimple, the prostitute working in the hijra (brothel of eunuch prostitutes) and "for people like her, for the poor, the only incredible thing in the whole world was money and the mysterious ways in which it worked."  and Mr. Lee who owns an opium den but prefers to  allow a select few into his den.  Narcopolis is a raw in-depth look at a few intersecting lives.....truly a character-driven novel of the finest sort.
A word of caution.  Narcopolis does have violent situations, lots of sex, and drug usage.  I want to be clear; however, that this is not a novel of erotica - it is about a city overtaken by Opium and subsequently Heroin, a look into the violent riots between the Hindus and Muslims and the sordid, sad world of prostitution.
In a Word: Lyrical
Buy the BookPublisher: The Penguin Press | Published: February 1, 2012Genre: Fiction | 304 pages | ISBN No. 978-0571275762


Many thanks to the publisher and TLC Book tours for the complimentary copy of Narcopolis. 




To see what other bloggers have to say about Narcopolis please visit the Blog Tour.