Mr FHCS is pretty well trained. On our anniversary last month I was quite excited to be presented with a glossy carrier bag from Nails inc, which he'd visited under his own steam to facilitate my polish fetish. [Obviously carrier bags are mainly exciting for what's inside them. I'd have been less thrilled and more divorce-y with an empty one]. Anyway, he'd braved the scary orange ladies of House of Fraser and they'd assisted him in choosing some of the latest goodies. As well as some top coat and a selection of 5 mini pastel shades, they'd steered him towards the new 'sprinkles' range. I won't go into one of my rants about how I'd rather strangle myself with bunting than give house-room to shabby chic signs adorned with cupcakes or read pink covered chick lit called 'Welcome to the Cupcake Cafe'. [Is there a random name generator for these somewhere? I sense a new post coming on]. I am bemused at how sticking a load of icing on a sponge somehow infers it with 'vintage' status. But you can imagine I did look slightly suspiciously at my favorite nail polish brand when I saw they'd hopped onto the creaking shuddering surely-the-wheels-will-come-off-this-soon bandwagon. There's a frickin' cupcake on the lid! Gaaah! But OK, let's give it a chance.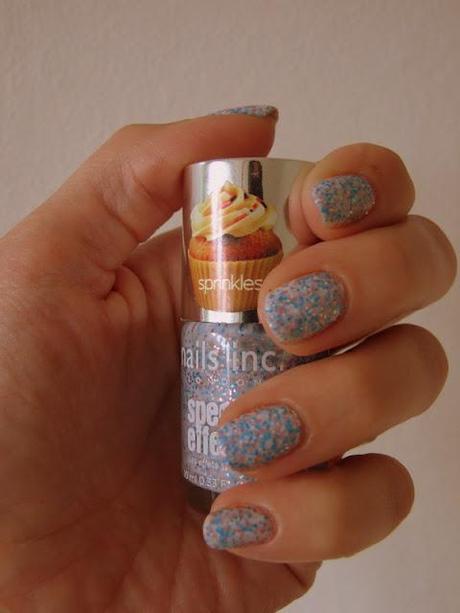 Nails inc - Sweets Way
The first one I tried out was Sweets Way, which has a pale milky base, with small silver. pink and blue glitter. It goes on well - not gloopy like a lot of glitter polishes - and neither do you have to spend ages redistributing the glitter with the brush, it spreads out evenly. The glitter itself is slightly mattified, so you have a subtle shimmer as opposed to in your face sparkle. The overall effect is very like thin glacé icing with, yes - you guessed it - sprinkles. So less like a cupcake with buttercream and more like a traditional fairy cake with 'hundreds and thousands'. I did two coats and a top coat and it lasted pretty well. Textured polishes are always easy to touch up if they chip and this was no exception. And I liked it! It's very girlie, but it would be a great look with ice-creamy pastel shades, or for a wedding.
I also tried Sugar House Lane, which is a latte coloured polish with matte black and white glitter particles. I loved this one, but it didn't really say 'cake' to me. More 'shared house kitchen flashbacks':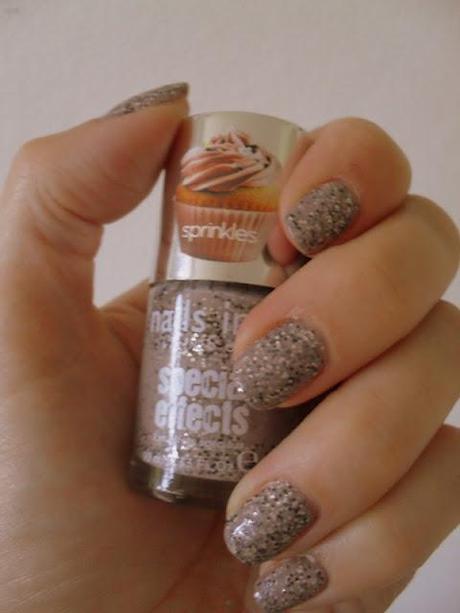 matching your nails to your 90s kitchen worktops - the new trend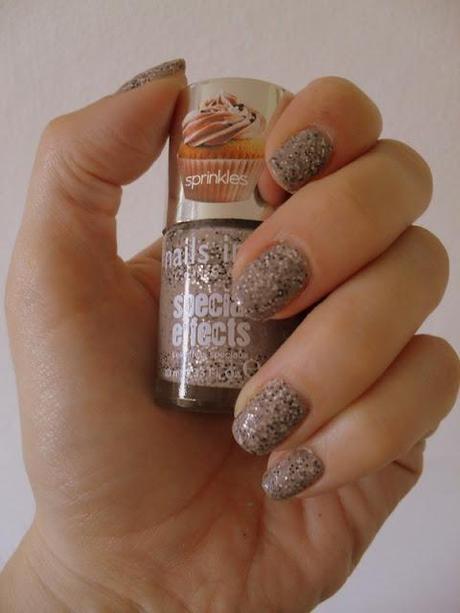 Nails inc - Sugar House Lane 

Anyway, this one got loads of compliments and is definitely more edgy looking, but it's all a matter of taste and mood. There are another two in the range - Topping Lane (pink) and Pudding Lane (Blue).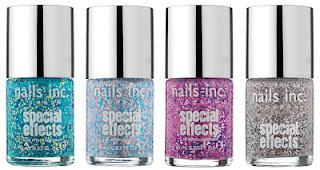 £11 each from Nails inc
They're  £11 each, although Nails inc has recently launched in the USA through Sephora, and is a lot cheaper there. They seemed to work out at more like £6 per polish. Very galling for the British girls who made the brand what it is, but there you go. If you're heading to the States I'd leave some room in your suitcase. Otherwise you could  - like me - become a Nails inc VIP and get 10% off everything on their website. Membership costs £5 for a year, and you get a free full size polish on joining, points with each purchase towards money off, and a gift in your birthday month.
What do you think? Have you tried these? Which is your favourite?
Lakota x
For how to remove glitter nail polish without tears - see my post here.