Since we are already into Autumn, I figured it was about time I share my favorite Fall polishes. After much difficulty trying to narrow my favorites into a manageable collection, I ultimately decided it would be easiest to break my picks into a few separate posts, grouped by color. Translation: I am terribly indecisive and could not keep it to a small quantity of polish! These posts will be heavy on the photos and probably low on words. Let's face it, only so much can be said about a color; what everyone really wants is to see what it looks like!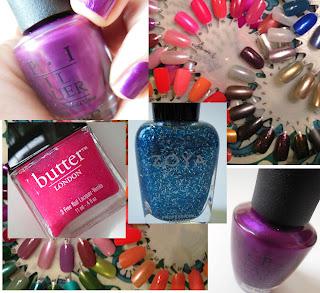 I tried not to single out any one brand, but I think Zoya probably has a greater presence than the rest. Sorry about that, although I would highly recommend trying any Zoya polish that strikes your fancy because I do not think you will be disappointed! The photos have all been taken in indirect natural light and I have tried to ensure the color is as accurate as possible. I will provide a brief description of the shade as well. If I am aware of a dupe, or can think of a similar shade to one shown, I will try to note that also.
I am still frantically destroying my nails with each color and LOTS of polish remover so the first actual post of the colors will probably not be up until Friday or Saturday. In the meantime, let me know of any colors YOU love. If my nails haven't fallen off yet, I might just have to add a few more shades! Keep your eyes peeled for the first post and I hope you enjoy this little mini-series!