Good morning!
Today, I will be sharing one of my 'firsts' - stamping! ;)
I've seen really cool nail art done with stamping so I thought to join in the fun too! Jayo kindly lent me her stamp set and these are the stamp plates that she's got: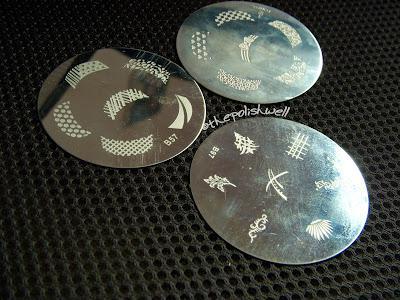 Seems like jayo likes french tips quite a bit! Strangely, I haven't really seen her wear them before =\
Hey jayo~ Are you letting your stamp plates rust? ;)
Anyway, here are some of the designs that I came up with using the plates. If you've been following me on instagram (@thepolishwell), you would have seen some of these stamping mani-s that I've tried.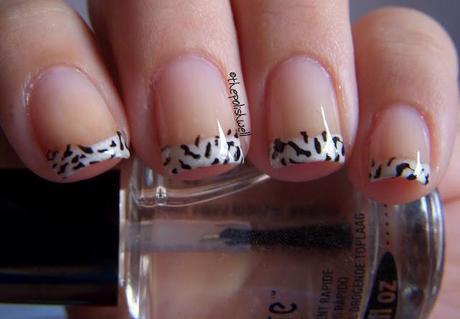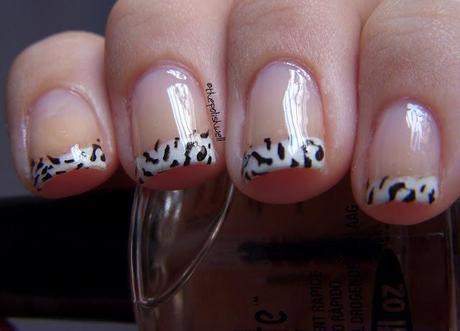 It's official. I have a weakness for animal prints. There's just something really classy about them! And what's classier than an animal print mani? Funky animal prints french tips!
Products used:
Orly White Champagne - for the white tips
OPI Barre My Soul - please excuse the horrid stains on my nails. I should have slapped on two coats to cover the stains
Clatty - black (any one coater black should do the job)
N.NAIL Stamp Plate B57 (top left in the first picture)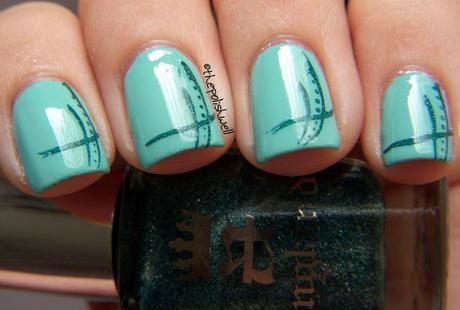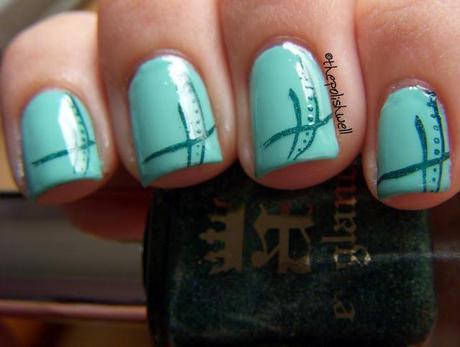 Now, here's another mani that I
really
 liked. Simple but absolutely gorgeous! Initially, I wasn't quite sure where to place the stamp but I decided to try lining up the stamp against the edges of my nails so they won't look so out of place. Love how it turned out. :D
Products used:
China Glaze For Audrey - base color
a-england St. George - stamping color
N.NAIL Stamp Plate B97 (bottom right in the first picture)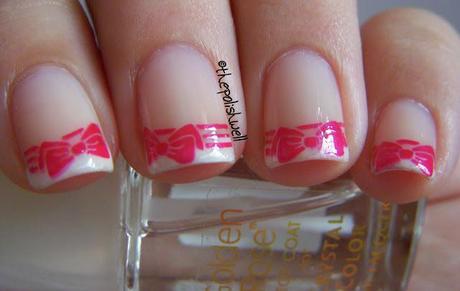 Finally, I decided to try another french mani because the bow looked too cute on the stamp plate! I didn't quite like this one on my nails though. The bow looked a little too big for some of my nails. Maybe I should have just stamped on an accent nail =\
Products used:
Orly Au Champagne - white tips
OPI Barre My Soul - base color
O2 Skin MK 0220 - red
Konad Stamp Plate - M56 (top right in the first picture above)
And because my sister saw me stamping merrily away, she asked for a manicure too. I think she was secretly impressed with my stamped nails. She didn't admit it, of course ;)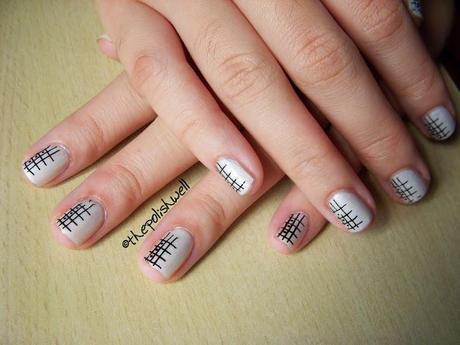 Behold! My unwilling model! I had to beg her to let me take this photo... :||
It took me quite a while to decide on a design and color scheme for my sister's nails. But these turned out quite well, right?  The design is simple but looks absolutely funky and striking against the white. I loved it so much that I did it for myself too! Both my sister and I received quite a few compliments in school! :L
Products used:
Orly Au Champagne - base color
Clatty black - stamping color
N.NAIL Stamp Plate B97 (see picture above)
So that's the end of my first stamping adventure! They turned out fairly good for a first-timer right? :$
Some tips that may be useful for a beginner stamper:
It helps to paint a (fast-drying) top coat over the base color before stamping.

If the stamping goes wrong, just lightly wipe it off the nail immediately with some nail polish remover and you can stamp away without repainting the whole nail again.
As a follow on from the previous tip, you need not be worried that the french tips designs on the plates are too big for you - just clean up with a little remover to keep the design on the tips only.

Experiment with different polishes for stamping - but any pigmented one-coater should get the job done.

Try to avoid quick-dry polishes if you are new to stamping and can't work that quickly.

Work fast to scrape excess polish and pick up the design with the stamper before the polish dries.

It helps to leave the polish bottle uncapped when you're doing your stamping.

If you are not picking up the design,

Clean the plates with some remover to get rid of the dried polishes in the grooves,
OR check if there is a thin plastic film covering the plate - peel that off first! Don't worry, you're not the only one who didn't know that (speaking from personal experience o"o).

You can take some time to position the image over your nail before stamping. The image will still transfer onto your nail even though the polish has sort of dried. (I am not too sure how long you can wait but I sure took a few seconds to position the stamper before I stamped)

I rest the edge of the design against the side of the nail before stamping the whole nail in a rolling motion - this helps to get the stamping straight.
So what do you think of nail stamping? I'm really considering getting myself a stamp set - after all, it's a quick and easy way to refresh a mani with some nail art!
Just in case you are wondering where these plates are from...
The konad plate was a gift to jayo so I'm not quite sure where you can find them.
The N.NAIL plates can be found here at
KKCenterHK
. They also stock a great variety of other makeup products.
You can check out jayo's review over here.
If you decide to shop there, be sure to check out using our promo code "
ThePolishWell
" for a 10% discount - valid till 31 Jan 2013! :party
Happy shopping and stamping!!
xoxo,mich
p.s. I just realized with a
shock
 that I only have a week to revise for three exam papers! o_O Just kill me already. Anyway, I apologize in advance if I cannot find the time to do our regular posts or commenting on blogs! I hope you will understand and I will miss you! :c Wish me luck! 
*N.NAIL Stamp plates B57 and B97 were provided for honest review. For more information, please see our disclosure policy.*