I have to confess - ever since I started dabbling in simple nail art, I'd thumbed my nose at nail wraps and stickers. After all, I can always recreate the designs myself, right?
Wrong.
I never realized that there can be a million and one things that make it impossible to do nail art until I started on a preparatory course for my upcoming bar exam. Ever since the course started, I've only done nail art on a few occasions. Most of the time, I just slap on a polish and wear it for the entire week or until it chips. And you know me, wearing a plain color for an entire week can really bore me to tears.
At times like this, I've really got nail wraps to thank: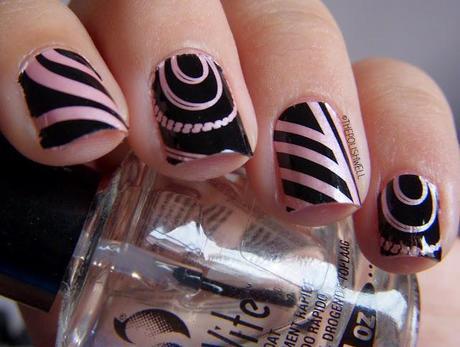 Tada! Fancy nails in under 5 minutes!
Please pardon the mangled looking edges for some of the nails. I did some experiment with the wraps on different nails for this review.
Application is really simple and you can do all ten of your nails in under 10 minutes - no rushing necessary. Here are the instructions on the packaging (in my own words because I've misplaced the cover >.< ):
Remove plastic film on top of wrap
Find a strip of nail wrap that fits on the nail.
Carefully peel the nail wrap off the packaging.
Position the nail wrap on your nail (you can carefully lift it up and reposition it if you got it wrong).
Smooth the nail wrap on your nail and remove any wrinkles or bubbles.
File off the excess nail wrap at the tips. 
In addition to that, I
would
recommend trimming the nail wrap with a pair of scissors to fit your nails before step 3. It will give a neater and crisper edge near the cuticles - see ring finger. I've tried to trim the nail wrap after putting it on the nail and it didn't turn out so pretty - see middle finger. It might be neater if you use a cuticle cutter but I'm not too sure about that.I've also tried to get a neat line near my cuticles by using my usual clean-up method (using a brush and acetone). They
did
 say the nail wrap can be removed using nail polish remover so I thought I would give it a shot. Unfortunately, that didn't work too well either. The acetone dissolved some of the wraps and gave it a fuzzy edge - see index finger.
The nail wraps are relatively shiny on their own but I would
not
 recommend using a topcoat to seal it or to give it extra gloss.I've tried Seche Vite on my pinky and it mangled up the design near the tips. I've also tried a non-quick-dry topcoat on my thumb and the nail wrap pretty much disintegrated into little bits on my nails - crackle/shatter-style. o_O
Minutes after I've applied the nail wraps, I had a horrible itch on my back. Of course, I had to scratch it. ;) I was a little bummed when the corners of the nail wrap lifted up easily. A few hours later, however, I was quite surprised when I could scratch the itch without any trouble. The wraps held on and did not lift up at all. 
If I asked you to scratch my back could you manage thatLike yikky yea Travie I can handle that- Stereo Hearts
Wear time was quite good.The nail wraps held on for at least 3 days before there was visible tip wear. The pinky with the Seche Vite didn't fare as well and chipped majorly on the third day.
Removal was a piece of cake.
I was picking at the chip on my pinky when I realized I could peel off the wrap really easily.
I did try the suggested removal method - nail polish remover. I soaked a cotton pad in acetone and pressed it against my nail for about 10 seconds and everything came off neatly in one swipe. There was only a bit of black left at the sides of the nail.
Needless to say, I proceeded to peel off the remaining wraps. I then gave them a cursory wipe with acetone to remove any sticky residue.
Overall, I must say I'm really impressed with these nail wraps and would definitely recommend them to those who don't have time for DIY nail art.
You can find a wide range of nail wraps here at KKCenterHK. You can find the design I used here.
Have you tried nail wraps before? What do you think of them?
xoxo,
mich
**Product provided for our honest review. Please see our disclosure policy for more information.**