Good morning lovelies! I hope your week has been well so far!
Mine has been a little "eventful". First, my NailTek is getting way too gloopy to be used. Then, I realised that I ran out of cotton too.
To top it off, my Seche Vite is starting to become thick and stringy...
 (my friend, Claire, kindly helped me grab Seche Restore over the weekend! Thank you, Claire!! <3)
All in all, my swatching plans have to be shelved temporarily and a shopping trip is in order. :(
In the meantime, I've decided to try my hand at some Valentine's Day mani!
I had thought to give V-day a miss because yours truly is still unattached. But after seeing some cute manis on my blogger feed, I've decided to indulge myself in nail art too! Who says I can only paint my nails for someone else, right? ;D
So, I was browsing pinterest for inspiration when I chanced upon this picture: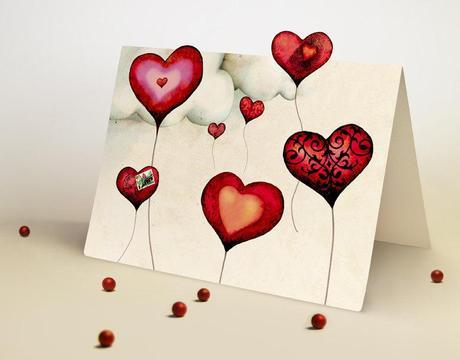 And so I came up with this mani: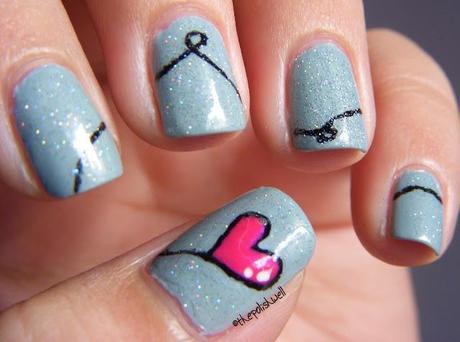 ahh! My thumb made a rare appearance!
If this looks familiar that's because I modelled this design after the
paper plane
/
bee
type of mani with the string running across my nails. For the heart, I followed Jane's
cartoon heart tutorial on Nailside
. Although my heart is nowhere as good as Jane's, I LOVE it! It turned out much better than I'd expected ;p
Because I really liked the name
Lynnderella
came up with for one of her polishes, I've decided to call this mani "Heart Strings" as well! Sorry Lynn! I hope you don't mind! ><
Polishes used: China Glaze Seaspray, China Glaze Fairy Dust, Sally Hansen Insta-dri Flashy Fuchsia, Clatty black and white.
Here's an Instagram with the balloon's string aligned: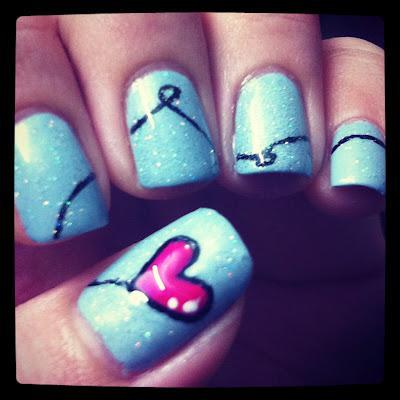 And if you have been following me on twitter, you would have spotted me ranting about my lack of ambidexterity. Because I love this mani so much, I've bitten the bullet and attempted to replicate the design on my right: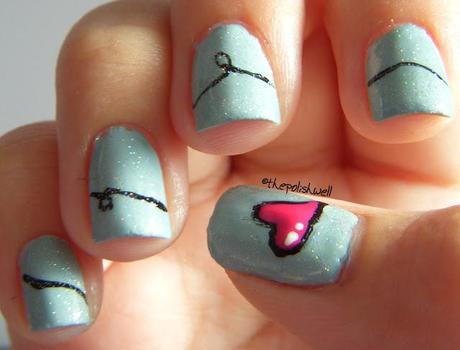 Eek! I can't even pose properly with my right!
Oof! Another rare appearance! I don't think I've ever shown a picture of my right hand before. Sorry for the lack of clean up, I was trying to snap a picture before the sun get any brighter (and more yellow). Talking about that, I never knew it was so hard to take a picture with my left hand. I had two blurry shots before I managed to get a focused picture.
It may not be that obvious in the picture but the heart on my right hand is decidedly slanted with the pointy end, well, to the right. It looks less like a balloon, but it's still rather cute... right? LOL!
So, what do you think of this mani? :)
Hopefully I will have the time to try more v-day manis this week!
On a side note, I don't know if any of you've ever felt this way.
Everyday, as I read and comment on the nail blogs I'm following, I always wonder... why the heck am I so good at typing captcha "words"?! Ordinarily, I am a horrible touch-typer. My friends will know that my lecture notes are often ridden with typos. BUT I am surprisingly accurate when I type in the captcha words!
Blogger says, "Please prove you're not a robot."
Ok..
Then I must be a weirdo. Ah wells. ;p
xoxo,
mich