Essence has been one of my favorite brands in Singapore - not only do they have a nice range of core colors and interesting trend editions, they are also very affordable and wallet-friendly! So, when I was offered the opportunity to work on some blogposts with Essence Cosmetics Singapore, I was more than happy to give it a shot. :$
With a nail contest just round the corner, I set out to do some nail designs with some Essence polishes! Since it is technically fall now, I've sought inspiration from some of the fall trends that have caught my eye :i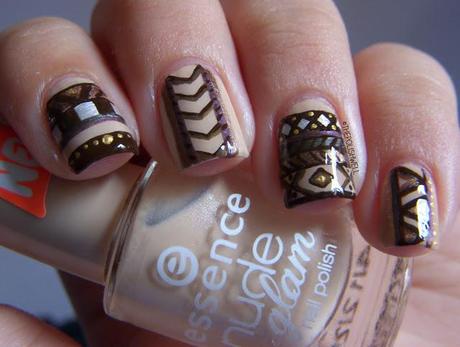 Bohemian!
The earthy colors in fall are simply perfect for rocking some boho-chic on the nails. I've always loved the bohemian style - understated, casual yet sexy and spirited. :L
For this look, I started with a clean nude base using Essence's Toffee To Go before free-handing the details with a brush with these colors: Essence's Just in Case, Wanna Say Hello, Luxury Secret, Princess Prunella, Camouflage and acrylic paint in silver and gold. I'm quite pleasantly surprised by how good the colors look together!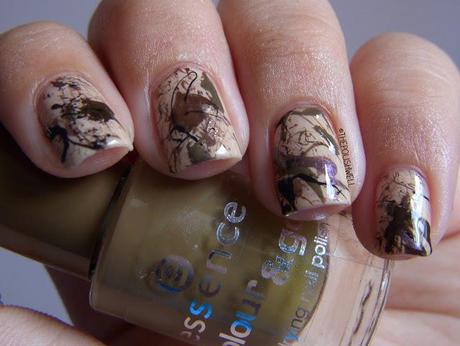 Splatter!
The splatter technique is a fun and easy way to give your nails a funky and edgy look! Simply dip a straw into some polish (ensure that there is enough polish in the straw) and give a strong quick puff through the other end to create the splattered look. It took me several tries and some practice before I managed to get a relatively decent splatter mani. So don't give up if you can't get it on your first try! A warning though... this can get really messy so make sure you cover up your workspace and tape up around your nails to avoid too much clean up!
For this look, I started with a nude base using Essence's Toffee To Go before creating the splatters with Essence's Just In Case, Wanna Say Hello, Princess Prunella and Camouflage. I also added a touch of black for an added contrast.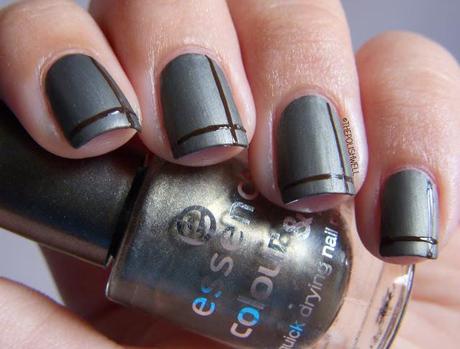 Equestrian Stripes!
The equestrian trend is also hot this season for its classy and elegant look. For this look, I decided to stick to a simple design for a more sophisticated feel.
I started with a silver base using Essence's Luxury Secret and matted it. Then, I added simple stripes using Essence's Wanna Say Hello. I'm loving the contrast between the matte and gloss! :$
Phew! That was some nail art spam!
So, are you inspired to do some nail art now? If you are, do stay tuned to Essence Singapore's Facebook page for more details about the nail art contest!
I will also be posting up swatches of the colors I've used in these designs so keep a look out for some goodies coming your way! ;)
xoxo,
mich


**Some products used in this post are provided for honest review. Please see our disclosure policy for more details.**