Like most girls, I love painting my nails. If i'm bored or watching a film, I take off my old polish and paint them again. I've been watching 
Cutepolish
on YouTube a lot recently. If you haven't seen her videos, watch them because they are amazing. She can do any kind of design. Anyway, she's inspired me to try some different types of designs and these are the ones I've sported over the last month...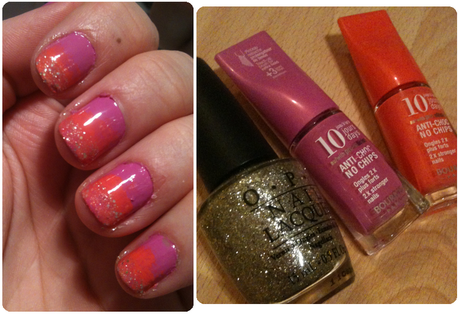 Dab dab nails
My first shot at gradient nails with two colours. I didn't watch any tutorial and just did it how I thought it was done, and it looks hideous. Haha. I got the technique wrong, but after actually watching a tutorial, I have gotten a little better. There's another design below.
Bourjois 25
and
26
OPI Spark de triumph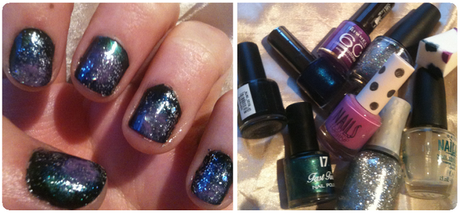 Galaxy Nails
I can't remember who it was, but someone on blogger posted their first attempt at galaxy nails and it looked so good, I had to try it. So this is my first attempt. Took me a while.
OPI nail envy
17 Nightshade
17 Sulk
Topshop
 T
here's no name but it's the dark blue color.
Rimmel Purple reign
Topshop Desert lily
OPI Servin' up sparkle
Orly Tiara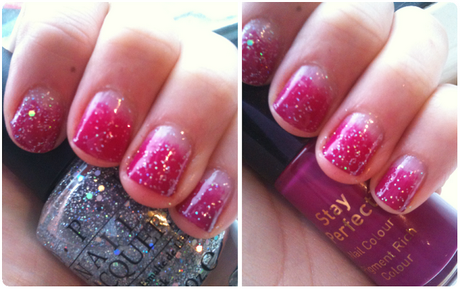 Purple Dreams
This was my first attempt at gradient nails with one color. I will be posting a YouTube video soon on how to do it. I always prefer gradient nails with glitter over the top to finish it off.
No.7 Foxglove
OPI Servin' up sparkle

Marble nails:
This one looks so cool but is so tricky. Well I find it is. It took me ages to get the water at the right temperature, and then the design kept looking messy so I kept taking it off and trying again. I tell ya, this one is definitely time consuming.
Super finish french white
Topshop Gone Fishing
Topshop Listen to me
Bourjois 25 and 26
Rimmel Sweet as sugar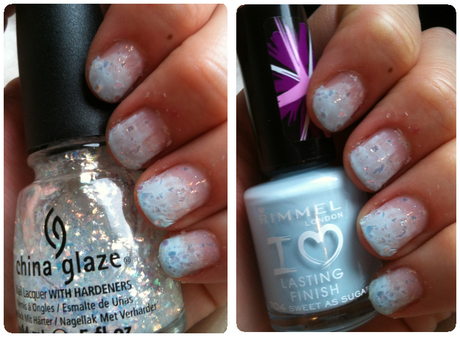 Snowflakes
The wrong season entirely but this gradient just really reminds me of a snowflake. I really like this one. I love the blue and glitter separately but together, they are unstoppable.
China Glaze Luxe & Lush
Rimmel Sweet as sugar

Tropical Parrot
I bet you're thinking "
This girl has some seriously weird ideas for name
" yeah...I do. Have no idea why this reminds me of a parrot, but it definitely has a tropical vibe to it. This was my second attempt at gradient nails after watching the tutorail, and I rather like it. It's the design I currently have on at the moment and after four days, it's still going strong.
China Glaze Luxe & Lush
Topshop Green room
Essie Fear or desire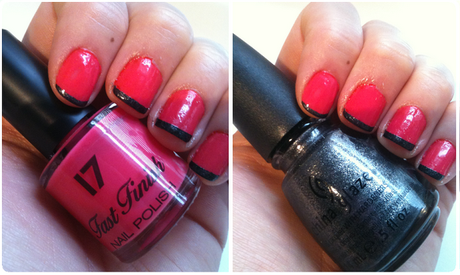 Secret Tip-off
I have always liked the design of a colourful french tip and I just randomly done this one day. I quite like it. The China Glaze tip is actually a matte polish, but I wanted it to shine so I just added a top coat.
17 Pink grapefruit
China Glaze Stone cold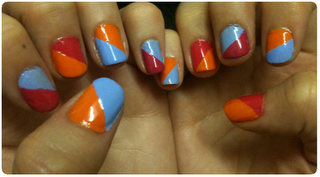 Class Act
I recently did a post on how to get these nails which you can find 
here.
I had a lot of fun doing these while I watched The big bang theory. It didn't take that long at all and I think it looks really jazzy. All three are by Essie. I'm quickly becoming a
huge
 Essie fan.
Essie 
Bikini so teeny
, 
Fear or desire
 and 
Status Symbol
In between these designs, I just had one colour, or a feature nail but they are really fun to do and I want to get going with trying out different ones. Would you were any of these nails? If so, what's your favorite one?