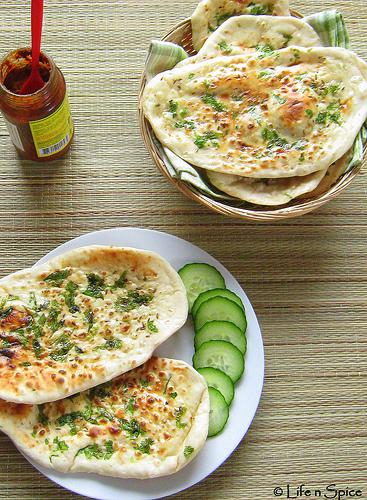 This post is coming with lot of excitement. I feel like this little girl with pigtails jumping up and down clapping hands and laughing after winning a silly game with her little brother! I dont remember the last time in my life I felt so excited.
Sigh!

The reason is I laid my hands on yeast and even mastered it. I have had this phobia for baking bread with yeasts. I always ended up thinking of an alternative recipe. I have to admit, living in Germany I did not have to ever think of baking bread at home. There is no way you would ever get bored with eating the same kind of breads, because this country has so many varieties to choose from.
But irony as it sounds, my German friends would ask me about Naan bread and I would just brush the topic off saying it is so similar to the Turkish Pide Brot you get in stores here. When they asked if I made it at home, I would say that required a special earthen oven Tandoor and hence was not possible here. And I was so very wrong!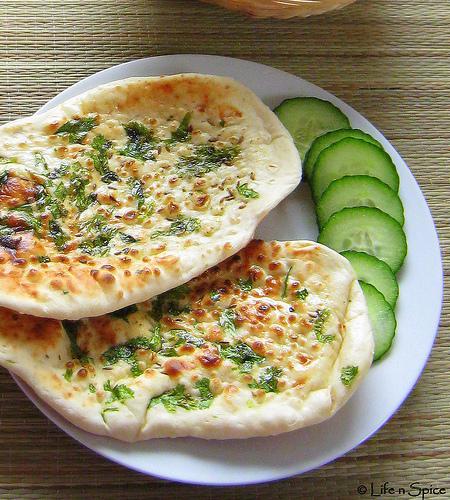 This weekend I tried making it the stove top way it was mentioned in my cook book and the verdict 'Never think of that big oven unless you are cooking for a crowd!'. When I mixed the yeast in warm milk and kept watching it and when nothing happened I almost gave up the idea! But then when I looked closely I could actually see those tiny bubbles and yes it was frothy. Whatever was I thinking! Then the pessimist in me thought of another reason to run away. I wondered if the ceramic glass top stove I have is going to do the trick. I was again proven wrong!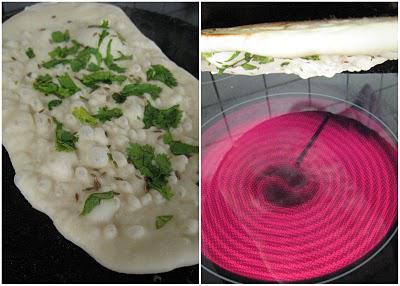 So dear reader, this is how I made it...

Ingredients:
2 cups all purpose flour
1 tsp active dry yeast
2 tsp sugar
1/4 tsp salt
1 tablespoon vegetable oil
2 tablespoons yogurt
1/4 cup warm milk
Recipe:
1) Stir dry yeast and sugar to the warm milk. Leave it aside for 10 mins until the mixture becomes frothy.
2) In a large mixing bowl, mix the flour and salt. Make a hole in the centre and add the yeast mixture, yogurt. Mix well. Add warm water as required and knead to a smooth and elastic dough.
3) Add the oil and knead for another minute. Cover the bowl with a moist cloth and keep in a slightly warm place for 1 1/2 hours until the dough doubles in volume.
4) Punch the dough and knead again for 5 mins. Make lemon sized balls of the dough.
5) Lightly dust the rolling surface with flour and roll each ball into a small circle which is about 1/2" thick. Now gently pull the ends to form a oval. Sprinkle some chopped coriander leaves and cumin seeds on the top (you can also use chopped garlic) and roll gently one last time so that they stick to the surface.
6) Invert the rolled naan on the floured surface. Wet the inverted side with water. Place the wet side on a hot iron girdle/tawa/pan (with a handle) so that the wet side sticks to the pan. Cover and cook for 1 min till bubbles appear on the surface.
7) Now invert the tawa over the flame and bake the other side for 1 minute till you see brown dots appearing all over the surface. Since the naan is stuck to the pan, it will not fall off when you invert the pan.
8) Apply some butter and serve hot with a gravy of your choice. It goes very well with any paneer dish!
Yields: 8 naans
Preparation time: 40 mins
Resting time: 90 mins
Don't miss a post. Subscribe to Life n Spice by email!