There are a million great things that result from having a fit lifestyle – you feel great inside, your body feels great, you fit into your clothes, and well, overall life is good. There is, unfortunately, a downside to working out for me from time to time.  Thanks to injuries I sustained in an automobile accident back in 2012, I am often reminded that I'm just not as strong as I think I am but I still press on. After logging in a week's worth of running and working out, sometimes I need a bit of recovery.
We've owned our hot tub for over 10 years and it has really gotten more use than we ever expected.  Sometimes though, that hot tub is just not the answer to some of my pain and right now, I've got an IT band that won't let me forget it is there. I've used the rollers, I've stretched it, I've taken breaks and rested, you name it, but somehow that crazy IT band still reminds me it is there.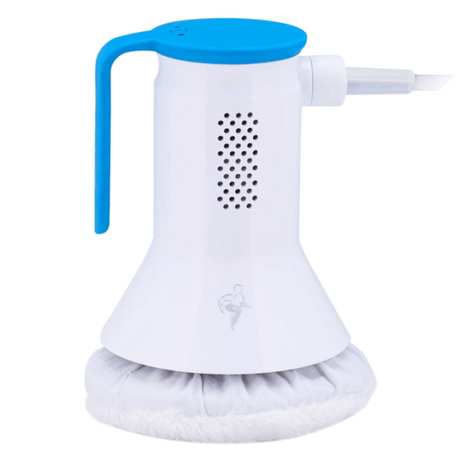 I learned about the MyoBuddy Massager Pro when I was surfing social media one night. I later connected with them and they were kind enough to provide me with their product to try out for myself. When the product arrived, I was pulling 50+ hour weeks at work and didn't really have time to check it out, so I stashed it away in the cabinet.
One night after a long, hard workout at a local garage gym boot camp, I was really feeling that IT band.  I remembered that the MyoBuddy Massager Pro had arrived and I quickly opened the box and got to it! I was a little overwhelmed when I looked at the product because it was such a big piece of equipment, but I was desperately seeking relief. I read the instructions that were provided, I turned it on and I began massaging that IT band. It was glorious people – totally amazingly wonderful. I quickly made a video – nothing fancy but just to show you how awesome it works:
The MyoBuddy Massager Pro is what is known as a percussive massager.  This basically means that it vibrates at a high speed while "striking" at you and goes in a circular motion. Don't freak out – the movement is so tiny you can barely see it. Despite it's size, the device is very easily a handheld massager and with it's very decently supplied longer cord, you can use the massager without being locked to the wall. I see a part of my future workouts is going to consist of using the MyoBuddy Massager Pro as soon as I'm finished working out.
The MyoBuddy Massager Pro comes with 1 white dry-brushing bonnet and 1 blue lotion bonnet. The white dry-brushing bonnet is for over clothing use and shouldn't be used on bare skin.  The blue lotion bonnet is for use with lotion, oils, gels and topical applications. Either of the bonnets are easily attached to the massager and can be used to treat moderate soreness, aches and pains due to stress, chronic pain, muscle tension, circulatory challenges, scar tissue, accidents, incidents and mishaps, excessive sitting, postural dystonia, excessive standing – gosh, you name it and this massager is going to really help you out.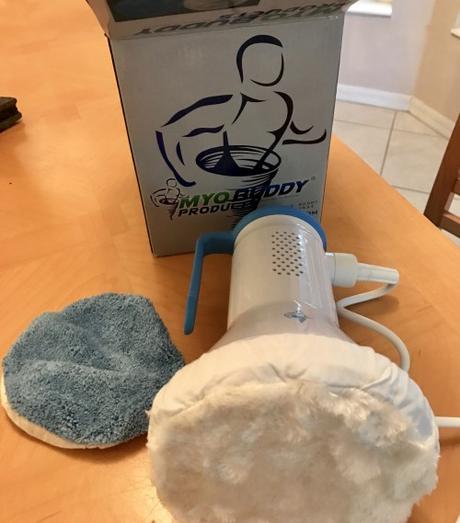 The MyoBuddy Massager Pro comes with a standard one-year manufacturer warranty covering mechanical failures as long as it is registered at their Official Website – MyoBuddy Massager Pro. The website also has a tab where you can find specific instructions on how to use the massager based upon your specific ache or pain – that is SO helpful. 
The MyoBuddy Massager Pro percussive massager places professional grade deep tissue, warming, trigger point and cutting edge vibrational massage technology in the palm of your hands, providing instant relief to muscle soreness and myofascial pain. 
Soothe Sore Muscles & Ease Myofascial Pain
Treat Trigger Points & Everyday Aches & Pains
Warms Muscles Pre-Workout & Quicker Workout Recovery
Reduces Stress, Anxiety & Insomnia
Includes 1 White Plush Bonnet and 1 Blue Lotion Bonnet
Free Shipping
30-day Money Back Guarantee
1 Year Warranty
I received a complimentary MyoBuddy Massager Pro without cost in exchange for this post.  I was not obligated to provide a positive review, just an honest review.
~ ~ ~ ~ ~ ~ ~ ~ ~ ~ ~ ~ ~ ~ ~ ~ ~ ~

It would be great if you would stay connected with me!! You can follow me on Twitter @DebiL1611, like me on Facebook at 2014 and Beyond, circle me on Google+, follow me on Tumblr, Instagram and Bloglovin', subscribe on YouTube, or connect with me on LinkedIn and Pinterest.

Please make sure to visit my homepage and subscribe to my blog for more great posts on running, fitness and lifestyle topics as well as food, product, music and book reviews, and more!