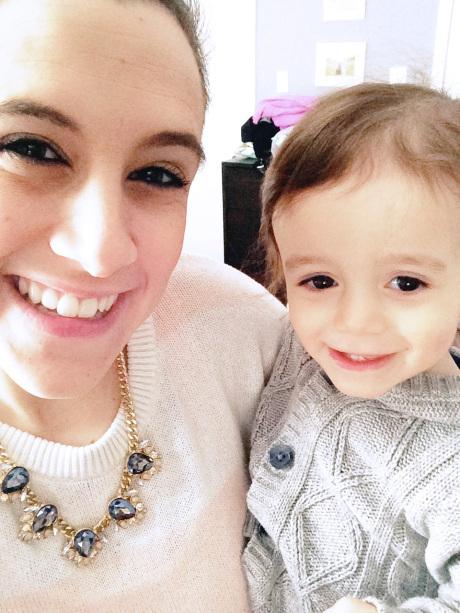 I have always been an athlete my entire life. Soccer & basketball were two of my main sports throughout childhood, high school, and college, and even beyond. I participated in my first race (an Olympic distance triathlon) at 22, and that opened up the doors for me to run 10Ks, half marathons, Tough Mudder, Ragnar Relay, and more. I love challenging myself, but also the feelings of satisfaction and accomplishment I get after completing something huge.
Since having my son, Nico, it has been hard to get back to that place of doing things for myself, especially fitness. I didn't have time to go to the gym, and my membership soon became a waste of money. I decided I wanted to try P90X, something that had been on my bucket list for a couple years. Of course, you all know that is now impossible due to a second little one on the way, but I have not given up my goal of staying healthy and fit, so I have started PiYo (pilates/yoga) and plan to continue for as long as I can throughout my pregnancy.
When my company folded in September, I wasn't really sure what I wanted to do. I enjoyed production and animation (what I had been doing for the past 7 years), but I didn't feel like my position in the industry as an agent was still as valuable as it had once been. I toyed with the idea of going into fashion merchandising as fashion has always been a passion and hobby of mine (as you know from this blog), but the hours were crazy starting from the ground up. I did a lot of research and informational interviews, and it just seemed like I would be spending a LOT more time away from my family. Now, I am not opposed to hard work. Actually, I like working hard at things I love. But I'm not in my early 20's anymore, where I feel comfortable staying at the office until 9:00 at night. My priorities have changed. I have a family now, and I want to be able to see my kid more than 30 minutes a day and put him to bed at night.
I discovered a fellow fashion blogger who was also an athlete growing up (basically she is my West Coast alter-ego, love you Marion!), who decided to become a Beachbody Coach, get healthy, and help others along in the process. She was able to quit her full time job in just a couple months to pursue this full time. I decided that I had nothing to lose, joined her team, and took the plunge into the world of fitness coaching. So far it has been a wonderful journey. I am learning so much. I have hosted fitness challenges along with Marion, and hosted a clean eating challenge along with my partner, Karen. I love seeing people make positive changes to their lifestyle because I was able to give them a little push in the right direction. I love that I am able to build my own business anyway I like, and I can work on my own time on my own hours when it is convenient for me and my family. It's still a LOT of work. But it's work that I actually enjoy getting up in the morning to do and I don't have to lose quality time with my family commuting back and forth on the subway every day. Not to mention, I don't have to ask for time off, and if I want to plan a trip to Mexico in the middle of winter, SO BE IT.
My goal is to get to the point in my business where I am contributing financially to my family again, and hoping to surpass what I was making in the production world. I have seen so many success stories not only from my coach, Marion, but from others on my incredible team. I am confident that if I push myself to my full potential, that I will be able to achieve that goal.
I want to set a good example for my son and future baby in terms of a healthy lifestyle and also a happy career. I also plan to help as many people as possible to achieve their goals both in health/fitness and also anyone else that may be looking for a little financial freedom.
This post was a bit more long-winded than I intended, but I thought it was a good time to share my WHY and my current story with life, health, career, etc. We all have our own journey, and right now this is mine.
Make it a great week ya'll!
XO,
Gina