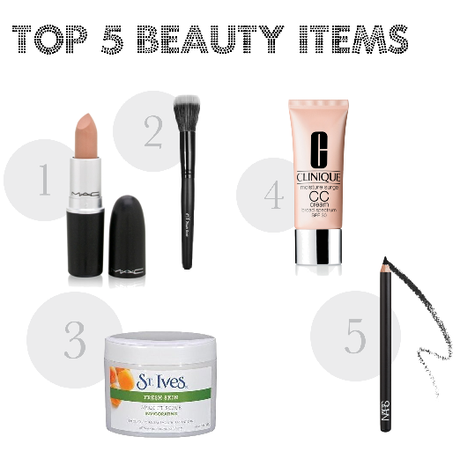 We all have those few beauty items we cant live without. Whether its your favorite coral lipstick or maybe just a face soap you have to have it at all times! Iv compiled a list of my top 5 favorite beauty items to share with you all
1) MAC Amplified Creme Lipstick- Okay ill admit it, Im usually not a fan on MAC lipsticks, I feel they're over played and comparable to numerous other drugstore brands. However, I found one lipstick of theirs that I can not get enough of! The Amplified Creme lipstick is a gorgeous nude color (a necessity for every collection). The lipstick glides on baby smooth and actually lasts for hours. Surprising right? The lipstick stays on for hours at a time and is the perfect addition to any colorful outfit!
2) ELF Small Stipple Brush- ELF is an extremely affordable drugstore brand. Most of their products are in the range of 2-10 products. Being a makeup junkie, I own almost all of their products. Their quality is usually astounding for their price. I have found that some of their brushes such as their foundation brush are quite disappointing but the stipple brush is beyond compare. The perfect size for blemishes and under eye circles!
3) St.Ives Apricot Face Scrub- this scrub combines my favorite things…fresh fruit and scrubs. I love the feeling of scrubs on my face, after washing it off my face feels smooth and pore free! The scrub should be used 2-3 times a week but not as a substitute for your normal face wash! I would definitely recommend this product to all my friends and family
4) Clinique moisture surge CC Cream- This cream provides the perfect amount of coverage for those days when I don't want to pile on the makeup. Just one small squeeze of the cream goes a long way. It also moisturizes very well without making my skin oily! genius!!
5) NARS Eye Liner Pencil- I don't wear eyeliner everyday, but when I do I feel its best to have a high end product. This would assure the product stays on all day without fading colors. I believe the NARS eyeliner is the best. I have it in black and it is extremely vibrant and glides on smooth.