Who do
esn't like taking showers with the product that scream luxury? Well, I ain't an exception and I looove the soaps that smell divine and I love them even more when they are made of my favorite flavor. Presenting you the most talked soaps and the cupcakes mania from
Gia Bath and Body Works
Gayatri,is the girl behind the whole concept and manufacturing. These are all her hand made soaps and bath stuff. I always wanted to shop from her and the moment came last month when she has a sale. My body behaves differently in summer so I wanted to haul a bit now and I wanted to shop more later.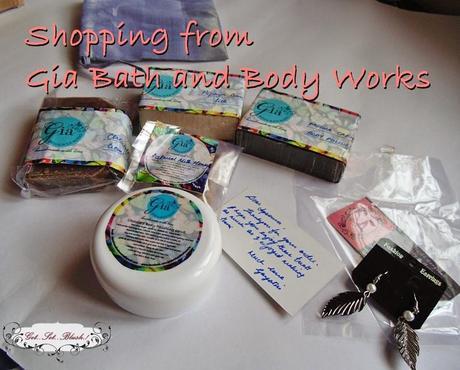 This post is just a show off and the actual review will be up in few days.
The whole process of selecting the soaps and trying to talk about my preferences and Gayatri's soap making everything went on super smooth and I totally loved talking with her(read fb chat)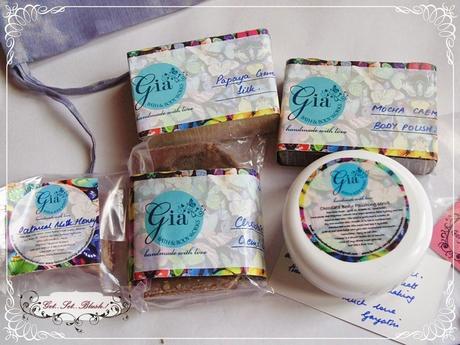 I admit that it was a real tough job to select few from the lot of varieties. They were all tempting however, I really wanted to try the body polish soap.If you can remember, I was in search of a body scrub/polish. If you haven't checked my collection till now., please do.
Please check here.
I asked her if she can add a sample of the body scrub. And I chose the Mocha Creme Body Polish and the other one was left to Gayatri as I was too confused to choose one.She added Papaya Creme silk which she said is just amazing. I can't wait to try that one.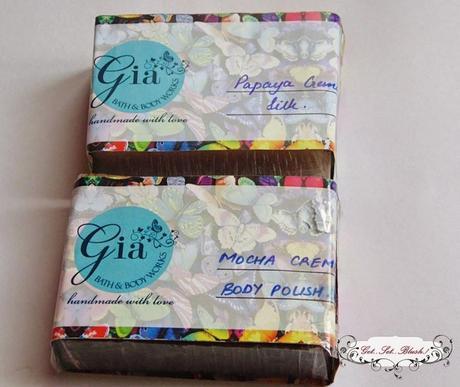 After I placed the order, it took some 3-4days for the order to reach me. I delayed the payment by a day but Gayatri already shipped the goods by then, the trust factor just made me happy. Thanks Gayatri ! :)
The Samples!!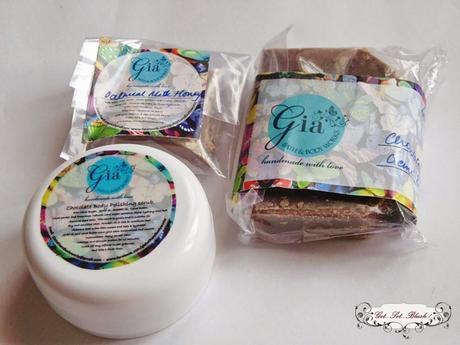 The samples include the very much talked Chocolate Creme soap, My request was accepted and the body scrub was added along with the Oatmeal Milk Honey soap. The problem was the body scrub's essential oils got leaked and spoiled the box and coz of that whole of the package smelled so heavy and so similar at the same time. I cleaned it well and the other covers too. The next day it was all set.
Apart from that, They are all soo nice and the amazing service and very friendly experience.I am already using the Mocha Body Polisher and loved it. Looking forward to shop more from her.
If you are interested in shopping from Gia Bath and Body Works, you can check her

FB page here