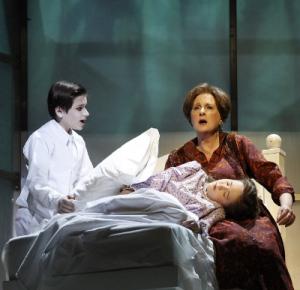 Seance on a Wet Afternoon -- my pick for best of season / photo by © Carol Rosegg
Thus far this semester, I've traveled to various houses in major metropolitan areas in the Mid-Atlantic States of the United States to see seven professional productions–at the Kennedy Center, the Met, the Merriam Theater, the David H. Koch Theatre, to name a few. (A bit of explanation–I work at a college, and so everything from January to May is considered Spring Semester).  
Here are the shows I was fortunate enough to see:  
January – Puccini's Tosca, Metropolitan Opera of New York, with Sondra Radvanovsky, Marcelo Álvarez, and Falk Struckmann. Performances spectacular; direction disappointing.  
February – Gounod's Romeo and Juliet, Opera Company of Philadelphia, with Ailyn Pérez and Stephen Costello; this production was better integrated in the community than any other.  
February – Strauss's Arabella, Academy of Vocal Arts in Philadelphia, with resident artists Corinne Winters and Chloé Moore– challenging work and well sung!  
March – Puccini's Madama Butterfly, Washington National Opera in Washington, D.C., with Ana María Martínez conducted by Plácido Domingo. Memorable, tasteful.  
March – Donizetti's The Elixir of Love, New York City Opera, with David Lomeli, José Adán Pérez, and Stefania Dovhan. Quirky–selected stellar performances.  
April – Rossini's Le Comte Ory, Metropolitan Opera of New York City, with Juan Diego Flórez, Diana Damrau, and Joyce DiDonato. Exceptional singing and acting.  
April – Schwartz's Séance on a Wet Afternoon, New York City Opera, with Lauren Flanigan, Kim Josephson, and Melody Moore. Intense, scary, thrilling.  
And here are the awards dispensed by me, Queen of "Operatoonity":  
Artist I most want to see again soon – And the winner is: Juan Diego Flórez. The man has major star quality, something you simply can't measure from a recording or even by watching a Live in HD simulcast. I'd love to see him in a dramatic role, something of  a completely different nature the Count in Le Comte Ory, to see if I like him as much.  
Best aria – And the winner is:  "Vissi d'arte" sung by Sondra Radvanovsky. She took my breath away–literally. Near the end of the piece, I gasped following one of her high notes and lost my breath. Then as the aria was coming to a poignant close, bereft of air, I began choking and coughing, which everyone around me loved. It was however sensational–her aria, not my choking.  
Best breakout performance –And the winner is: David Lomeli, making his NYC Opera appearance as Nemorino in Elixir. His "Una furtiva lagrima" was a magical moment.  
Best performance overall — And the winner is: Falk Struckmann in Tosca. I was absolutely riveted by his performance of Baron Scarpia–the part could have been written for him–it fit him like a glove in every regard.  
Most fun – And the winner is: A tie between NYC Opera's The Elixir of Love and the Met's Le Comte Ory. I giggled throughout both of them. Loved the dustbowl diner concept of Elixir. Loved the show within a show premise in Le Comte Ory and the interplay between the three principals was side-splittingly entertaining.  
Most likely to succeed – And the winner is: Soprano Ailyn Pérez, who sang Juliet for the Opera Company of Philadelphia. She's a winner in every regard, and it won't be long until we'll see her singing for the major houses.  
Most moved – And the winner is: WNO's Madama Butterfly. All the production elements were maximized to serve the story and propel the operagoer to experience Butterfly's destruction. It was beautiful to see and hear as a complete, harmonious production.  
Most pleasantly surprised — And the winner is:  NYC Opera's Séance on a Wet Afternoon – since I'd never heard any operas of musical theater composer Stephen Schwartz before, I wasn't sure what to expect. I also thought I preferred classic to contemporary opera. Boy, I was wrong. Or maybe I just loved Schwartz's contemporary opera.  
Best of the season– And the winner is: NYC Opera's Séance on a Wet Afternoon. Principals–stunning! Chorus–spectacular. Production values–solid. Story–gripping. Music and orchestration–beautiful and functional. It was relevant, immediate, and accessible. Being "accessible" in contemporary opera is definitely a good thing!  
Perhaps I'll amend this list after I see the last two shows of the season in May: Don Giovanni at the Academy of Vocal Arts in Phila., and Ariadne auf Naxos at the Met in May. We'll see. Oh, and if you'd like to see all my reviews thus far for Bachtrack, the world's best way to find live classical performance, simply click on this link.