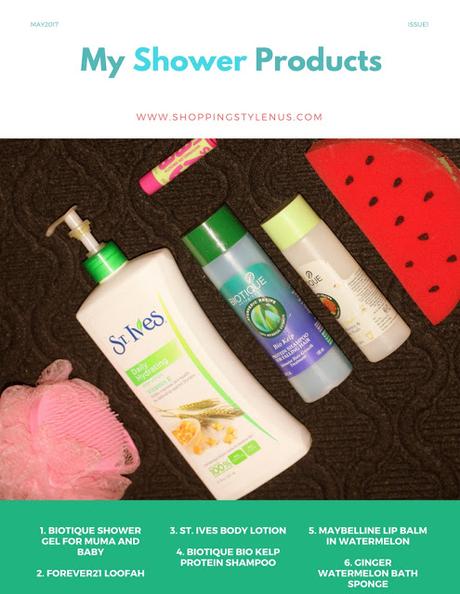 BIOTIQUE SHOWER GEL FOR MUMA AND BABY
Firstcry
FOREVER21 LOOFAH
... that also comes with a brush which was secured with a wire, that could easily be broken - by Reet. It happened. But it happened for good, because that brush is of no use. It's so hard that we can wash clothes. I really don't know how to use that brush. But hey, this loofah is everything. It's so soft and exactly what I wanted for Reet. Yes, this is used only be Reet. Bought at Forever21 Store, Mall Of India, Noida.
ST. IVES BODY LOTION
There isn't any Internation Best Drugstore Products post that doesn't include at least one product from St. Ives. This fact sold me this lotion. It's bought during last winters and it is still not over.  It is so ordinary and there are many other brands that manufacture awesome body lotions like Nivea, Vaseline etc. Would I go for it again? No. Do I enjoy using it? Yes because of it's a lightweight formula, mild fresh scent and the fact that I bought 200 ml. Bought from
Nykaa
.
BIOTIQUE BIO KELP PROTEIN SHAMPOO FOR HAIR FALL
If you follow me on Instagram, you would that I cannot stop raving about Biotique products - especially shampoo. This is not the one I am in love with. But I am using it right now and it seemed legit to include it in this post. I don't seem to write home about this one. I also feel that it hasn't stopped my hair fall plus it takes more to clean dirty, grimy hair. Using it only because I have a lot left and very soon I am going to stop and go back to my lovely Biotique shampoo that is mostly sold-out. Bought from Nykaa.
MAYBELLINE LIP BALM IN WATERMELON
Can it cure chapped lips? Like a pro!  Does it settle into the skin? No.  Does it look pretty? No. At least not on me. Why do I use it? Go back to the first question. Exactly for that. And it took me few months to decide that I can use it - no big deal. Bought on Nykaa.
GINGER WATERMELON BATH SPONGE
Guys? Have you been to Lifestyle Store lately? Have you seen those cute little things to trap buyers spend more? Exactly! Lifestyle store has got a cute and enough to keep us hanging for more, spend more when we see it for the first time. This bath sponge is the result of that halt at the counter. When you see it the 2nd time? You almost scream inside you - No! let me pay the bill somewhere else. Not here. These cute little things distract me. Anyway! NEVER BUY THIS. It is rough against skin, soft against palms. Not recommended. It also came with green sponge glued around it that, again, Reet ripped apart. But it sure looks cute as hell in shower!!
Is there anything from this list that you have the same or different feelings about? Let me know! enlighten me.
Join Us

  :
NEWSLETTER | FACEBOOK | TWITTER |  GOOGLE+ 
*This post may contain affiliate links, products sent by brand/PR for consideration, paid content.
Disclosure Policy
.