What makes you stand out from a crowd? Think Different!
That's what
Aplava
did to make its own image out of a bunch of boring online websites selling beauty products. Wouldn't it be awesome if a website can predict your skin score and suggest the range of suitable products for your skin? Like, no need to hear the half-witted blabbering of a so-called 'beauty representative' in a store. Wouldn't be awesome if you are always showered with sales and coupons every time you shop? And not to miss, the quick and safe delivery. So gals, let's take a step inside the tomorrowland and witness the awesomeness.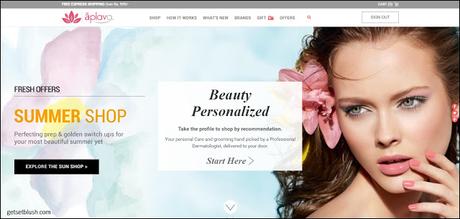 A-p-l-a-v-a..sounds familiarly unfamiliar right? Let's see what the company says..
"Aplava derives its name from sanskrit origins. Aplava (pronounced "AAp luv" in original sanskrit) means taking a bath to purify oneself. It's an ablution process of cleansing oneself. Just as the name suggests, Aplava wants to give its customers an experience of divine purity.
As a startup beauty company, we strive to bring an unparalleled assortment of prestige brands, household names and niche, cult beauty brands, all on one site. Our professional team of Dermatologists and Beauty advisors has cherry picked brands across a broad range of product categories including Skincare, Hair care, Bath & Body, Make Up, Fragrance, Sun & Travel, Intimacy, Shaving, Candles and Aromatherapy, Mom & Baby & Homecare. 
To make your experience worthwhile and easy, the team has developed a mechanism to advice and recommends products based on your skin type and skin concerns. Use the Personalized Beauty section on your profile page to get customized recommendation for your daily skin routine. 
Unlike many other beauty retailers, we work directly with our manufacturers/authorized distributors to bring you over 5,000 products straight from the brands themselves. You can trust that anything you buy is 100% authentic, guaranteed."
Is it user-friendly? Let's open their website!
When you want to shop by recommendation, you will be prompted to answer few questions on your skin to predict your skin score. After you complete filling the form, you will be taken to a list of products page which are "recommended for you" based on the given details.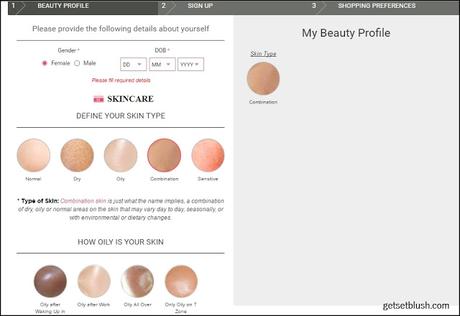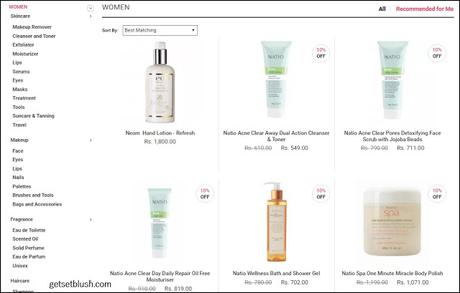 The website is user friendly and very appealing. You can login through Facebook/ Google Plus/ e-mail address. The web designers sure knows where to place what instead of just stuffing the information even in the least available space, like you see in many websites. The minimal usage of animations and colors makes the eyes not to leave the site.
The best part of this website is it's responsive design. The site loads faster, shows the important information and adjusts itself to any mobile device. So, you can shop anywhere with one touch!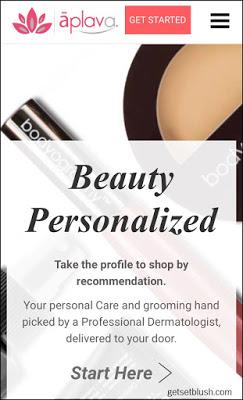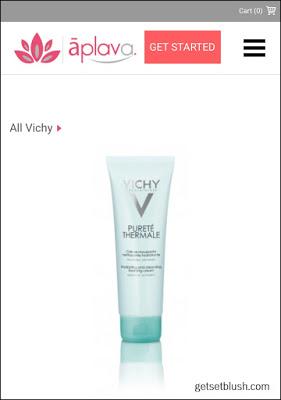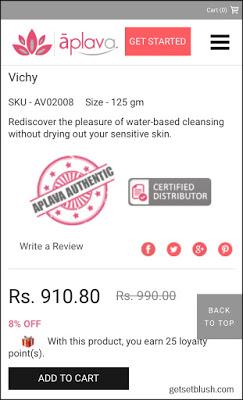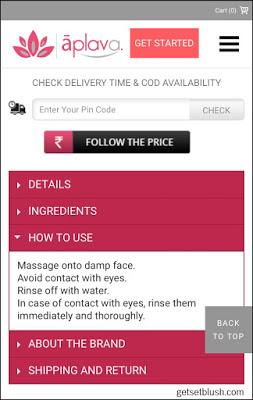 My shopping experience? Fantabulous!
First I got to know my skin score and got the list of suggested products. I have an uneven complexion and got quite tanned. I started searching for the products which makes my skin smoother brighter and supple and my search ended at "O3+ 24K Gold Essence Serum" .I have used most of the O3 products but never this. So, I wanted to lay my hands on this and get all the golden glow by myself :P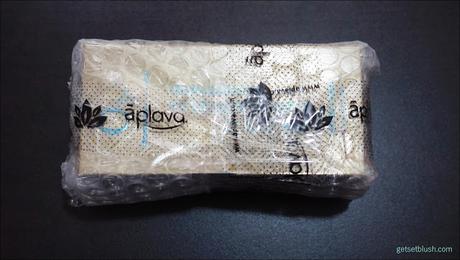 The website gives free shipping when you shop above Rs.1500/- and I got Rs.300/- coupon too :D *feeling pampered*. The product was safely shipped in a well packaged custom "aplava" cardboard box and bubble wrap. 
The product is in a glass container with a spray nozzle as to get required amount of product. The product has no color and feels like gel. I could see the golden dust in the product and a little amount of product is sufficient to evenly spread on the entire face and neck. The product gives a matte finish and yes, one can notice the golden dust sprinkled on face. I am using this as night cream after cleansing and toning.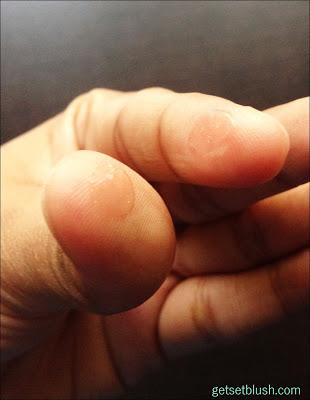 It's not even a week since I used this product so I will post the results after sufficient usage.
That's it ladies! No, it's perfectly alright, no need to thank me for introducing this website :P :D So, I wish you all can get to know your skin more and use the products which your skin wants!
Sayonara,
Appu