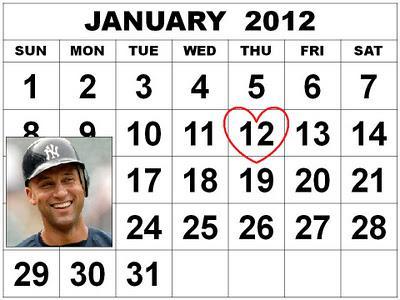 Yes, I perhaps have a date with Derek Jeter on January 12th.  Now all I need is $2,500.00 to make it happen.
Last week, my friend Amanda forwarded me an email with the mysterious subject line "Wine and dine with the New York Yankees' MVP at Tribeca Rooftop," followed by one line of text: "thought you might like this." I love wine, food, the Yankees, Tribeca, and rooftop bars, so really? I "might like this" was already the understatement of the year.  I wanted more information, and in particular, I needed to know which "MVP" we were talking about here.  Would I want to "wine and dine" with Joba? No, I would be afraid he'd eat me.  AJ Burnett? Only if I wanted to have nightmares about being murdered, since he will always resemble a serial killer to me.  Mark Teixeira? I am almost certain that bible study would be less boring.  Curiously, the body of the forwarded email contained no text at all.  At the time, it seemed like nothing more than a ginormous cock tease.  But then I hit "display images below" and the following graphic appeared: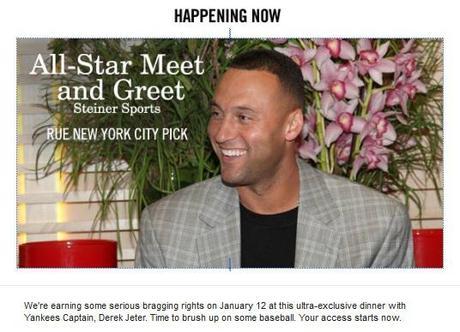 I heard faint choir music, and I swear that my laptop screen grew brighter, surrounded by a glowing aura that very much resembled a halo. A dove might have flown by as my brain exploded.  Beyond intrigued and already fantasizing about what I would wear to woo my future husband, I was led through a series of links and log-in screens, before finding the following: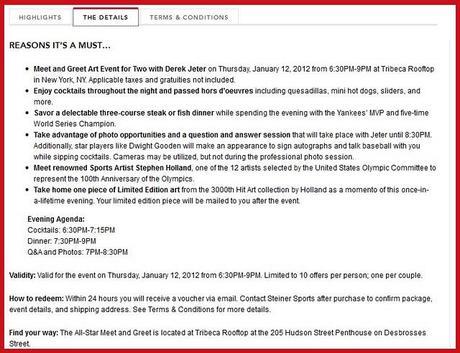 Good god, it is even better than I expected. Other than the price tag, this all seemed perfect. Besides my seduction of Captain Clutch, this dream date also includes free art, steak, a swanky venue in my neighborhood, and a former coke addict?! You'd think they could at least spring for pigs-in-a-blanket, but what more could you possibly want for $2,500.00?
It is only the
exact
opportunity for which I have been waiting nearly two decades.  The chance to stumble into the one-and-only Derek Jeter, perhaps strike up witty conversation, and then win a
gift basket
by morning.  I mean, my adoration for The Baseball Jesus is well-established.  I have loved him since I was a teenager, and these feelings have only grown stronger over the past fifteen years (due to the five championships we shared and the 3,000+ hits we watched together).  And I have wanted to make sex with him for as long as I can remember, as I am a sucker for classy superstar athletes with beautiful eyes who own New York City.  I have publicly propositioned him for a no-strings-attached rebound fling.  All I know is that I want one of those damned gift baskets, no matter how cringe-worthy they are or how slutty I have to be. 
I excitedly sent an email to a small group of my favorite baseball fans, in which I shared the details of my upcoming dream date and made clear that I was "not above prostitution or smuggling body parts on the black market" to raise the $2,500.00 in two weeks.  As always, I received some incredible advice from my friends.  I was advised to defend Mexican drug cartel kingpins rather than the refugees I normally assist.  I was wisely warned that a 45-minute cocktail hour is not long enough to get Jeter wasted and sneak him back to my apartment (which is efficiently a few blocks from this shindig).  After this concern was raised, Dylan, my very good friend and arch fantasy
nemesis
, sent this treasure:
How great would it be to drunkenly take DJ back to your place and leave him a gift basket of a broken used condom, bottle of vitamin water revive, and an autographed photo of yourself.... 
It would not be great, but brilliant.  For the record, I would also add a game-worn softball jersey, Excedrin, handcuffs (for next time), a stick of spearmint gum, and a pregnancy test to the gift basket.  After much debate, I accepted that I was probably going to have to find a sugar daddy, butter him up, and get him to take me to the event as a celebration of our two-week anniversary. I shared this idea.  Within seconds, I received an email solely consisting of:
http://www.sugardaddyforme.com/
.  Yup, these are my friends.
As I continued to scheme, I realized they were right. How
would
I get him home with me? And how would I raise the $2,500.00?? I asked Nick, my friend and fellow Yankees fan/immigration attorney, if he wanted to meet Derek Jeter and take me as his date.  After all, Nick did spend five figures to buy the "S" from the old Yankee Stadium.  But Nick is busy on the 12th.  Which is basically blasphemy.  This is not, like, happy hour and finger painting with Ivan Nova or even Robinson Cano, but wining and dining with The Baseball Jesus.  Instead, Nick suggested I stalk the Starbucks on 85th and First Avenue before any home game, because apparently Jeter always hits it up on his way to the ballpark.  You know where I will be on April 13th? At the Starbucks on 85th and First Avenue. 
Nevertheless, as of today, I have not yet finalized my potential date with Derek Jeter.  And I only have a week left to do it.  So if anyone has $2,500 to blow and needs an escort – with the understanding that I will not be going home with you, but with Mr. November – I think we can work something out.  If not, please send your donations (and mockery) to
[email protected]
Thanks in advance for helping to make this dream become a reality.