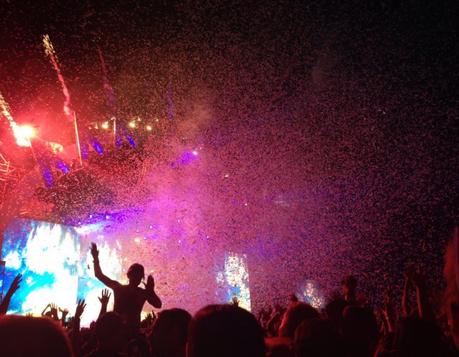 Full of color … Swedish house DJ Avicii turned on the colour, confetti and pyrotechnics for his set at Brisbane's Future Music Festival.
Last night I was surrounded by hundreds of sweaty, shirtless men gyrating to music.
Streamers were shot into the sky and fell across my shoulders as people weaved their way through the dancing crowd waving strings of flashing helium balloons. My arms were in the air and there was a smile on my face.
But I wasn't at Sydney's Mardi Gras, I was at Brisbane's Future Music Festival caught up in a throng of 20-somethings who seemed to think shirts—and deodorant—were overrated.
Having scored two free tickets, my cousin  JP and I decided to negotiate the crowd to watch Swedish house DJ Avicii work the decks for the closing set of this year's one-day festival.
We're both 30-something and he'd never been to a music festival before (I've been to two in 16 years), but we figured we could fake it for a couple of hours.
My first festival experience was back in the late 90s when I went to Livid to see Regurgitator, Jebidiah, Garbage, The Living End, Grinspoon and The Whitlams. I wore cargo shorts and eight eye Doc Martens. By the end of the day, I also had a rainbow-coloured crochet hat.
Clearly, I was rocking it.
This time around, JP dared me to wear a crop top, but short of lopping the end of one of my t-shirts, it wasn't going to happen. I also kept my arse firmly in my pants.
Instead of Docs, I threw on my much-loved leopard print Toms and we followed the music and flashing lights.
I slipped on what I'm pretty sure was vomit three times in the first five minutes, once before we'd even made it through the gates.
Within minutes the crowd had lived up to our expectations; there were half-dressed girls doubled over spewing in the middle of the field and guys who looked like they'd popped steroids as if they were Tic-Tacs.
I wondered if gyms had been running endless 'arms day' workouts because even at 8pm they still had their singlets on (seriously fellas, throw in a legs day every now and then to balance it out!)
They also had a serious stink happening by 9pm. For the love of non-drunk/high festival-goers like myself, Rexona or Lynx really should jump on board and set up a spray station at next year's event.
Admittedly, not everyone was like that, there seemed to be a few other people like us floating around and there were a couple of oldies there including one who looked like Santa, if Santa was a hippie who liked wearing flashing lights in his beard.
Thankfully, Avicii's performance was worth putting up with the sweaty masses, crazy people and, my favorite festival-goer, the guy carrying a pineapple and using it as a tambourine.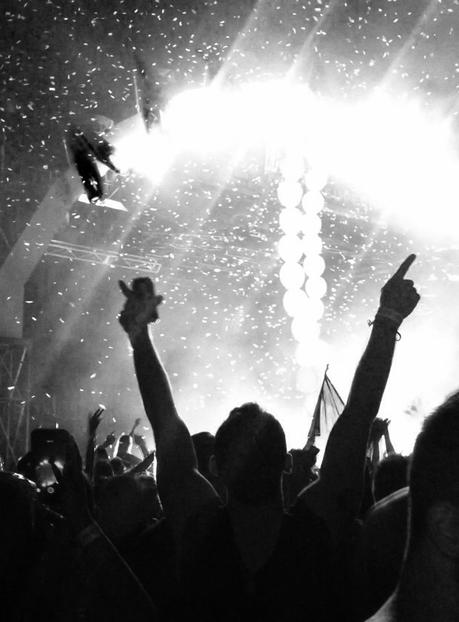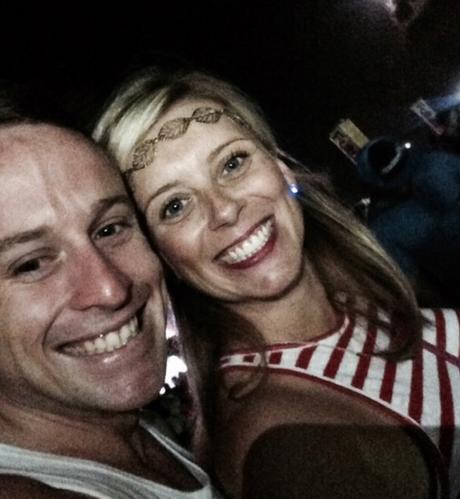 Suns not out, but the guns are still out for the Falvey kids.