I have fallen in love.... I mean seriously in love.
We went to Brighton last Saturday and visited their massive Boots. I was just looking around when I spotted that they did Too Faced cosmetics. TOO FACED!!! I was amazed. I didn't know that Boots did it. In our Boots we only have Dior, Lancome and Clinique. In Brighton they have Pixie Make up, Smash Box, Benefit and my new found love Too Faced!
I went to look at their products, as I have never been in person with them, and I've found my new favorite brand. I was bouncing up and down with the Shadow Bon Bons palette, but couldn't really afford the £33 for the palette. My boyfriend said I'll get it you, I was like whatttt. But he said yes, this will be your gift of the month... each month we'll buy each other a gift or two and this was mine.....
So here it is: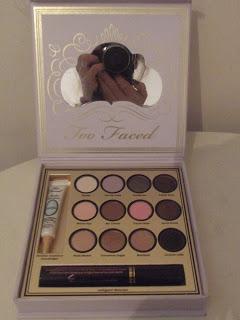 This is just a quick introduction.... teasing you a little ;).
How beautiful and stunning is it?
It has 12 eye shadows, a mix of shimmers, matters and glitters. It also comes with their famous eye primer and a mascara.
I will be doing swatches in a future post, I just wanted to introduce you now ;).
Have you tried any of the Too Faced cosmetics?
Thank you for reading :).