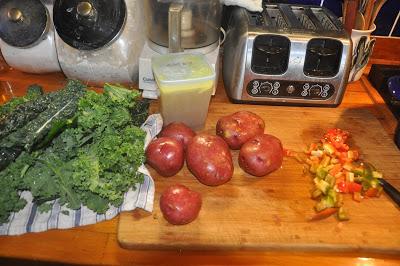 The cooler rainy weather we're having seems to call for soup. I've made this potato/kale soup twice now -- and suspect it will become a menu regular. It's fairly quick and lends itself to all sorts of changes. Plus it's delicious.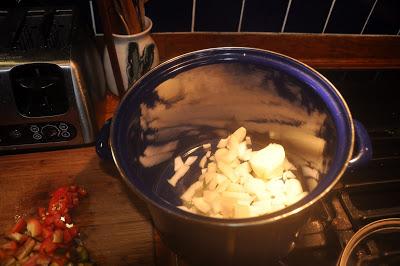 You begin by sauteing chopped onions and garlic (and peppers in this variation) in your soup pot. I used bacon drippings for the little extra dash of flavor but oil or butter would do equally well. (The first time I made the soup, I sauteed some slices of smoked Andouille sausage  with the onions for even more flavor.)
When the onions are translucent, add diced red potatoes, chicken (or vegetable) broth, dried thyme (or oregano,) reduce heat and simmer till potatoes are tender.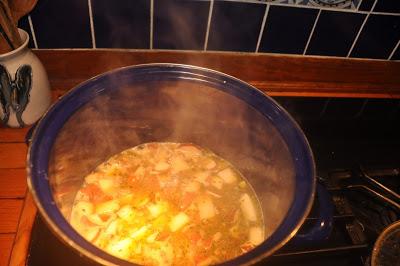 Mash the potatoes in the broth. (I used a potato masher -- an immersion blender would work but I prefer the potato masher as it leaves the chunks of pepper more or less whole.) Stir in chopped kale (I used some collards as well,) Half and Half, and salt and pepper. Simmer till greens are well wilted, taste to adjust salt and pepper, and serve.
Potato Kale Soup (4 servings)
2 onions, chopped
4 cloves garlic, minced
1 red bell pepper, chopped
1 red jalapeno (if you like a bit of heat as we do), seeded and chopped small
oil, butter, or bacon drippings
6 red potatoes, unpeeled and cubed
1 quart chicken (or vegetable) broth
Dried thyme or oregano
2-3 cups Half and Half cream
Salt and pepper
Kale, torn in bite-size pieces
Saute onions, garlic and peppers. Add potatoes, broth, herbs and simmer till potatoes are soft. Mash potatoes in pot with potato masher. Add Half and Half to desired consistency and kale. Simmer till kale is tender. Salt and pepper to taste.
A bowl of this hearty soup with a salad and bread is a perfect supper on a cool rainy day.