Does Dublin really need another BBQ joint? 
Apparently so and especially if it's as good as My Meat Wagon! The chef, dressed as Super Mario (not sure if that was on purpose), was definitely my hero last night. Having been wrongly advised of their opening hours and arriving 30 minutes after the official closing time he still managed to rustle us up some food.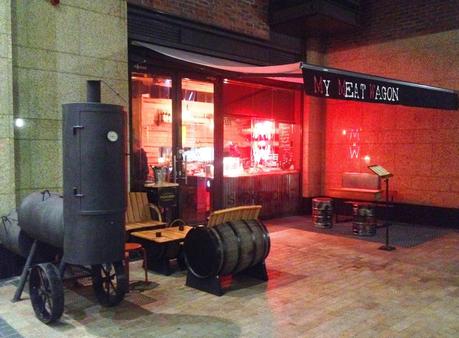 You'll find My Meat Wagon tucked into the corner between The Lighthouse Cinema and Oscars Bar.
Nice outdoor seating in keeping with the theme of the place.
Initially I was disappointed, given the name, I had expected to find a food truck of some kind but they are definitely rooted to their spot in Smithfield Square. To my utter delight when I entered I noticed that the kitchen is actually on wheels! That'll do for me!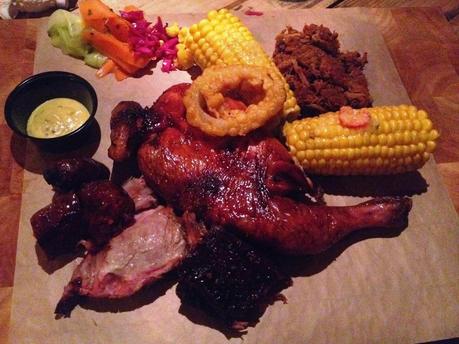 The awesome chicken board. 
Due to our tardiness we were left with few options but himself was pretty elated to be offered a chicken board (€14.95). It was very generous and surprisingly well presented for a heap of meat all thrown together on a board! The chicken was good quality and oozing with juiciness but the marinade and the slow cooking in the Texan BBQ was what really made it stand out. It came with two sides of corn and sausages and I noticed the chef snuck in a little brisket and pulled pork too, both were delicious and I'll definitely have to return at a more respectable hour to try them!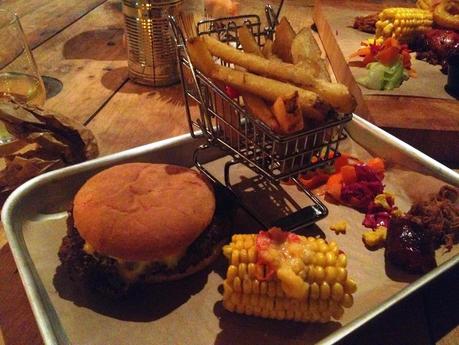 My yummy burger and chips.
I had the burger (€10.95) which I probably wouldn't have ordered but was totally happy with when it came! The standard nowadays for burgers is definitely Bunsen and this one hits close. I'd have preferred it more on the medium side like the menu suggests but I imagine this could be down to my arriving 30 minutes after closing rather than an oversight by the chef. In any case it's totally excusable as the burger was deliciously favoured and topped with the perfect type of cheese as well as fantastic pickles. My sides of chips and corn didn't disappoint either and there was the added bonus that I got to play with the miniature trolley the chips came in!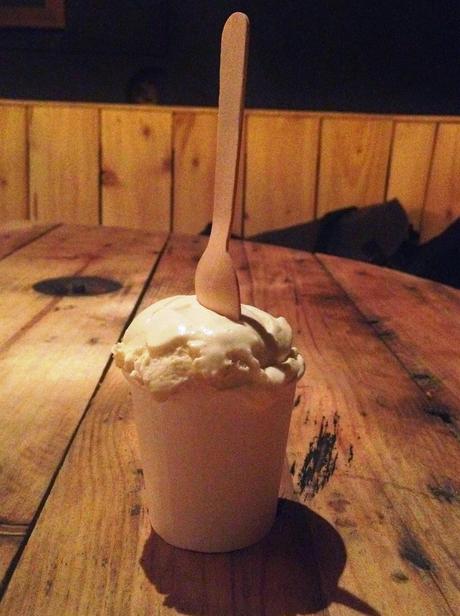 Probably the best peanut butter ice cream EVER! 
Accompanying the meal we had some housemade lemonade (€2.00) which was superb and afterwards we tried the peanut butter ice cream (€2.00) which had been made that morning. All I can say is wow! It's A1! I hope this is something that will be available on my next visit!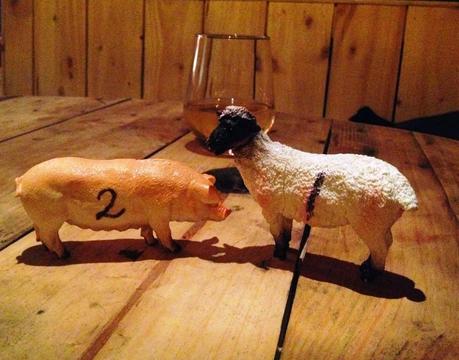 Unique table markers! 
I couldn't resist. Not exactly playing with your food but what your food used to look like!
I love how all of Dublin's BBQ places are slightly different. I feel My Meat Wagon might just have slight edge on the rest in terms of not only food but comfort and decor too. A lot of love and effort has gone into making this place damn near perfect and it shows. It's without a doubt a most welcome addition to the Smithfield dining scene and definitely one to get to soon. Before 10pm is advised! 
My Meat Wagon
6B Block A
Smithfield Square
Dublin 7
01 874 8172
Twitter