Hey readers! I haven't had a lot of time to get back into blogging yet (the kids will be back in school soon, so I foresee lots more blogging time in my future!) but for now I still wanted to share some content. I've done lots of cakes in the last year that I haven't gotten the chance to share yet, so I'm going to start with some My Little Pony cakes! My daughter and niece both love MLP, so I've enjoyed making the characters into cake. I love bright colors, and most of all rainbows! So here starts a 3 part series of My Little Pony cakes!
The first one I have is a Rainbow Dash cake I did for my niece.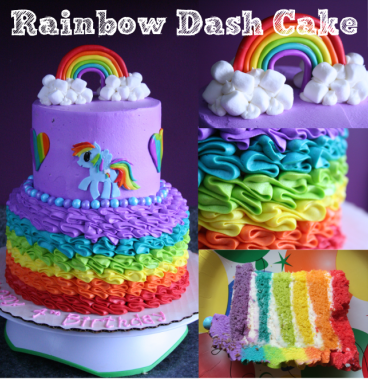 The best part of making cakes for people you know is 1: you get to eat it, and 2: you get to see what the inside looks like after all that work!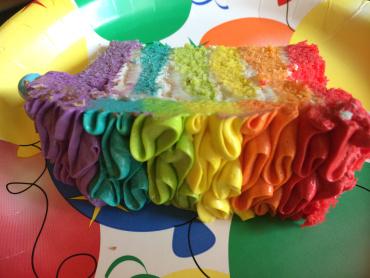 The trick to a good rainbow cake is getting nice flat even layers (even here mine aren't perfect!). To get flat layers, spread the cake batter in the pan evenly with a spatula and bake at 325 instead of 350. The lower temperature keeps the cake from doming. If you do end up with doming (where the cake ends up much thicker and domed in the middle), you can even it out with icing so your entire cake isn't domed. Add enough icing around the edges of the cake to make each layer level before adding the next layer of cake. You'll end up with a ton of icing inside the cake, but honestly, if you don't like icing, you shouldn't be eating a layered cake anyhow!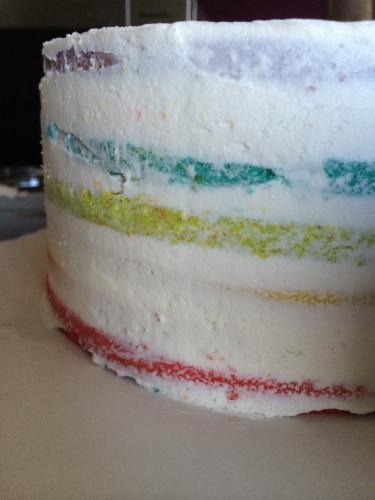 The fondant rainbow dash was easy enough to make. I printed off a picture of her and cut it out with an x-acto knife. I then layed that on top of my rolled fondant and cut around it. When it came to the tail and mane, I cut the tail and mane off of the picture, layed it on my fondant, and cut it out with the x-acto knife. It ended up working perfectly for me!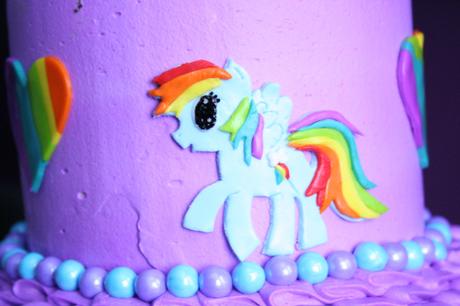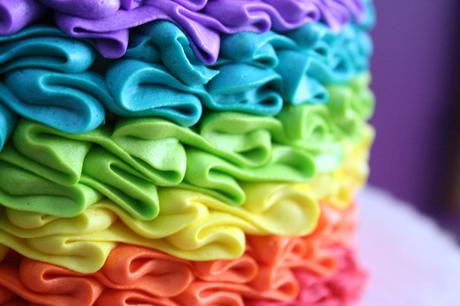 For the ruffles, I used a skirting technique I learned at the bakery I worked at a few years back. Maybe some day I'll do a tutorial on it! So far it's my favorite ruffle effect for cakes.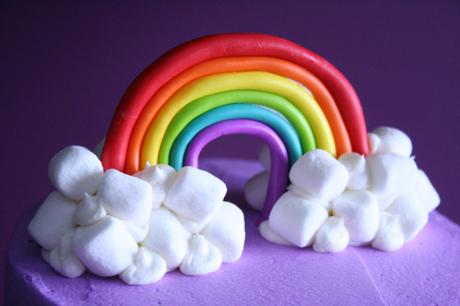 The rainbow was actually pasted to a cardboard rainbow shape that was stuck into the top of the cake. The clouds are marshmallows held together by icing. The also acted as stabilizers for the rainbow.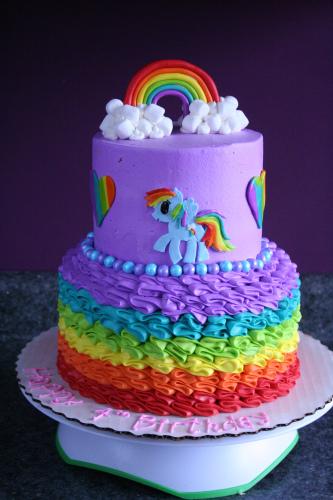 And here it is all together. This lucky little girl is coming up on another birthday, so maybe there will be a new My Little Pony cake in the works soon! I absolutely love making these ponies into different cakes, it's been so much fun!