My Kitchen Projects: Cream Cheese Red Velvet Brownie Bites
Hello Chicas! Since red velvet is getting more and more popular, I'm sharing with you this recipe that I chanced upon while browsing through Pinterest.
This is a quick and easy kitchen project that can be fun to make with your kids on a rainy day or with some girlfriends while catching up and sipping bubblies.
Here's how to make: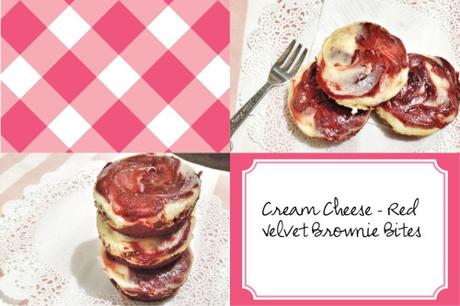 Ingredients:
½ C Elle & Vire salted butter
1 cup sugar
Scraped beans from ¼ of the Vanilla Company vanilla bean pod
¼ C cocoa powder

1 Tbsp red food coloring
1 tsp vinegar
2 eggs ( I use Bounty fresh )
¾ cup flour
Cream cheese Swirl:
1 8oz package Elle & Vire cream cheese, softened
¼ cup sugar
1 egg
Scraped beans from ¼ of the Vanilla Company vanilla bean pod
Steps:
Preheat first the oven to 350 degrees F.
Grease the muffin pan.
For the Brownie Layer:
- Melt the butter in a saucepan or microwave then let cool for a few minutes.
- When the butter is cool enough, add the vanilla, sugar, cocoa powder, red food coloring , vinegar and eggs one at time. Mix until well incorporated.
- Fold in the flour until it's combined.
- Set aside ¼ of the batter to use for the swirly top later, pour the rest into the muffin pan.
For the Cream cheese swirl:
- With a mixer, blend the 4 cream cheese swirl ingredients (cream cheese, sugar, egg and vanilla). Once it's mixed really well, spread over the red velvet brownie layer.
- To make a swirl, take the reserved red velvet brownie batter and put dollops all over the top of the cream cheese mixture. Take a toothpick or spatula, and while staying in the cream cheese mixture, gently swirl the red velvet brownie into the cream cheese mix.
- Bake at 350 for 18-20 minutes or until a toothpick comes out clean.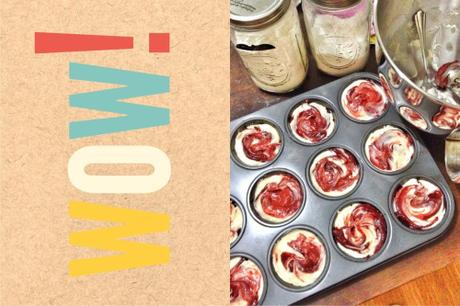 Cool completely before taking each Red Velvet Cheesecake Bites out off the pan.
These can be stored in the refrigerator for up to a week but I doubt they'd last that long. Because... who can resist this treat? No one!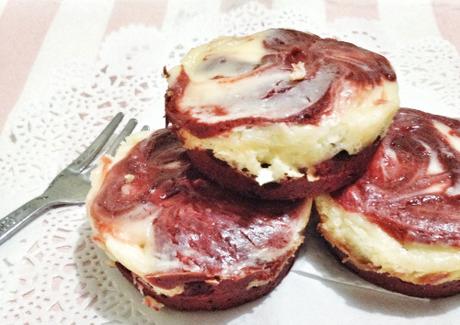 Cream cheese. Red velvet. Brownies. Yummers!
You can serve it a bit warm with coffee or tea but I like it best with vanilla ice cream on the side. Enjoy!