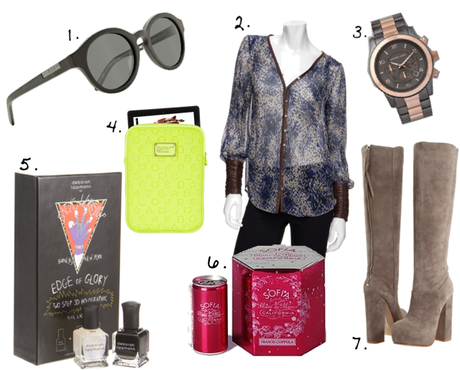 I love the holiday season. The frosty hair, the hot buttered rums (thanks to my roomie, Casey), my Hello Kitty snuggie, and of course our cozy fireplace. Yet, there is one thing I really love & that is the giving and receiving of gifts. Don't pretend you don't agree. Here are some of the things I am wishing for, not that I expect the mall... but a few of these items would be nice! 

❄

What are you wishing for this holiday season?
1. Raen Optics flowers by Alex Knost ($95):  I have always thought sunglasses are one of the most crucial parts of a stylish  ensemble. One thing I don't have (surprisingly) is a good pair of black sunnies,  not to mention I adore the shape of these particular ones by Raen Optics. Find these stunning shades here. 
2. Elizabeth & James chantal ruched leather sleeve blouse ($345): Not only do I admire the personal style of Mary-Kate and Olsen, but I am also a huge fan of their clothing line- Elizabeth and James. This blouse is would be perfect for a dayin the office with some skinny denim, yet would be perfect for a night out on  the town with a micro mini bandage skirt & my suede booties. Probably a bit out reach for me, but a girl can dream. Right?
3. Michael Kors runway two-tone watch ($250):  I have been drooling over thiswatch for a while now, but unfortunately I have a  Saks gift card & they don't carry it! I am working on being patient, but my wrist is just dying to wear this Michael Kors watch! 
4. Marc by Marc Jacobs neon iPad case ($48):  Okay, so I don't yet have an iPad, but I am banking on the fact that my  Dad will be giving me his (fingers crossed). He is getting a free tablet with his new phone, so if he decides he likes it than the iPad is in the mail! That being said, not one of my belongings isn't somewhat fashionable. So, if and when  I get my iPad, this Marc Jacobs neon iPad case shall be mine!
5. Deborah Lippmann Edge of Glory Holographic Nail Lacquer ($45):  If you follow my blog, which I hope you do, you are aware that I have a few  posts regarding nail polish. If there is one thing you should know about me, I never  eave the house without my nails painted. I also love to color outside the lines,  no pun intended, when it comes to my polish choices. This two step  Deborah Lippmann holographic nail polish set is right up my alley. 
6. Sofia Coppola Mini Champagne ($20):  These mini cans of Sofia Coppola champagne would be the perfect accessory for  pre-drinks on New Years Eve. 
7. Dolce Vita Jules suede knee-high boots ($209):  Not that I don't have enough shoes already, but I don't have grey suede boots!  Dolce Vita Jules boots, the big (and taller) sister to the Dolce Vita Gemma boot is my  new shoe-session. Oh, and not to mention they are reduced from $299 to $209 at Saks.