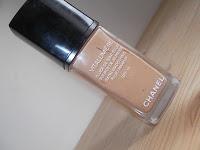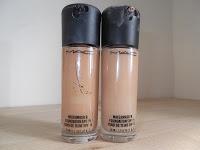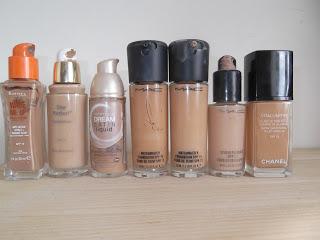 L to R, Rimmel wake me up, No7 stay perfect, Maybelline dream satin liquid, Mac machmaster x2, Mac studio fix fluid and Chanel Vitalumiere
Please don't judge me on how disgusting my foundation bottle pumps are, haha I know they're gross but it doesn't matter to me, then again maybe i should have cleaned them before posting...
As you can see, I own a fair few foundations, so I don't wanna write loads of posts about each one it would be pointless because some of them aren't that great!
So I chose to write about my favorite two which are the featured in the top pictures!
Chanel Vitalumiere in shade 40, and Mac matchmaster in two shades: 2.0 and 5.0
I have the matchmaster in two different shades because i'm such a fake tan wear-er! Ones my normal skin tone and one is a fair bit darker, and I love it so much I had to buy it for both skin colours, but as you can see am running low especially of the darker one because it is rare for me not to have fake tan on! But yeah, i'd say its a medium coverage, buildable but very easily buildable, I wouldn't say layer it up all over your face because this foundation can tend to look quite cake-y if you're wearing a lot, but maybe if you have a blemish or dark circles (unless you use a seprate concelar) just keep adding over it with this and it will disapear! Love this foundation!
Chanel Vitalumiere is my special and most loved foundation, it's not my everyday foundation as it is £35 ( :O ) which is alot, but it is just so amazing! Really dewy brightening foundation, makes my skin look feel and smell so nice! The smell is weird, neither of my sisters seem to like it but I actually love it! I'll always wear this if i'm going out-out, it stays on all night, and the foundation itself isn't think or meant to be that heavy coverage but it really does cover up everything! I barely use any concelar when I wear this! My little gem!
And just one quick thing, The no7 foundation 'stay perfect' for me was absolutley awful! It was patchy, didn't spread evenly, came off really quickly and the color was such a reddy-brown that it made me look orange! (more orange than i deem acceptable) hate!