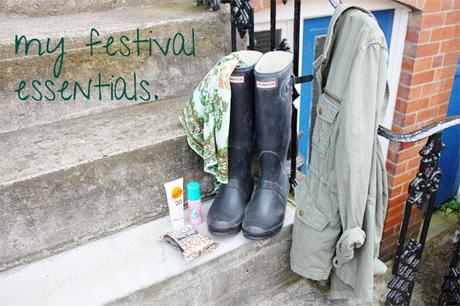 The last bit of summer is always jam-packed with festivals. This weekend it's V Fest, then Reading/Leeds, then Bestival… if you really wanted to, you could spend the next few weeks in muddy fields across the country, waving your arms and shouting 'best performance EVER!' multiple times.
I'm heading to Bestival in a few weeks and I'm already thinking about what to take. Packing for festivals is tricky – you need to be prepared for all weather situations, from scorching heat to torrential rain. Then there's food (no, two tubes of Pringles and a bag of apples doesn't constitute a 'balanced festival diet'), something to sleep under (don't forget the tent poles, as a friend of mine once did!), something to sleep in… the list is endless. And we haven't even started on clothes and beauty products yet!
So, I thought I'd show you just a few of the things I consider my absolute, can't-step-foot-in-a-field-without-them festival essentials.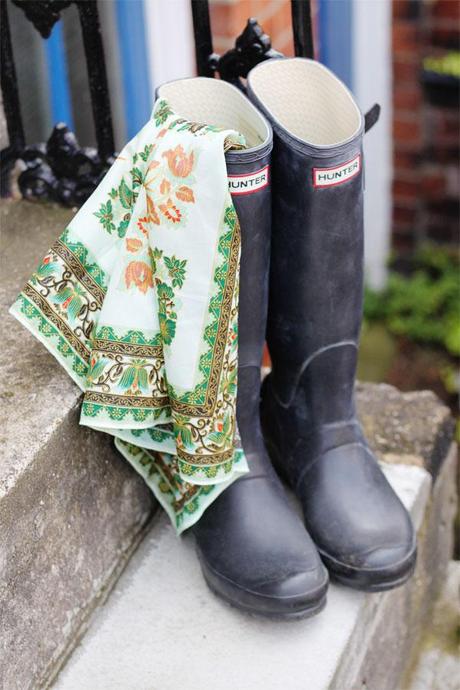 First on my list is a good pair of wellies. Even if the sun is beating down and there's not a cloud in the sky, I'll stick my wellies on. I love my classic black Hunters, but I LOVE these Stars and Stripes beauties too!
A headscarf is another must-have – festival sites are wide, open spaces which means they can get seriously windy. A cute printed headscarf will keep your hair under wraps and out of your face, plus it'll hide the fact you haven't washed it for three days. Ew. Mine is from a charity shop – get the look with this cool skull print version.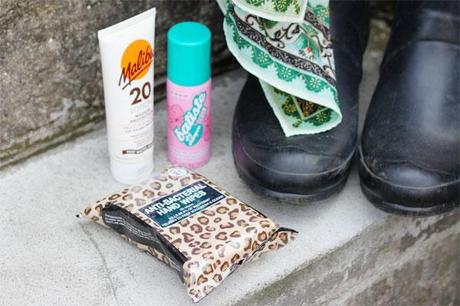 Let's face it – festivals are smelly. You probably won't be able to shower, there's mud everywhere, you're sleeping in a tent… it's all a bit nasty and if you're not armed with the right products, you could end up feeling pretty grubby.
Wipes, wipes and more wipes are the key to keeping fresh and clean – I take hand wipes, face wipes AND body wipes to cover all bases. Dry shampoo is a lifesaver when your hair's gone all flat. And suncream is VERY IMPORTANT – a sunburnt faces is so not a good look.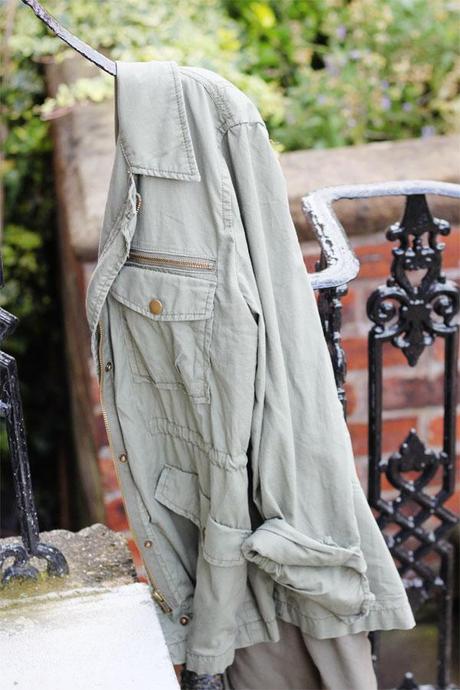 Never underestimate the power of the parka. Forget plastic raincoats and those awful see-through ponchos – this is all you need. It's stylish, looks awesome over dresses, goes well with wellies and will keep you warm and dry when the weather turns (which it will, obvs). I love this Miso Parka Jacket – wear with cut-off denims, your favorite band tee, long woolly socks and wellies for that Kate-Moss-at-Glasto look.
Are you heading to a festival this summer? Which one? And what will you be taking with you?
Jen x
Social Media Team