Happy Wednesday my friends!!  I hope you week is going well.  Things here have been trucking along quite nicely and in the spirit of keeping things fun and light (and celebrating a consistent posting schedule this week!) let's do one of my favorite things…a little blog questionnaire.
While reading this month's issue of Health Magazine there was an interview with Tracy Anderson, a very well-known fitness trainer that trains celebs like Gwenyth Paltrow. I thought this would be fun to play along with!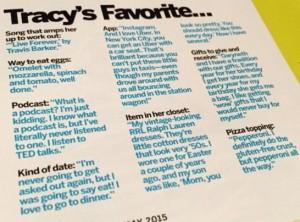 Here are my favorites…
Song that amps me up to workout: This is really hard, sometimes what gets me going is something slow and smooth like Sam Smith (especially on longer runs) or sometimes it's more "popish" like Carly Rae Jepsen.  Sometimes it's something more alternative like The Killers.  One song that I always love and makes me happy is Bruce Springsteen's Glory Days.  It was one of our warm up songs when I was playing soccer in college and it always got me focused and ready to play.
Way to eat eggs: Is there a bad way to eat eggs (other than raw I suppose?)  I LOVE eggs and most of the time, I top mine with fresh salsa or ketchup.
Podcast: I LOVED the Serial podcast, I can't wait for Season 2.  Currently, I listen to a lot of TedTalks, mainly on the commute to and from work.  (I don't know of a lot of podcasts–if there are any you LOVE..please let me know in the comments and I will check them out!)
Kind of date: At this point in our lives, date nights don't happen all that much so the bar is set pretty low.  As long as I have time to talk to Robyn and do something fun, I am happy.  Dinner, drinks and a movie are always great…bonus points for eating outdoors and going to the drive in!
App: Instagram
Item in my closet: My running shoes (duh!)

Gifts to give and receive: I love to give and receive experience types of gifts…a night out painting, wine tasting, cupcake tours…you get the idea.  Anything that gets me/us out and about trying new things/places are my favorites because you always remember those experiences, but may not necessarily remember a shirt, pair or shoes, etc.
Pizza topping: Fresh basil and mozzarella.
That's it friends, some of my favorites!  Now, I want to hear from you!  Oh, and don't forget to have a GREAT day!
—————————————————————
Question of the day
Share an answer or two to the above questions–I love learning new stuff about YOU!