Hey Girls,
How are you pretty ladies ?? A very Happy Women's Day to you all.
I am sorry for not blogging since long. Traveling for work can be a bit hectic at times, coupled with a new job. Yay! Haha..I can't contain my excitement. I just got appointed as the Legal Expert for a Regulatory Commission of Indian Government. 
Anyways, today's post is about my shopping experience with a UK shopping website
Let's see what they say about themselves
shop with a name you can trust
We at
notonthehighstreet.com
carefully select every seller for quality, style and originality.
Our passion lies in discovering unique new products and we've spent a lot of time choosing the 50,000 or so products (and counting) that you'll find here on our website and in our catalogues.We get hundreds of new products landing on our desks and popping up in our in-boxes every single week but we only select the very best. We insist on exceptional quality, so if it's not well-made, it doesn't make the grade. We're style seekers too and are always on the lookout for beautiful design and detailing. And we don't do ordinary – for us, it has to be original so we only choose products that inspire us. Why do we have such a strict selection process? That's easy. It's our way of making sure you'll end up with a purchase you'll love from the moment it arrives and for many years to come. Or a gift that will make you very popular indeed!
supporting Britain's small businesses
We're proud to have over 3,000 of Britain's most creative designers and manufacturers as our selling partners. They're a diverse and extremely talented bunch of small independent businesses that share one thing in common – they're as passionate about quality, innovation and style as we are. That's why we invited them to sell with us. Everything you buy from notonthehighstreet.com comes directly from one of these businesses. So when you shop with us, you'll be directly supporting the future and growth of Britain's creative talent.
exceptional quality to the last detail
Only a small percentage of the small businesses that apply to sell with us are accepted. That's because we only select sellers whose products meet our stringent quality standards. It's just one of the ways we ensure you'll be delighted with your purchase.
discover unique products
We all love finding something extra special and a little bit unique, whether we're treating ourselves or a loved one. So you won't find mass-produced products at
notonthehighstreet.com
– what you will find are gorgeous gifts, homewares, fashion and jewelry that we've hunted out for you.
gifting gurus
We're here to inspire you with delightful gifts and thoughtful treats for any special occasion – birthdays, weddings or christenings, anniversaries, graduations or
Christmas
. And we make it easy to find something truly original by offering you a fantastic choice of products that can be customised or personalised by you for the people you love best. With your own messages, names or pictures, you'll create a wonderfully unique gift that will be treasured forever.
award-winning customer service, six days a week
We want to make sure that every notonthehighstreet.com customer is a happy one. Because when you're happy, we're delighted. So whether you're shopping online or by phone, we make the experience fun and hassle-free, from when you place your order to when the postie delivers your package. 
So, let me just show you what I got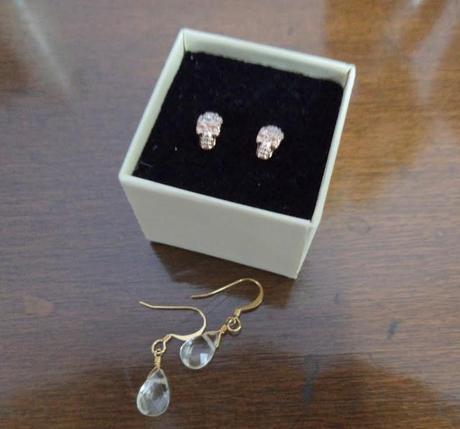 A closer look at the earrings
 All the items came nicely packed and secured in separate packages. Ah! I know, i should have shown you the boxes too, but you know how we women are when it comes to gift boxes. I tore open all the packages like a child opening his birthday gifts. What's even more impressive is that everything arrived with a week.
Just click on the names to view the products
Teardrop Earrings by Black Pearl
 Oval Taklon Lip by Elle Au Naturel Beauty
 Anti Aging Cream by Alison Claire Natural Beauty
I had a wonderful experience shopping with them. Would love to shop again. 
A big thanks to the lovely Harriet for

sending these products for consideration. 
My review is still honest.Promise.
Take care and Stay Pretty.