My Experience with MedPlusBeauty.com
What MedPlus Beauty Claims
About Us
MedplusBeauty.com
is India's preeminent online beauty retailer offering a wide and diverse selection of over 15000 beauty and personal care products across various categories and hundreds of brands. It is part of
MedPlus
, India's fastest growing healthcare retail chain.
At
MedplusBeauty.com
, our goal is to provide you a convenient, hassle free destination for all your beauty and personal care needs. You can choose from your everyday staples to some of the most luxurious beauty brands worldwide. Since all our products are sourced from reputed companies, we guarantee that all our products are original, whether domestic or imported.
Whether you choose to have the product conveniently shipped to your home or pick it up from your nearest
MedPlus
store, we offer same day or next day delivery in all major metros, so you do not have to wait long for your shipment.
We bring you the best prices, and with our daily promotions and free gifts, you can be rest assured that no one provides you a better value for your money. ValuePlus, our one of a kind rewards programme. provides you the opportunity to accrue points for purchases across various MedPlus businesses, both offline and online, and exchange the points for invaluable gifts translating to an additional discount of 20-30% off of our already competitive prices.
With multiple and secure payment options, a worry free returns policy & friendly customer service, we are committed to provide you an unparalleled shopping experience.
About MedPlus
MedPlus is India's leading independent pharmacy chain with 950+ stores in 6 states. Launched in 2006, it is India's fastest growing health network with a CAGR ( Compound Annual Growth Rate) of 130%. The company offers genuine drugs, quality storage, wide availability and free home delivery. MedPlus pioneered value pricing in pharmaceutical retail industry and offers 10% discount on medicines and 5% on general products to all consumers. The company has 5000 employees and serves more than 1,30,000 customers daily.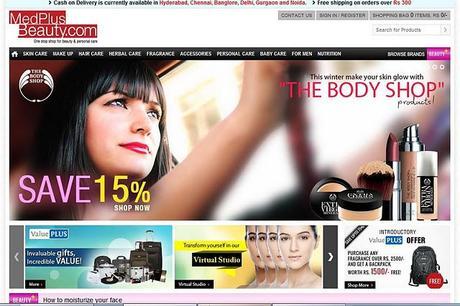 Mode of Payment
MedPlus offer multiple methods to make payments for your order, like Credit or a Debit Card, Net Banking, or Store Credit or Offline using Cash on Delivery (COD). Additionally you can place an order and pay for it through any of the MedPlus stores nationwide.
They ensure trusted methods are used for online payments using Credit/Debit card and net banking payments. Customers would be routed to our trusted payment gateway provider where they have to enter account number and/or your CVV number and 3D Secure PIN. All Credit/Debit card details remain confidential and private. medplusbeauty.com and our trusted payment gateways use SSL encryption technology to protect your card information.
Payment by Cash On Delivery
Offers
cash on delivery for minimum order of Rs. 250 and the maximum order value should not exceed Rs. 15000. No Cheques or Drafts will be accepted except cash. 
Brands Offered 
MedPlus Beauty houses almost all the brands from and a huge range of products from
Garnier, Givenchy, Cetaphil, H20, Biotique, Giovanni
,
Freeman
,
The Body Shop,
Herbal Essences,
Vichy, Clarins, La Roche

Posay

, Organic Surge, Bourjois, Chambor, Faces, Avene, L'oreal, Maybelline
etc. Go check out the entire list of brands here Brands   Now let me come to the best part of MedPlus Beauty, the virtual makeover section.  The virtual makeover section can help you try a particular makeup product on the photo of a model who is closest to your skintone, or better still, your own picture.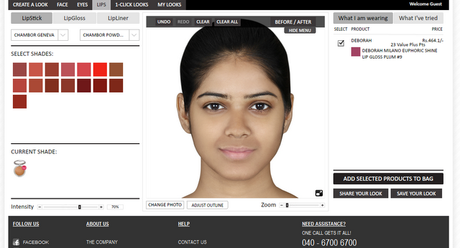 Before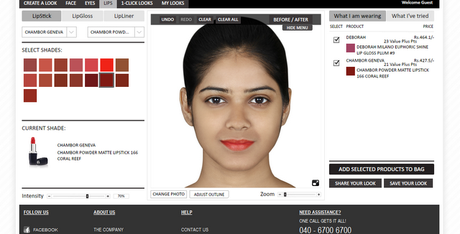 After
 I also uploaded my own picture and here they are for you to see. This was one of no makeup picture in broad daylight. So, I think it will be a perfect picture to try every shade which I like. Putting both the before and after pictures for you.
Trying a blush with my own photograph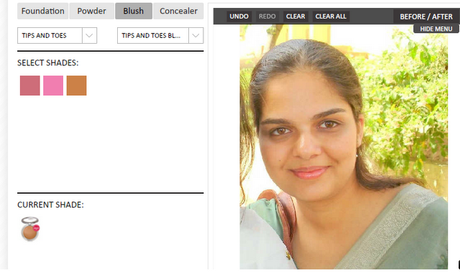 Before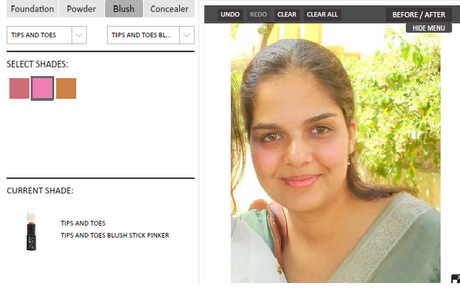 After
So, what do you think. Isn't this virtual makeover section awesome. Yes, I am going to buy that blush now. It's so lovely. Suits my rather pale complexion.
The number of brands which they have is so huge. You think of a brand, and chances are that they will be stocking it.Medplusbeauty is the first website where I found The Body Shop products, (Yes, you read it right, Body Shop) and believe me they did not one or two random products but a large no. of products from body shop including their newly launched virgin minerals range. How awesome is that. You can take a look at the entire range of body shop products stocked at MedplusBeauty here. 
I found some high end brands like Giovanni, Givenchy, Beyu, Freeman, which are not available on any other website. 
Price of every product in lesser then other online shopping websites. While browsing through the website, I found that on an average, they were providing discount in the range of 7% to 25% on large number of products. Huge discounts on even those products, which other websites usually stock and retail at their MRP. 
Collection of their perfumes in just mind-blowing. Take a look. Fragrances   Cash on delivery option is available only in Delhi, Mumbai, Kolkata and Chennai. 
My experience with MedPlus Beauty
They claims to deliver to metropolitan cities on same day. Now, doesn't it feel like going for shopping and getting your goodies right away. Mostly, every other websites delivers products only after 2-3 days. I placed order for my products on 7, January and received an email confirming my order  on the same day, within a gap of few minutes.  I placed the order at night, at around 9 pm and got the confirmation call the next day, which happened to be a Sunday. I am presuming that if I had placed the order earlier in the day, I would have received the confirmation telephone call on same day. To sum it up, very prompt services. They informed me that my order will be delivered within 2 to 5 days and I got it today, i.e. on fifth day. In between, their customer care department kept calling me to know whether I had received the order or not. Very friendly and helpful customer service. 
My products came packed in a sturdy cardboard box sealed well. It was lined with thermocoal sheets from all sides, including top and bottom. Very well packed and minimum chances of any breakage or damage to products. All the items were wrapped together in bubble wrap and placed in the middle. All products were in perfect condition and there was no breakage or any damage. 
I did not experience any shortcoming in their services. so, no cons for me.
Few suggestions
They should stock a few luxury brands also like Elizabeth Arden, Marks and Spencer, Bath and Body Works Collection, Victoria's Secret etc.
Tracking system inbuilt within the website, so that a customer can keep a tab on the status of his products.
Add a notify option so that if a product is out of stock, a customer who wishes to purchase can be notified when the product is replenished.
If they can stock foreign brands like NARS, MUFE, the Balm, which are so so hard to find in India.  I can think of all you girls nodding their heads in affirmation. Don't you think we all will go crazy shopping for all these stuff?
Hope they can stock professional hair care range from different brands like L'Oreal, Matrix biolage, Schwarzkopf etc. I have'nt yet seen the professional hair care range from these brands on any online shopping websites before.
Should stock some Blemish Balm creams also. They are quite a rage already.