Few months back, while doing a compilation post on Beauty Box/services in India, i did an extensive research on so many beauty kits/bags etc and since i had this in my mind that i will definitely try My Envy Box. I got to grab My Envy Box- August 2015 edition, my first Envy box! Excited!
My Envy Box- Get 4-5 trial sized products at INR 850 per month/INR 2500 for 3 months and for more information and to subscribe, click
here.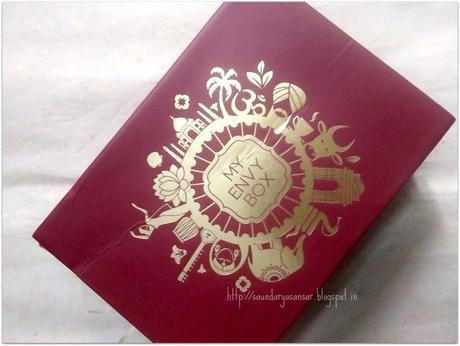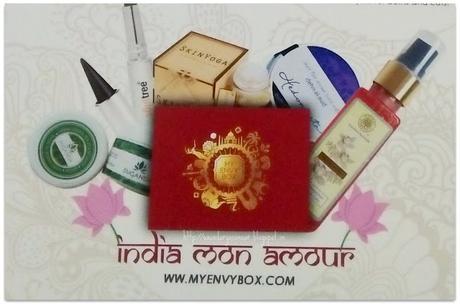 My Envy Box for August 2015 was entirely based on 'Indian Theme'- Indian Mon Amour, celebrating this festive month with Indian rich culture and heritage; focusing on Ayurvedic high end brands.
The contents (all 4 which i mistakenly took as 5 initially) were all ayurvedic and from Ayurvedic Brands.
The Box is again was ALL INDIAN -displaying indian theme with the pictures of TajMahal, Lotus, Elephant and other things which represent the best of Indian cultural heritage.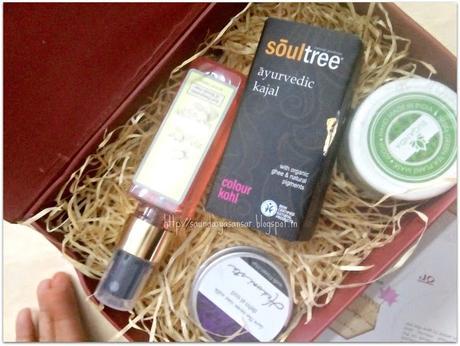 Lets see what all i got in my Box-
1. Soultree Kajal in Grey Glow (Full sized, priced at INR 350 for 3 gms)

2. Hedonista Oudh Frozan ittar (20 gms for INR 1045)
3. Suganda Neem Green Tea Plant Mask (60 gms for INR 900)
4. Forest Essentials Body Mist- Iced Pomegranate and Kerala Lime (INR 1475 for 100 ml)
All these four products are new for me...yey.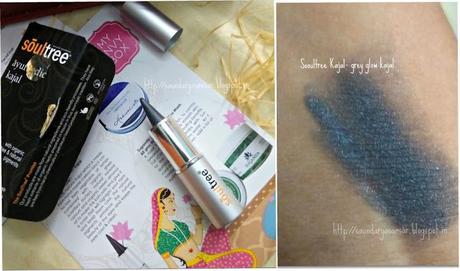 I got the shade- Grey Glow. its a pretty grey shade with silver shimmers. It looks pretty as liner and eye shadow as well. It looks lovely on eyes.

Actually i was super impressed to see the variants of this kajal. They are not plain banal colours but has hints of shimmers which lets your eyes speak.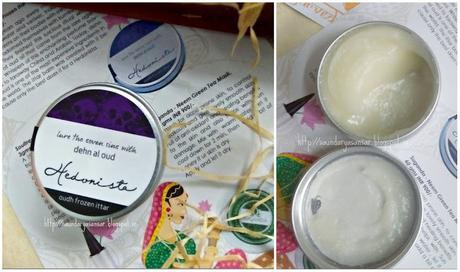 2. Hedonista Oudh Frozan Ittar-
Again concept of frozan ittar is new to me. For me ittar till now was a small glass vial bottle with liquid sealed with a cork stopper, as you open the bottle it fills your room with a captivating scent. Just a drop on cotton bud and apply it behind your ear lobes, on your wrist and you are done for the day. I am really excited to try this.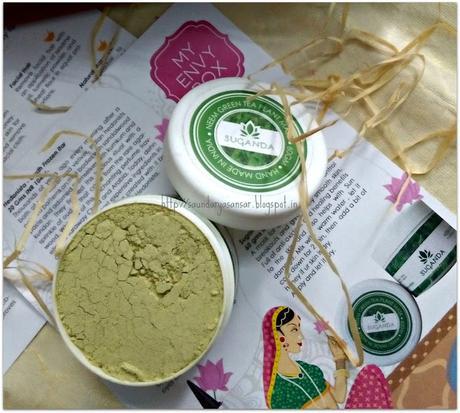 3. Suganda Neem Green Tea Tree Plant Mask-
This is again an ayurvedic product. I have heard a lot about this premium ayurvedic brand. This organic mask is Green powder based and it smells like neem powder. Need to try this soon.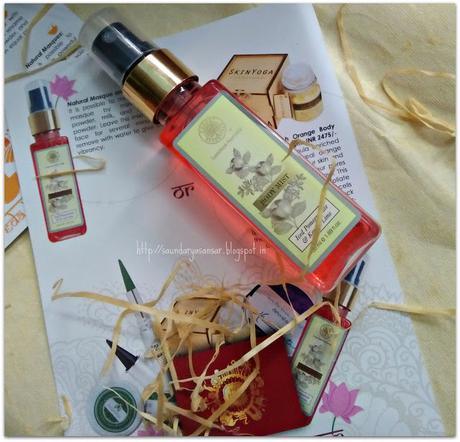 4. Forest Essentials Body Mist- Iced Pomegranate and Kerala Lime-
This was the FAB one, the ultimate! I have read great reviews about this mist and let me tell you...it is awesome. it smells great and on top of that its staying power is also quite good.

Its an absolute love.
Overall I would say My Envy Box August 2015 one is the best of all the beauty boxes i have received till now. It has all the contents which scores high on my charts. Well planned and organised box with an amazing theme. Impressed!
My Rating for the Box- 5/5.
If you guys have not subscribed the box as yet, do it as you may be missing something real good.