Firstly, let me say that I feel somewhat narcissistic writing a post about my Current Hair Care Routine because I feel like I'm bragging about how wonderful my hair is and that everyone should be envious of it. That's not at all my intent. I actually don't think I have great hair, but I feel like this particular routine has made a difference in the softness, shine and overall condition of my hair. So, because of that, I thought I would share what I've been using on my hair to improve it!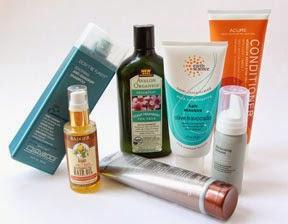 For starters, I'll try to describe my hair. I have chest-length, heavily color-treated hair that is often dry, dull and damaged. I have quite a bit of very fine hair strands that love to stick to themselves, creating horrible knots that make brushing while wet an absolute nightmare. My scalp has been dry and flaky, but the roots of my hair are quite prone to oiliness. Whew! Quite the lot, eh?

J

So, what on earth could possibly remedy all these complaints? I went on a mission to find out and these are my findings!!!

J


I try to wash my hair once every two to three days to avoid overstripping the natural oils that your scalp actually needs. My first step before hopping in the shower is to brush my hair with a Tangle Teezer (see my review here) to remove any tangles and loose strands that may have accumulated since the last brushing. This just helps keep my drain from clogging, makes washing my hair easier, and makes brushing it after showering easier.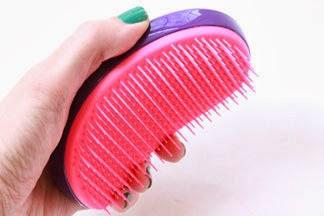 Once in the shower with my hair thoroughly drenched, I start with shampoo…shocking, I know. I have battled for a while to find a good balance that doesn't add too much moisture to my limp locks, yet still deeply hydrates since it is heavily color-treated. And I can't forget my itchy and sometimes flaky scalp. Yuck! Given my multitude of problems, and my mind-boggling quantity of shampoos, I finally started mixing some to see if perhaps that might yield better results. Well, I found the perfect solution that way!

J

I start with Andalou Naturals Tea Tree Scalp Treatment Shampoo and add a little bit of Giovanni's Don't Be Flaky! Soothing Anti-Dandruff Shampoo. I use about 2/3 Tea Tree and 1/3 Anti-Dandruff. Both are pretty good by themselves, but together, they seem to create my perfect shampoo! The Tea Tree Shampoo gets my hair nice and clean without stripping it, and it also adds a bit of life to my otherwise limp locks, while the Anti-Dandruff completely eliminates itchiness and flakes. Finally! A shampoo combo that suits all of my needs!

J

I begin shampooing at the nape of my neck where most of the oil and grime collects, working to the crown of my head, and just kind of rinsing any remaining shampoo over the length of my hair. Then it's on to a conditioner…yet another battle!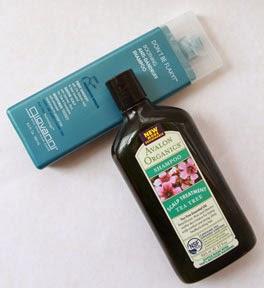 I have had the worst time trying to find a good conditioner that didn't totally weigh my hair down, but still did something. So, using the shampoo concoction as inspiration, I decided to mix a few! I use a similar ratio – 2/3 and 1/3, respectively. I use mainly Acure Moroccan Argan Oil + Argan Stem Cell Conditioner Triple Moisture Repair (which smells like almonds and I love the scent!) with a little bit of Earth Science Olive & Avocado Deep Conditioning Hair Mask , which also smells delightful, but is more of a fresh, grass-like scent. I liked both of these conditioners alone, but I felt like the Acure was just missing some hydration, while the Earth Science was just a tad too heavy. Again, when I mix them together, it's just the perfect conditioner!

J

I finger comb the mixture through my wet hair from the ears down. Whatever is left on my hands I gloss over the top of my head and let it sit for 2-5 minutes before rinsing it out. Easy and quick – two requirements for my hair!

J

My hair literally feels like silk as the conditioners run out of it…and it remains silky even after the conditioner is gone! Another winning combination!

J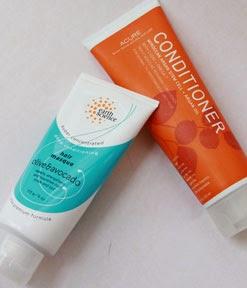 Towel drying my hair seems simple enough, but I use something that I don't think most people do. I use a microfiber towel (I usually find them at Ulta) after gently squeezing excess water out of my hair by hand – I try to be as gentle as possible because your hair is very fragile when it's wet. I use the microfiber towel because it absorbs more moisture, thus helping it to dry faster, and I also can kind of "pat" my hair dry instead of rubbing and tugging on it with a standard terry cloth towel. Once most of the water has been absorbed by the towel, it's on to styling products!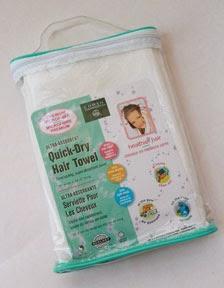 Much to my own surprise, I use quite a few products on my hair. I don't typically do much more than let it air dry, but I find these products keep it looking much healthier no matter what I do with my hair. I start with Mineral Fusion's Volumizing Beauty Balm for Hair. This stuff claims to do just about everything – volumize, moisturize, control frizz, strengthen, repair split ends, style with light hold, protect color and protect from heat! I mainly use it as a detangling leave-in conditioner that doesn't weight my hair down. It makes my hair so much easier to brush through while it's damp. I also like that it is a heat-protectant because I feel better should I decide to heat-style my hair and forget to use a separate protecting spray. It also really does tame the little fly-aways I think we all get!

J

Plus, my hair seems to dry faster when I use the Beauty Balm! To apply it, I flip my head upside down and gently scrunch in about a nickel-sized amount, concentrating on the ends and below my ears. I could stop there – and sometimes do – but I really like to add a few more things before calling it a day.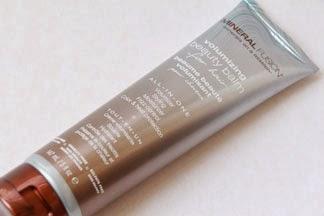 The next product, Badger's Argan Oil for Dry & Damaged Hair, could be added directly to the Beauty Balm, but I find it easier to control the products separately. I use the Argan Oil the exact same way as the Beauty Balm. I usually use about two pumps of oil for my chest length hair, which is the high end of the recommended amount, so this stuff will last for ages! It's intended to moisturize, protect, strengthen and revitalize dull hair. I find this wonder oil also helps with detangling, conditioning, frizz-control and shine. I really like this oil! Again, I concentrate it below my ears to avoid oil slicks on my scalp!

J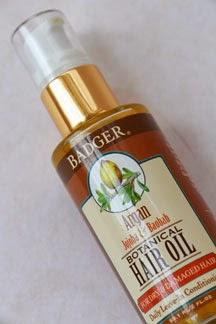 Finally, it's time to add a little volume! I'm not talking '80's hair here, just a bit more lift at the roots. I use Living Proof's Full Thickening Mousse (I'm still using the baby size) and, unlike everything else, I finger comb about half of a golf ball sized amount through the roots while my head is still upside down. If there's any reside left on my hands, after flipping my head back upright, I kind of clamp my hair as though I were making a ponytail to help distribute any residual product onto the rest of my strands. And that's it for styling products! (As though that's a small quantity!

J

)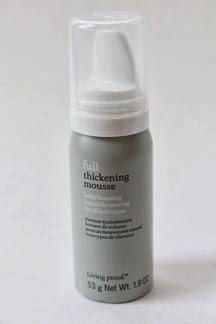 Now it's time to brush through that tangled, knotty mane. I grab my trusty Tangle Teezer again and gently brush through my hair. If there are any bad knots, which usually doesn't happen with this regime, I carefully separate the tangle and gently brush it out, working up from the bottom of the knot. I really don't like to brush my hair while it's wet, but the Tangle Teezer is so gentle and effective that I end up with very little breakage. A wide-tooth comb works as well, but the Tangle Teezer is definitely my weapon of choice!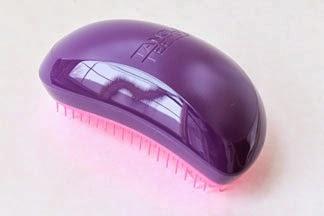 At this point, I'll adjust my part if necessary (I usually just leave it wherever it feels like falling – yes, I'm that lazy) and brush into place. Once that's done, I'll usually try to add back a bit of the lift that brushing removes by just putting my hands on either side of my head and softly pushing up a bit. As I've said, I usually just let my hair air dry, so I'm all done!

J

Because of the Beauty Balm and the Argan Oil, my hair really does dry faster as well!!! I'd say it takes about an hour to an hour and a half for it to fully dry with no heat. Since I typically wash my hair at night, time is not that much of an issue.
So there you have my current Hair Care Routine! Having written it out, it seems like a lot, but it really doesn't take long. Maybe an additional five minutes after I'm out of the shower, and no added time for the actual shampooing/conditioning process. As I said, by no means do I think I have fantastic hair, but I have noticed a difference in the health and, most notably, the softness and shine of my hair since I've started using this routine. I must say, if you have blonde hair – color treated or naturally – you probably know just how difficult getting it to shine can be! Though I can't be certain, I would probably attribute the softness and shine to the Earth Science Conditioner and the Badger Argan Oil. I think the Mineral Fusion Beauty Balm definitely helps tame fly-aways, while the Giovanni Shampoo is the biggest help with dandruff. Both the Tea Tree Shampoo and the Living Proof Mousse add some volume, while the Acure Argan Conditioner provides a great weightless, but hydrating conditioner. For my mixture of dry, damaged, lifeless and limp locks with a dry flaky scalp, this is currently the perfect routine!

J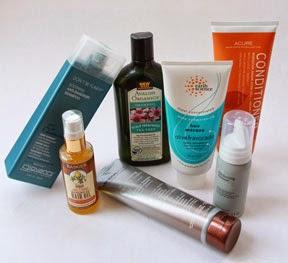 If you're interested in purchasing any of these items, I put together a Luvocracy Collection with all of the products. If you're unfamiliar with Luvocracy, it's similar to Pinterest (you can follow me on Pinterest here), but you can actually buy the items you see right through the Luvocracy site! It's kind of addictive to browse through everything…much like Pinterest. If you'd like to check it out, you can click here, or just go to Luvocracy.com. I'm not gonna go into great depth about Luvocracy because you know how to check it out if you're interested! 

J


Thanks so much for reading this far! Let me know what hair products you can't live without these days because I love to hear other people's favorites. 

J

 Until next time, thanks for stopping by! 

J