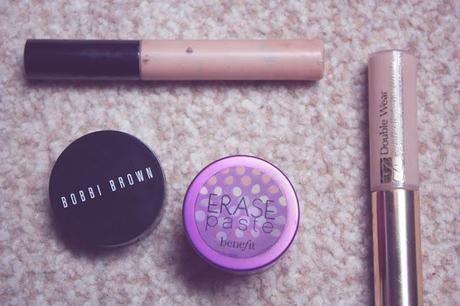 Collection 2000 Lasting Perfection Concealer
I really loved this concealer when I first got it. Although I have flown the nest and purchased a more up-market concealer, I will always regard this as my cheap go-to because it does the job and stays all day - and that's what I look for in a good concealer.
I've heard people say they'll never stop using this concealer - which is great, it really is that good - but I felt it didn't match with my foundation. It always looked as though I'd used concealer rather than blending into my skin. It would make my foundation (Estee Lauder Double Wear) smudge on numerous occasions but alas it did mostly look nice.
If you don't want to splash out on Concealer - this is the one for you!
Bobbi Brown Creamy Concealer
This is my current Concealer that I'm using. I tend to alternate depending on my skins condition.. I purchased this about 2 months ago and haven't used another Concealer since. I use my finger to apply it - which I know isn't the best way, as it holds so much bacteria, but it applies so well. I find this concealer great for hiding under eye circles and spots, but isn't too great if you want to hide any patchy foundation (like I do) as it tend to create a combined formula of foundation and concealer to make it look even patchier. It may well be that my foundation is too thick to use with this Concealer - but for under the eyes, it's great! I think this was quite pricey - perhaps £20 - £30, so make sure you get a skin color match so you don't waste money!
Benefit's Erase Paste
This was my first ever Concealer. I bought it off eBay several years ago and fell in love! I think this is the perfect Concealer for any time of foundation because it is just so light that it can sit well with any foundation. I've put this Concealer on today to get to grips on what it was like on my Double Wear and I really like it! I used this on my eyelids, under eye circles, chin and nose area (where my foundation doesn't sit too well) and this help create a more flawless look. I wouldn't recommend this as much for spotty skin because I think it targets dark patches and uneven skin more than covering spots. I also find I need an extra bit of MAC's Blot Powder Pressed after this Concealer because it is on the greasy-side of things. I'd recommend this for people with scarring, dark circles and dark pigmentations rather than spots. This pot has lasted me so long and a little bit of product goes a long way!
Estee Lauder Double Wear Concealer
I received this Concealer as a sample with my Estee Lauder Double Wear Foundation and I'm still deciding if I like it or love it. It applies very well with the Double Wear as it's quite thick and matches the consistency but can often smudge over time. It would work well with any foundation that has a lighter coverage, but anything heavier than Double Wear (if that's possible) will not mix well.. I would recommend this to anyone looking for a concealer to hide blemishes and dark circles who is looking for a full coverage Concealer.