What better way to turn a quarter of a century old than in the city that never sleeps (except between 2-5pm) Barcelona.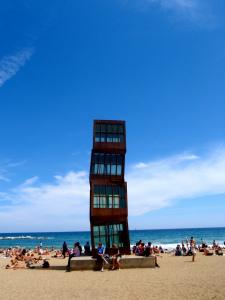 Armed with my bright green travel wallet (courtesy of my mum) we arrive and make our way to the Central Garden hostel. If you are ever looking for a place to stay in Barcelona I would highly recommend this one. Great location, big rooms, friendly staff, clean bathrooms and solid shower pressure.
For me, the most exciting part about being in Barcelona was having vaguely reminiscent sun of that in Australia. Now, like all Aussies I pride myself on being able to handle the odd UV ray so we quickly take up pole position on the beach and settle in for a morning of sunbathing.
Around two hours later we decide we have had our fill of vitamin D and we move off the beach and up Las Ramblas. At this point in time it didn't occur to me that I may have acquired a little more than a healthy tan, but it shortly came to fruition when the only word the non-English speaking shop assistant could muster was 'Aftersun'. It turns out Aftersun is like aloe-vera cream on steroids. I'm not sure if it actually helps, or just stings so much you eventually go numb, but I now hold it in esteem to the invention of aspirin. I spent that night involuntarily 'planking' in my bed.
Day two we decide to visit as many Gaudi buildings as humanly possible. We wake up nice and early to beat the crowds, but apparently this is what everyone does so we join the around-the-block line to Sagrada Familia, aka the most impressive dribble castle in the world. Now I have no doubt that architecturally this is an amazing building, but once inside I was not as awe-struck as I thought I would be. Something about plastic chairs and a suspended crucifix of Jesus just ruins the mood a little…
Once we have had our fill of all that is Gaudi, we head into the city to celebrate my birthday in true Spanish style…eat some tapas and drink some sangria. The drinking strategy employed for the night was that the accumulation of tiny food, with the fruit in sangria would just about cut it as a responsible meal before a big night out. This is sadly not the case and should not be repeated by anyone.
Overall, Barcelona has to be one of my favorite places I have visited. Its not often you get to see a city that is so consistently beautiful, over such a huge space. The people are lovely and take pride in their city and their culture. And why wouldn't they? They wake up late, get a mid-day nap, live on the beach and eat tiny portions of delicious food all day.
Click to view slideshow.