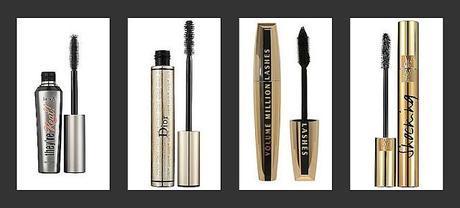 I would probably say my lashes/eyes are my best asset. I get complimented on them quite a lot (without sounding big headed) and I put it down to being born with naturally long dark eyelashes- thanks dad! So one of my favorite makeup products is mascara and although I have long lashes already I like to more length and thicken them up a bit. So I thought I would show you the 4 mascaras I have tried out and loved the most.
Benefit They're Real
I've gone through two of these bad boys since they were first released. I know what your thinking but it was released quite a bit of time ago, well I don't know about you but I like to switch up my mascaras every now and then just for something new. This definitely adds length to my lashes and as the name would suggest they give the false lash effect. Another feature I love is the brush as it has a normal wand but at the end is a little ball to help you reach the inner and outer corners with ease.
Dior Extase
I love, love love this mascara. I just wished it didn't come with a hefty price tag for a mascara. This gave me the best length I have ever got from a mascara and also the separation it gives is just amazing. One thing I hate about some mascaras is the clumpy lashes they can sometimes give you. I hate when some of my lashes get stuck together and the more I try and separate them the clumpier they get. The brush has this weird twisted look to it which helps completely coat all your lashes.
L'Oreal Volume Million Lashes
This is my current mascara which I am actually just coming to the end of, its starting to get that drying out feel to it. I do like this mascara and would definitely repurchase it as it is a great selling price for such a good mascara. I would definitely say this concentrates more on length than anything else. And again the brush has a slight end to it to help reach inner and outer corners of the lashes. Would recommend this to anyone that wanted to try a good, cheaper mascara.
YSL Effet Faux Cils Shocking
Now now now what can I say about YSL mascaras that you haven't heard, probably nothing. Now we all know they are infamous for drying out so quick and I think this is such a shame as this is an amazing mascara. Again a little on the pricey side and if I had the money I would repurchase it if it wasn't for the drying out so quickly. The wand is just a normal straight brush, nothing spectacular but gives the lashes a lovely finish. The shocking version of the original gives a 'blacker' finish as it is more pigmented than the original.
Whats your favorite mascara?
Instagram / Twitter