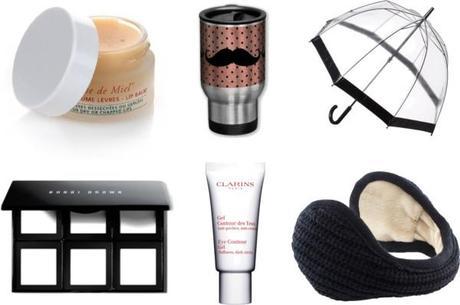 Bonjour! I've been very busy over the past few weeks lifting, packing and boxing as my work place has been having a refurbishment which meant all hands on deck. However, now that things have finally trickled back to reality, I thought it was high time I wrote a blog post! So here are a few of the weather themed items I've been coveting over this month.
The crazy winter weather has really been wreaking havoc on my poor lips and as you all know I absolutely love the
Nuxe - Huile Prodigieuse Oil
for my hair and skin. So far I've read nothing but rave reviews on this lip balm by Nuxe and according to the M&S website it has been tested in extremely cold conditions in Canada! Sounds like my kind of lip balm.
Stainless Steel Travel Mug // £15.95
Wouldn't it be wonderful to walk to work on cold dark mornings with a lovely cup of Joe to warm you on your way... or perhaps some tomato soup? Well now you can with this cute and funny stainless steel travel mug from Zazzle. There a lots of different designs to choose from or you can even create your own if you like. Simple pleasures :-)
Fulton Birdcage Dome Umbrella // £16.00
Say goodbye to embarrassing brolly-inside-out fandangos with this dome umbrella. I remember owning the Topshop version of this a few years back and it was amazing! You simply hide inside and peer out at the rainy world around you. Also, due to it's large size it's almost impossible to forget to take it out with you.
I'm obsessed with face palettes, and Bobbi Brown for that matter so I simply adore this empty six pan palette which is ideal for creating your very own mix and match looks for each day. This one can hold six Bobbi Brown eyeshadows or blushes so that you can quickly change from day to evening all with one palette. After all, who wants to be trudging around town with a heavy, disorganised bag all day whilst being battered by wind and sleet?
I tried a sample of this eye gel last year and fell in love. It really does an amazing job of instantly toning down any puffiness under the eyes whilst also treating the delicate skin around the eye area. Yes it is pricey, but a worthwhile investment especially if you suffer from allergies in the summer and puffiness in the winter.
Hear-muffs // £9.95
I love these ear muffs that conveniently plug into your iPhone or mp3 player so that you can keep your ears warm whilst listening to music on the go. The Hear-muffs come in a variety of colours and are also supplied with a two year guarantee!
I hope you enjoyed this post, let me know what your weather essentials are in the comments below. Have a wonderful valentines day! <3