It is 3:00 p.m. and you know it's 3:00 p.m. because your stomach is growling (strange because you just had lunch), your eyes feel heavy and all you want, all you crave is sweet sweet sugar and buzz-inducing caffeine.  So you reluctantly reach for a cookie, a cupcake, a bag of M&Ms to satisfy the sugar monster. And you HAVE to satisfy this beast because otherwise, everything (and everyone) will suffer with you. I'm not over blowing the 3pm sugar cravings am I?
I'm pretty sure productivity drops between 3:00-3:15pm as herds of people rush to line up for their afternoon caffeine + sugar hit.  I'm one of those poor souls waiting in line longer than I should, battling severe weather conditions (snow, rain, humidity) just to get my hands on a cup of coffee. And to be precise, my Starbucks Americano or Non Fat, No Foam Latte (foam is so 2010). And every single time I get a cup of coffee, I face temptation to buy a cookie, a cake pop or those weird chocolate bars by the cash register. So every afternoon, I have to channel absolute will power to battle the beast and resist the sweets.
SELF 1: "Don't do it. Remember that black dress you like? Remember how good it looks on you?"
SELF 2: "Do it. You don't eat like this everyday. You work hard. You deserve a treat."
SELF 1: "What would Victoria Beckham say?"
SELF 2: "Who cares about Beckham. No one is paying you millions to eat gum for dinner."
And it goes on and on and on until the Barista says, "would you like anything else with the coffee?"
Well, I may have solved all my afternoon snacking problems. I tried a low fat/low cal brownie recipe courtesy of the
Hungry Girl
cookbook this weekend. 
Hungry Girl
shares healthier versions of high cal/high fat foods (including snacks). And KUDOS to her for nailing this Brownie recipe. No more battling the sugar beast.
The recipe is quite easy and quick. You can read it after the jump or by simply clicking here. There are 3 ingredients. Brownie mix + Pumpkin Puree + Peanut Butter. 
Mix the ingredients.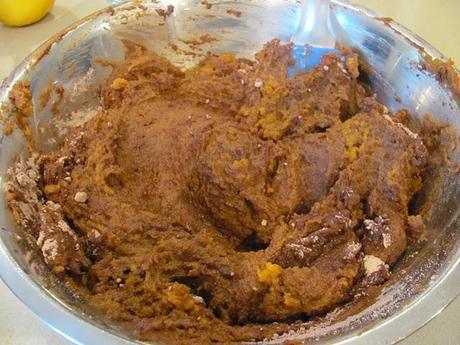 Pour into a baking pan (I actually used muffin pan). Add some low-fat peanut butter on top.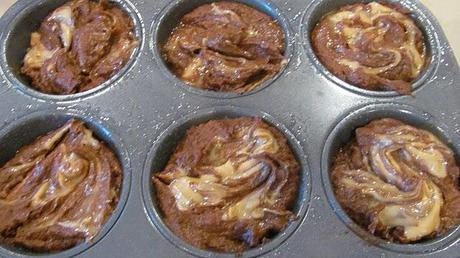 Bake for 35 minutes. Refrigerate for 2 hours and then TA DAAAA!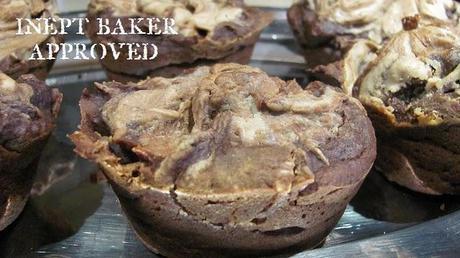 Incredibly moist and super chocolaty. It is Oooey. Gooey. Peanut Buttery. Not only did this turn out beautiful (I am the INEPT BAKER after all), but these brownies can challenge just about any high cal/high fat versions.
So here I was, discovering the answer to the world's 3pm SUGAR WOES, thinking no one would EVER have to exercise any will power ever again and then I realized, HOLY CRAP, I can't stop eating these damn brownies. *sad face*
Give this recipe a try. You will be blown away.
Enjoy!
Foodie Wife
HUNGRY GIRL PB & CHOCOLATE BROWNIE
Ingredients:2 cups canned pure pumpkin1 box Betty Crocker Fudge Brownies Mix (the 18.3-oz. Family Size box)2 tbsp. Better 'n Peanut Butter, room temperature
Directions:
Preheat oven to 350 degrees.  Combine pumpkin with the brownie mix in a large bowl; stir until smooth (do not add anything else).  Spray a small baking pan (8" X 8" work best - no larger!) with nonstick cooking spray and pour in the mixture.  Spoon 2 tbsp. of Better 'n Peanut Butter (room temperature) on top and use a knife to swirl peanut butter around. Cook for approximately 35 minutes.  The batter will remain very thick and fudgy, and it should look undercooked.  Remove from oven.  Cover with aluminum foil and let cool in fridge for a couple of hours.  Cut into 36 squares and serve.

Serving Size: 1 piece (approx. 1.3 oz.) 
Calories: 63
Fat:  1g
Sodium: 56mg
Carbs: 13.5g
Fiber: 1g
Sugars: 9g
Protein: 1g
PointsPlus® value 2*