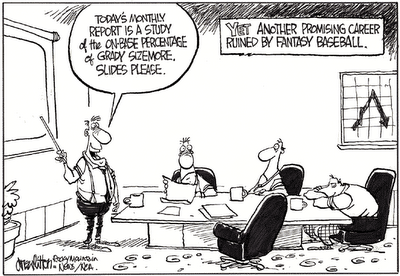 While I have always been a tomboy and a sports junkie, I have also always considered baseball to be "my" sport.   But it is surprising to me – in such a great way – how much I have learned throughout this fantasy baseball season.  On a basic level, I have learned about individual players and teams and bullpens, statistics, and the particular value of certain skills, like speed.  But it's more than that.  We are done with more than one-third of the season already, which blows my mind.  I will not bore you with team specifics. Perhaps as examples. But this is not a diagnosis of Joe Girardi's Braces.  It is more my observations as a newcomer to the magical world that is fantasy baseball.  Also? I debated writing this post not because I would bore you, but because I did not know if I should share my secrets. Yes, I am that crazy.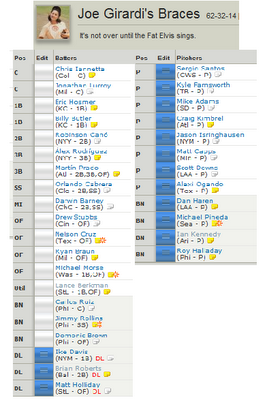 I think I love fantasy baseball because it is like a logic puzzle, and I love puzzles.  But like poker, it is a puzzle based on skill and luck.  You have to be dealt the right cards in the same way that virtual players need to perform, but you can still put yourself in a solid position to win if you play intelligently. 
I play in a standard ten-team head-to-head league, with weekly points for hits, runs, total bases, RBIs, stolen bases, holds, strikeouts, ERA, WHIP, saves, homeruns, and wins.  I am still amazed at the different ways to play fantasy baseball – rotisserie, AL or NL-only, points leagues, keeper leagues, money leagues. I want to try all of them. 
And I feel like I learn something new every week.  Especially from the people in my league, who are all pretty much fantastic.  We are in the middle of Week Ten, and I am somehow in first place (in fact, I have never lost a weekly series…yet).  Humblebrag? Yes. Carrie is right on my heels in second.  So in the great words of Geri Halliwell, the one and only Ginger Spice, "Girl Power."
I did not participate in the draft, so my team was automated. In part, I think the draft scared the hell out of me. Looking over the results, I realized that the dumbass computer basically picked in position order.  Like, my first four automated picks were all outfielders, while my catchers were picked in rounds 16 and 17.  At the same time, my outfield is super deep.  It was even deeper a few weeks ago, before I traded Jason Heyward (and Jordan Walden and Ryan Roberts) for Alex Rodriguez, my overall pre-season #1.  When I saw my computer-picked team, I was happy with about one-third of the selections. So I hit the waiver wire early.  My thinking is that pre-season predictions are pretty worthless.  Look at Ubaldo Jimenez.  Brett Myers. Joakim Soria. Ian Stewart. I was not attached to anyone, because I didn't pick them.  So I decided to play the odds.  Some people start off hot and then cool off, tumbling back to earth; others get hot, stay hot, and are newfound sensations.  And I decided to try basically everyone until I found some of those.  And I'd like to think that I did. I think it allowed me to rebuild a mediocre team into what I consider a pretty well-balanced club. So besides my staple studs, the rest of my roster is filled with 2011 hotshots that have either over-performed or are newly discovered gems.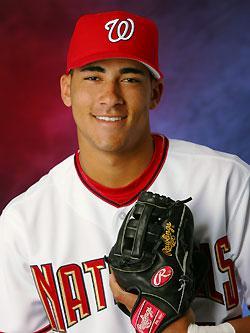 This strategy has worked well so far, but there is so much baseball left to play.  Which is why I used to really worry about the players I dropped or traded.  For whatever reason, I was strangely attached to David Murphy, Jonathan Herrera, and Ian Desmond.  I have gotten over that. I am ridiculously impatient, and I recognize that this is clearly a flaw in fantasy baseball.  If I was patient, I would more likely get the best stats out of all of my players; and if I juggle too much, I am going to miss players' good days, too.  And I get that.  But I have made about three times as many moves as anyone else in my league. At times, I am almost embarrassed by this.  Like I get stressed when I see "JHop" followed by three other "JHop's," as if I am domineering the board, or like I can't make up my mind.  On one hand, that is accurate; I cannot make up my mind.  On the other hand, I am playing streaks. But what the fuck do I care? I am winning.  So maybe I am more like George Steinbrenner than I thought – if you don't perform, you're out.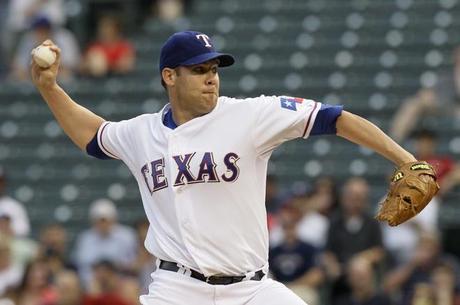 To be honest, I do not really understand why people hold onto under-performers.  This is scored on a week-to-week basis.  While the baseball season is a marathon, I need points this week.  I do not care if Colby Lewis pitches great again next month; he sucked for two straight weeks. I dropped his ass. Along with Francisco Liriano, right before his perfect game.  I did not care.  I do not like having any starters that I do not implicitly trust. Sure, they will have bad games; but for the most part, they are sure things.  And if Colby is pitching great in three weeks, I will worry about it then. I mean, I do not advocate dropping studs or anything.  Dustin, Albert, and David Wright are all going to be fine.  But average to above-average players? Their stats can be replaced.  In fact, sometimes I think it acts as an advantage.  If you put together enough hot streaks, you could, in theory, have season-long superstar-like contribution from a rag-tag group of players.  I think this is especially true for pitchers, because it is a super deep position this year.  And I have learned that a large armory of stellar relievers is equivalent, if not better, than a mediocre starter. Bottom line: we get five moves every single week. That is a lot of moves. And when necessary to win the week, it is worth some risk in my opinion.
For awhile, I thought it was crazy that trades do not count as "moves," unless you are forced to add or drop a player to balance your roster. Trades, like the draft, also scared the hell out of me.  I was really afraid to break up something that seemed to be working, and I was petrified that I would have buyer's (trader's?) remorse.  The more I thought about it, the more I realized how stupid it was to pass up an opportunity to upgrade.  Especially out of irrational attachment.  And I tend to believe in the theory that whatever team scores the better player, or the superstar, normally wins a trade.  And that is the only reason I pulled the trigger on Robinson Cano (for Ian Desmond and Max Scherzer).  
I admit, however, that I favor hits and batting average over other stats, because I think they lead to so many additional categories/points (like RBIs and total bases).  I am not sure if this is smart. For the first few weeks of the season, I completely ignored holds.  I thought it was dumb to waste a roster spot on a middle reliever, when they are used so arbitrarily.  Then it dawned on me that, here I am obsessed with hits, and they are worth the same exact thing as holds.  So I now have a carousel of middle relievers and I think it has definitely helped.  There is little point in having a deep bench of position players, because they provide you with no value.  I back up the key positions – like catcher, because they often get days off.  But the way I see it, I may as well get holds, saves, strikeouts, and other random stats instead of hanging onto a useless bat.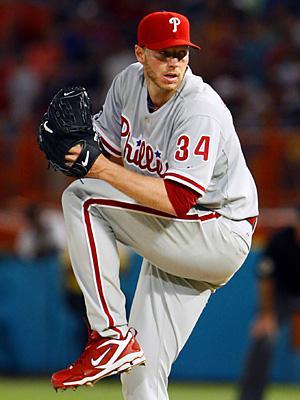 Generally speaking, the past two months have been a total learning experience.  The thing I have learned the most, however, is that baseball is a funny game.  A few weeks ago, neither Michael Pineda nor Roy Halliday got me a win, which I needed; but in .2 innings, Scott Downs got the job done when I least expected it. As soon as I traded Max Scherzer, who had pitched phenomenally for me, he immediately imploded.  On the other hand, Ian Desmond, who I traded because I don't think he gets on base enough, has been lighting it up this week – while he is my opponent. But really? It is the people in my league who make fantasy baseball especially fun.  The guys that I play with are all really cool and Carrie has been my tutor.  While I wish there was more smack-talking and overall taunting, I am pretty sure that I only feel this way because I am doing well at the moment.  I fear the day that Joe Girardi's Braces goes into a slump.  And part of me is afraid to post this, as if I will somehow jinx the last ten weeks and tumble in the standings. Again, I am that crazy. 
While I am not yet at the point of offering my services to Brian Cashman during the off-season, I am determined to keep kicking ass.  So I am really interested in your thoughts or strategies or, yes, secrets.  I plan to soak it all up.  Unless I think your idea is awful, then I will probably just ignore it – sort of like how I am trying to ignore the fact that the Yankees have sucked at home against the Sox.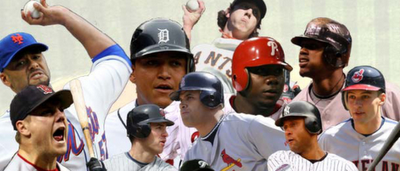 In other news, if anyone is in the city, there is a Duke Club of New York happy hour at Public House tonight, open to whomever.  Shoot me an email if you want details.  Okay, I am off to court. I hope you all have a great Wednesday and let's go Yanks (and Mavs) (and Joe Girardi's Braces).