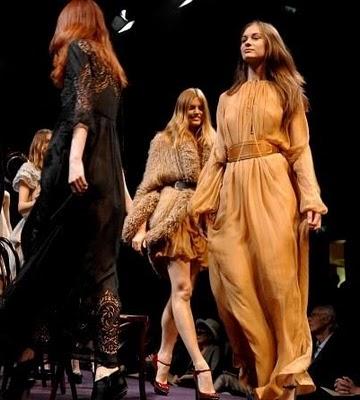 Recently, a friend and I lamented over the recycled love interests on Gossip Girl. Serena and Dan. Blair and Nate. Serena and Nate. Vanessa and Nate. Jenny and Nate. Chuck and Blair. Serena and Dan part deux. Fast forward a bit and the latter two couples are on and off, on and off. But now Blair and Dan? Serena may bring home train wreck after train wreck, but at least she's out there mingling and meeting new people.
There seems to be a similar sort of hang-up in the French fashion world, one which I did not become completely aware of until the recent Galliano debacle. Even before the official announcement of his Diorific demise was made public, rumors were rampant about his replacement, and they were all names we'd heard before. Alber Elbaz, Hedi Slimane, Stefano Pilati, and even Marc Jacobs were all batted around, but the favored front runner seems to be Riccardo Tisci, currently at Givenchy. Yes, Galliano's former abode avant Dior. Galliano and Givenchy. Galliano and Dior. Tisci and Givenchy. Tisci and Dior. Will Anna Wintour please leave Bernard Arnault her little black book for the summer while she jets off to Prague and tries to get over Blair? Hmm, sorry. But the parallel remains; Anna herself has pointed out the dearth of opportunities and support for new designers in France. Indeed, the CFDA nominations released last week read as a roster of American designers who became recognizable and successful under their own names and labels.
Certainly, there is nothing wrong with gaining experience under the wings of an established house. Prabal Gurung, one of the aforementioned nominees, worked under Manish Arora and Donna Karan before launching his line. Nor is it necessarily a bad thing to devote an entire career to one. There may be a Lagerfeld brand, but dare I say The Kaiser will be best remembered for his work at Chanel. Rather, all of this musical chairs playing among French designers and houses makes it abundantly clear that few other options exist. Perhaps I am being naive, which is a French word after all, but I would love to see a truly new era ushered in at Dior, one heralded by the appointment of a fresh new designer, one whose name is not yet known.

Photo courtesy of Stella McCartney.