We were recently asked by My Trendy Phone if we would like to review one of the products on their website.
My Trendy Phone sell lots of great accessories for phones, iPads, MP3 players and even games consoles! These include the usual cases, keyboards, batteries etc as well as many others (far too many to mention!).
When having a look around the site, one thing that stood out were the speakers. Although we have a speaker at home that we can attach our phones to, I really wanted one we could use anywhere in the house or garden and one that we could easily take away with us on holiday.
I spotted the MusicMan Soundstation Stereo Speaker and thought it looked perfect! The speaker features a USB port, Micro SD card slot and Line In input. It also comes with an inbuilt FM radio.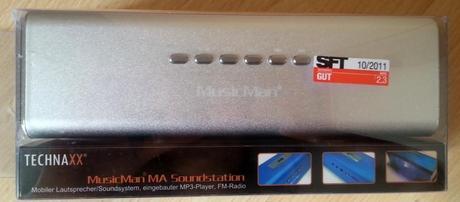 The speaker can be charged via USB within 3 hours and has a battery life of 5 hours.
With the speaker you also receive the USB charging cable and the 3.5mm jack cable.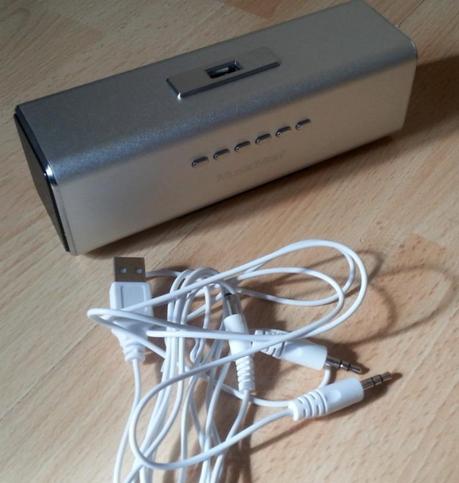 Once my order had been placed the speaker arrived very quickly. When I first saw the speaker I wondered how such a little box could be loud enough to hear over two, very noisy children!
The speaker was very easy to work and had some charge so we could try it out straightaway. To use you simply have to switch it on underneath and plug in your phone/MP3 player.

Both Big Mr A and I were shocked at the sound that came out! The sound quality from the speaker is amazing and you can turn it up really loud for a good old dance around!
There are buttons on the front of the speaker to adjust the volume, play/pause the track, skip the track forwards or backwards along with switching between the radio and phone. This is where my only small complaint is with the speaker. Because I ordered a silver speaker and the writing is also silver, it can be quite difficult to see which button you are pressing. I have to hold the speaker quite close to make sure I press the right button!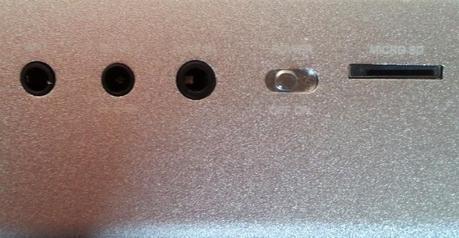 Having said that, the pros certainly outweigh this minor annoyance.
After trying out the speaker with our own music we tried out the radio. We weren't expecting to get that good a signal and were pleasantly surprised when we found the radio stations with no bother and the sound quality was just as good.
The speaker is the perfect size to be moved around the house and garden to where we need it and is also really lightweight to be able to take it away with us. It was easily packed into our suitcase on our recent break away to Butlins.
Overall we are really pleased with our new speaker and can see it will be getting lots of use out in the garden over the coming months!

Stay at Home Mum to two children - Little Mr A born in 2008 and Little Miss A born in 2012. Blogging my way through dirty nappies and school runs!