A very quick blog post for you this afternoon… especially for brides and grooms planning a vintage wedding. You've planned it to look fab? Great. Now how about making it sound really special?…
Set the scene for your vintage wedding day
Turn your speakers on and click play first:
Here is the Music Player. You need to installl flash player to show this cool thing!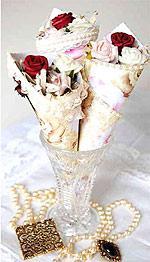 Credit: VintageTwee.com
As you listen, imagine it's your wedding day. You've got that perfect vintage dress, your hair is perfectly set and beautifully accessorised, and your gorgeous groom is on your arm….
You stroll across the sunny lawn at your wedding venue, chatting to guests as you see them and everyone's smiling and congratulating you both…
You have a glass of Pimms in one hand, a bijou little bouquet in the other and your arm is interlinked with your new hubby's – everything's as pretty as a picture…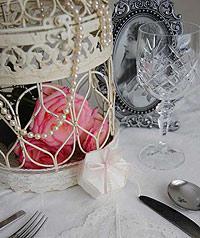 Credit: VintageTwee.com
While all this is going on, you're listening to love songs from your favourite era – not only is your wedding visually themed around the 1950s, your music creates a wonderful atmosphere of nostalgia.
The beautiful vintage wedding music you're listening to was sent to me by Alexandra Carter who sings for a band who are simply called Vintage.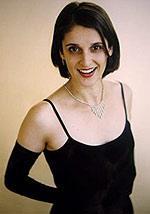 The beautiful Alex Carter
Their repertoire includes dozens and dozens of songs to fit your vintage wedding theme:
Dream a little dream of me
As time goes by
Let's face the music and dance
Moon river
Over the rainbow
Summertime
You do something to me
Based in London, Alex Carter can provide beautiful music for your vintage wedding in a choice of styles: please visit her website www.alexandracarter.com to find out more.
Vintage is the smooth sound of jazz and swing with Alex Carter, Christian Vaughan and Dave Chamberlain on bass.
If you're planning a more intimate vintage wedding Alex told me she's also now working with the fab Dave, the bass player in Vintage- as a guitar/voice duo as well – she says it works really well for smaller spaces.
www.alexandracarter.com
(Images used above are by the very wonderful Vintage Twee!)