I've made the decision to try and be frugal with my cash over the next few weeks in order to save up for my summer hols, so any serious shopping sprees are off the cards for a little while. I say "serious" sprees as I may possibly, perhaps, have accidentally placed a little order with Zara this morning (if it's for under £20 it doesn't count right?!) *hangs head in shame*.
Anyway, as a way to try and satisfy my clothing obsession free of charge, lately I've taken to raiding my Mum's old 70's wardrobe in an attempt to see what treasures I can find in there to tweak. This dress is my favorite item from what I've managed to uncover so far. I absolutely adore the colourful print!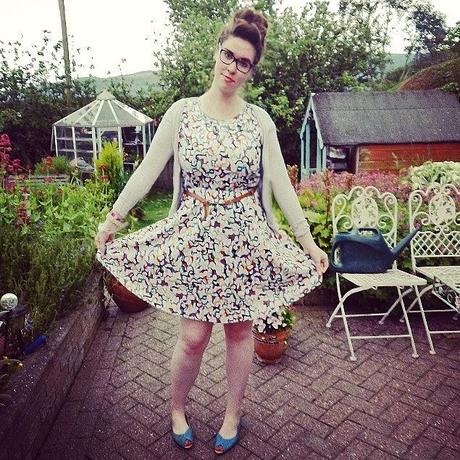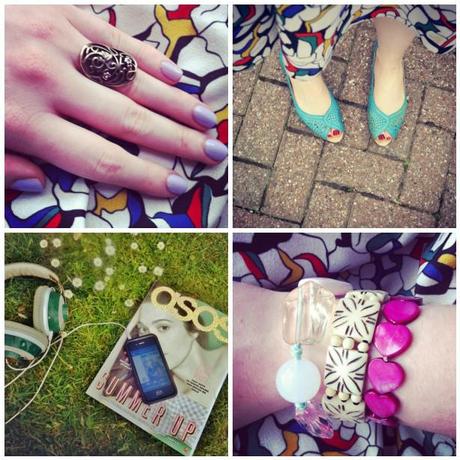 Dress - Vintage, Shoes - UO, Ring - Primark, Cardigan - H&M, Bracelets - H&M + Red Lotus, Nail polish - Topshop "Parma Violet", Belt - Warehouse. Wanted to post today about the "boozy" home-made ice pops I had planned. When I went to make them though, I found that the moulds had disappeared from the cupboard :( so will have to pop out tomorrow and get some more. There are a million different things on my "To Do" list right now, but the lovely weather has meant I've been spending any spare minute I have, outside procrastinating - (as the pic above suggests) reading magazines and listening to my iPod, daydreaming the hours away. Someone needs to come and give me a kick up the backside!
  Can't wait for the extra long four day weekend we've got coming up :) Looking forward to getting into the spirit of things with a bit of a Jubilee themed garden party (Any excuse to get the bunting out!). 
Anyone else planning something fun to celebrate HRH's 60 years? :)