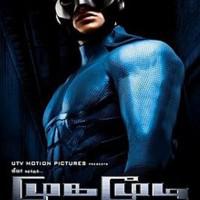 Movie: Mugamoodi
Director: Mysskin
Cast: Jiiva, Narain and Pooja Hegde
Rating: ***1/2
In grandeur style, Mugamoodi opens up in archetypal DC comics' way. You're under the impression that you're watching a superhero film but you're not. If you're thinking all it takes to stand up against crime is a mask and rubber suit then you're probably wrong. It's the story of a common man with exemplary skills to protect himself from imminent threat, on a mission to fight for justice. The mask and suit is only to protect his identity.
Myssikn's Mugamoodi tells us the story of right v/s wrong through Bruce Lee's perspective. Lee aka Anand is a happy-go-lucky guy with no aspirations in life but with a heart that beats for kung fu and his master. He spends most of his time persuading people to learn kung fu so that his master could earn a livelihood. Meanwhile, a group of masked bandits led by a malicious villain Anguchamy are terrorizing the city with frequent stick up. Lee is accidentally sucked in to this whirlpool of crime and is held responsible for something he didn't do. To save himself, Lee should straighten things up by bringing the criminals to justice. It's Lee (good) v/s Anguchamy (bad) in the battle for integrity which forms the rest of the story.
Thankfully, the plot is simple and easy to understand because typically all films that are touted to be superhero flicks boast an exaggerated storyline. The initial setting of the film is based on IP Man, a Hong Kong film however the similarity only appears for first few minutes, before it takes a completely different path. The film is based on a simple premise – if you believe in something, you fight for it. Lee believed in the path of justice therefore he fought for it.
The first half supersedes the second with the right mix of humor and entertainment. The second half shifts gears and progresses at a great pace however falls short of giving a satisfying final act. Despite Jiiva's rewarding performance, the film fares well in the stunts and music department. Music by K drives the film with an adrenalin rush that will crawl through your body and make you want to cheer for the superhero while stunts in particular will encourage you to go home and enroll for a kung fu class.
Jiiva's transition from a common man to a masked vigilante is a commendable act. He gives equal share of humor and action through his performance which I'm quite sure his fans will love. Narain who plays the baddie gives a riveting performance initially however towards the end fails to add vindictiveness in his role. Pooja played her part suitably well but needs special coaching in expressions.
Mysskin's direction retrospective of his earlier films was unique and different. The idea to shoot most of the scenes at night adds a type of novelty never explored before and it works well in the film's favour and the credit goes to cinematographer Sathya. Tony Leung's stunts were awe-inspiring and are the biggest highlight of the film.  
In essence; 'Mugamoodi' is a super 'hero' attempt worth watching.