I am sure that many of you are aware of the new makeup collection that has been released by MUA, this makeup collection is a One Direction range and consists of lipstick, nail polish, cheek tint, and lip polish. I decided that I would purchase the complete lipstick collection as I would get most use out of them, and today I will share them with you.
I was very excited when I heard my postman arrive as I knew it would be my Superdrug order containing these beauties! It appears that they are only available from Superdrug at the moment, they have yet to be put on the MUA website.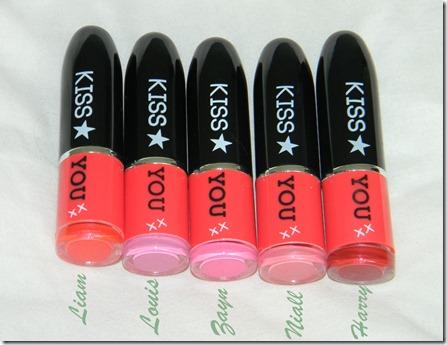 I really love the idea behind this makeup range, with it being by MUA it's very affordable for the teenage fans, and MUA is generally of very good quality. These lipsticks are £3 each, so more expensive that the normal MUA lipsticks but when you take into account that they are One Direction the price isn't bad at all.
The lipsticks are very well pigmented, I've only swatched them on my hand, but one swatch gives a bold colour, there was no need to go over them to get the same color as in the bullet. I think they have a similar finish to the MAC amplified.
Another selling point to me is that the lipstick is that they are embossed, on the top it has the 1D logo and around the edges are covered in X's and O's, which I think is really cute! I also love that the casing has the autograph of the One Direction member for that shade, it's just another extra detail that fans will love.

I find I Want to be a lovely bright red which pops, and is bound to be a staple within my collection. I'm always happy to add another red lipstick.

I Wish is a bright pink, which I would say is a similar color to MAC Girl About Town, a very bright almost if I dare say it Barbie pink. It is a color that I will wear because I only have my Revlon lip stain which is a similar colour, and earlier this year I did say I wanted to wear brighter coloured lipsticks.

Rock Me, is quite simply a purple lipstick, a color that i'm not sure too many people will be keen on. I think if i'd seen this in store then I would have left it behind, but buying online means you don't get to see the color first. I probably will wear it, I'll just have to build up the courage to wear such a bright and different color.

Moments is a fantastic everyday colour, and it reminds me of Calvin Klein 'Clear Rose' which is a beautiful natural pink color rather than a bold pink. I am actually tempted to pick a couple more of these up because I know I will get a lot of wear out of it, and this collection won't be around forever.

Be Mine has a blue tone and reminds me of MAC Russian Red in colour, I think it's one of those colours that will suit most people, and isn't a shade that is too bold to scare people off wearing it.
I think this collection contains enough shades that people will be able to find a lipstick that they are comfortable wearing. I will wear them all, but some will be worn more than others.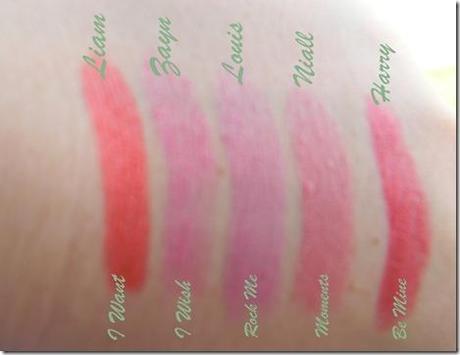 This is the best photo to show the colours of the lipsticks, my camera was struggling to pick them up. Taking my pictures at lunch time in natural light didn't work out too well for me, I'll just have to practice a little more! However as you can see the pigment is pretty good to say that they are £3, and this photo allows you to get a better idea of the colours.
I have yet to wear any of the lipsticks so I can't comment on their staying power, but after 2 hours on my hand they're going strong!
Will you be purchasing anything from the One Direction MUA collection?
Tink x